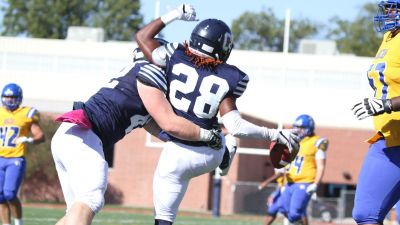 SEWARD, Neb. – The third-straight road trip against a top 25 opponent is up next for the Concordia University football team. The Bulldogs got back on track last week with a 56-0 homecoming drubbing of visiting Briar Cliff. The blowout victory followed back-to-back road defeats that came at the hands of the top-two ranked squads in the GPAC
Head coach Vance Winter's program seeks its first win at Dakota Wesleyan since 2007. Saturday's game between 24th-ranked Concordia and the No. 16 Tigers is set for a 1 p.m. kickoff at Joe Quintal Field in Mitchell, S.D.
The Tigers have been involved in shootouts on a regular basis this season. Behind NAIA offensive player of the week Dillon Turner, Dakota Wesleyan held off improving Dordt, 42-37, last week in Sioux Center, Iowa. Turner has been a prolific playmaking quarterback throughout his career. He's nearing 6,000 career passing yards.
GAME INFO
(24) Concordia (4-2, 2-2) at (16) Dakota Wesleyan (4-2, 2-1)
Saturday, Oct. 15 | 1 p.m. CT
Joe Quintal Field | Mitchell, S.D.
Live Webcast: Stretch Internet
Radio: KTMX-FM 104.9 Max Country
Commentators: Jayson Jorgenson and Matt Dolch
STATISTICAL BREAKDOWN
*National rank in parentheses
Concordia
Offensive PPG: 23.7 (59th)
Defensive PPG: 19.8 (16th)
Total Offense: 341.2 (59th)
Pass Offense: 191.2 (54th)
Rush Offense: 150.0 (51st)
Total Defense: 285.3 (7th)
Pass Defense: 156.2 (8th)
Rush Defense: 129.2 (19th)
Turnover +/-: -4 (T-57th)
Dakota Wesleyan
Offensive PPG: 39.2 (10th)
Defensive PPG: 31.7 (54th)
Total Offense: 543.2 (5th)
Pass Offense: 276.7 (16th)
Rush Offense: 266.5 (8th)
Total Defense: 428.8 (61st)
Pass Defense: 242.8 (57th)
Rush Defense: 186.0 (60th)
Turnover +/-: -6 (T-69th)
Individual Leaders
Concordia
Head Coach: Vance Winter (38-43, 8th season)
Quarterback: Riley Wiltfong – 50/99 (.505), 738 yards, 7 td, 5 int; Rushing: 37 att, 143 yards, 2 td
Running Back: Bryce Collins – Rushing: 122 att, 497 yards, 4.1 avg, 2 td; Receiving: 12 catches, 94 yards
Receiving: Jared Garcia – 30 catches, 488 yards, 16.3 avg, 6 td
Defense: Michael Hedlund – 72 tackles, 3.0 tfl's, 2 int, 1 ff / Trey Barnes – 41 tackles, 11.5 tfl's, 4 sacks
Dakota Wesleyan
Head Coach: Ross Cimpl (34-15, 5th season)
Quarterback: Dillon Turner – 130/198 (.657), 1,660 yards, 17 td, 5 int; Rushing: 91 att, 672 yards, 7.4 avg, 7 td
Running Back: Jonny Withrow – 67 att, 335 yards, 5.0 avg, 4 td; Receiving: 7 catches, 120 yards, 1 td
Receiving: Dustin Livingston – 33 catches, 556 yards, 16.8 avg, 6 td
Defense: Dillon Rork – 44 tackles, 10 tfl's, 3.5 sacks
In the rankings
Concordia has now appeared inside the top 25 in four of the past five weeks. After dropping out of the poll last week, the Bulldogs landed at No. 24 in the rankings released on Monday (Oct. 10). They have appeared as high as No. 16 in 2016. They vaulted up to that position thanks to a 3-0 start. During head coach Vance Winter's tenure, Concordia has garnered a total of 12 national rankings, rising as high as 14th in 2013.
Dakota Wesleyan has found itself in the top 25 in all six polls this season, including the preseason edition. The Tigers jumped to 14th with the release of the first regular-season poll. They have not fallen below No. 22 during this season. The Tigers have settled in at No. 16 for the past three weeks.
Thou shall not pass
When Briar Cliff quarterback Jared Ford got knocked out of last week's game with an injury, the Chargers had no one else to turn to at the quarterback spot. The Bulldog defense pounced and did not allow a single passing yard on three Briar Cliff attempts. One of those attempts resulted in a D'Mauria Martin interception. Two other times in which the Chargers dropped back to pass resulted in sacks – one by Trey Barnes and one by Nolan Schroeder. Forced to nearly go exclusively to the ground game, Briar Cliff still managed just 106 rushing yards on 45 tries.
Under coordinator Patrick Daberkow, Concordia has consistently made life difficult on opposing quarterbacks. Spearheaded by All-American safety Darnell Woods, the 2013 Bulldogs ranked No. 1 nationally in pass defense (134.7). Last season's secondary nearly matched that, allowing just 144.0 passing yards per game (third best among NAIA programs). This year's stellar secondary includes corners Martin and Tarance Roby and safeties Cory Evans and Le'Dontrae Gooden.
Garcia one ups Wurdeman
After being shut out of the end zone in the loss at Morningside on Oct. 1, Jared Garcia found the goal line twice as part of the rout of Briar Cliff. His 18-yard leaping scoring grab pushed him past former All-America tight end Ross Wurdeman for the most touchdown catches in program history. Garcia now has 25 career touchdown catches since arriving at Concordia in 2014. His 11 receiving touchdowns his freshman year also set a new single-season standard that had previously been held by Brian Naber (10 touchdown catches). Garcia is also chasing down Wurdeman for other major school receiving records. Wurdeman still owns program records for catches (168) and receiving yards (2,458). A native of Pearland, Texas, Garcia now has 115 receptions and 1,851 yards over 27 career collegiate games.
Catching Seevers
Bryce Collins became the third Concordia ball carrier ever to reach 3,000 yards when he surpassed that figure at Morningside. He added 101 more yards to his total last week versus Briar Cliff, putting him at 3,163 for his career. He's now less than 100 rushing yards from catching Concordia Athletic Hall of Famer Gary Seevers for second place on the school's all-time rushing list. Collins will need a huge late-season splurge to get to the top of the list. He stands 704 yards short of Cleve Wester, Concordia's all-time leading rusher.
Collins now has 15 career 100-yard rushing games following last week's action. He needs one more rushing touchdown for 30 in his career. He's one of four players in school history to reach 30 career total touchdowns. The others are Gary Seevers (39), Cleve Wester (37*) and Alex Alvarez (33).
*Wester's career touchdown total is not complete due to the absence of complete 1985 statistics (Wester's senior year).
Concordia all-time leading rushers
1. Cleve Wester (1982-85) – 3,867
2. Gary Seevers (1953-56) – 3,257
3. Bryce Collins (2013-16) – 3,163
4. Alex Alvarez (1999-03) – 2,959
5. JaMaine Lewis (2004-07) – 2,731
Hedlund closes in on fellow O'Neill native
Michael Hedlund has a shot this week to pass fellow O'Neill, Neb., native and former high school and college teammate Tait Sibbel on the list of top tacklers that have played during head coach Vance Winter's tenure. Hedlund's 226 career tackles ranks fourth best on the list. He's now eight stops behind Sibbel, who completed his run as a four-year starter at Concordia last season. Hedlund is on pace to record his second-straight 100-tackle season. A year ago Hedlund topped the Bulldogs with 105 tackles. The 6-foot-1, 215-pound senior linebacker ranks No. 9 among all NAIA players with an average of 12.0 tackles per game.
200+ career tackles, coached by Winter
Ben Klein (2008-11) – 246
Jerrod Fleming (2008-11) – 237
Tait Sibbel (2012-15) – 234
Michael Hedlund (2013-16) – 226
Langston Jones (2010-13) – 209
Big day for Bulldog passers
With Garcia blowing past the Briar Cliff secondary, Concordia quarterbacks enjoyed their most efficient day of the season. TJ Austin and Riley Wiltfong combined to go 15-for-19 for 209 yards and five touchdowns through the air while totaling 78 rushing yards. Both signal callers completed a pass of more than 40 yards – both going to Garcia. Wiltfong ran for a 25-yard touchdown and tossed for three more scores in one of his best performances as a Bulldog. Austin and Wiltfong shook the turnovers that had plagued them in losses at Doane and Morningside. Wiltfong has now thrown for 738 yards and seven touchdowns.
Quotable
While back-to-back losses momentarily dropped Concordia out of the top 25, the Bulldogs still hope to make a run at a playoff spot. They know there's no longer any margin for error if they want to keep those hopes alive. Last season only one team that had three losses qualified for the 16-team NAIA playoff. Even Dakota Wesleyan, which stood at 9-2 at the conclusion of the regular season, got left out of the postseason.
Said senior linebacker Patrick Skwara, "I know we can win out and go to the playoffs. It's just about focusing and doing what we're supposed to do."
Turner the Terrific
Junior quarterback Dillon Turner is putting up video game numbers for Dakota Wesleyan. He's the current national leader in total offense per game (388.7) following his output of 606 total yards in last week's victory at Dordt. On the national leaderboard, Turner also ranks 10th in pass efficiency (159.4), 11th in passing yards per game (276.7) and 11th in rushing yards per game (112.0). Through six games, Turner has thrown for 17 touchdowns and ran for seven more. His career numbers are also eye popping. He's passed for 5,767 yards, has run for 1,918 yards and has 80 total touchdowns over 28 career games.
Last season Concordia gave Turner fits in the meeting that took place in Mitchell. Turner completed just 8-of-24 passes for 67 yards. He also was held to 19 rushing yards on 16 attempts. The Tigers managed to eke out a 17-10 win despite being outgained, 326-155.
Series vs. Dakota Wesleyan
The all-time series is dead even at 8-8. The two programs have met 14 times since the formation of the GPAC in 2000. They also met in as nonconference foes in 1984 and 1985. Dakota Wesleyan has enjoyed recent success in the series, coming out on top in five of the last six. Concordia's most recent victory over Dakota Wesleyan came by a 27-19 score in Seward in 2014. The Tigers have defeated the Bulldogs in each of the last four meetings that have taken place in Mitchell.
Scouting Dakota Wesleyan
With Turner at the controls, Dakota Wesleyan has been all about offense. The Tigers and their opponents have combined to average more than 70 points per game. Dakota Wesleyan has not scored fewer than 30 points in any single game this season. It has also allowed 20 or more points in every contest except for its 55-17 win at the University of Jamestown (N.D.). Both of the Tiger losses this season have come against teams that are currently ranked in the top 20: No. 10 Doane and No. 19 Dakota State University (S.D.). Dakota Wesleyan owns a win over Tabor College (Kan.), which checked in at No. 12 in this week's rankings. Fifth-year head coach Ross Cimpl has overseen a consistent winner. The Tigers have not dipped worse than 6-4 in any of his first four seasons leading the program.