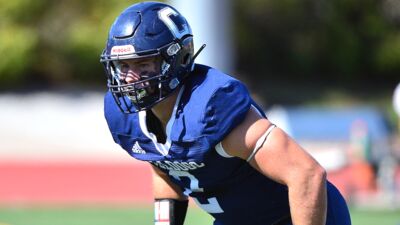 SEWARD, Neb. – The homestand continues this week for the Concordia University Football program, which is fresh off back-to-back GPAC wins. Mount Marty will make its first-ever appearance at Bulldog Stadium on Saturday with kickoff slated for 1 p.m. CT. The Bulldogs will look to build upon the momentum from last week's 30-15 win over Jamestown. Over the last six quarters, the offense has sprung to life as Concordia shakes off what was a tough start to 2022.
Head Coach Patrick Daberkow's squad now stands at 2-3 having also won at Dakota Wesleyan, 20-12. The Bulldogs piled up 552 total yards last week and had separate touchdown drives of 99 yards (14 plays) and 97 yards (two plays). Concordia has been a different team since DJ McGarvie returned to the starting quarterback spot and Austin Jablonski moved into a new role as someone who can throw it, run it and catch it. There's growing optimism that the Bulldogs can enjoy a big second half of the season like they did in 2021.
Meanwhile, Mount Marty has gotten off the ground quickly for a program that played its first season in 2021. The Lancers had several competitive games last season and then got over the hump in week zero of 2022 with a 42-10 rout of Presentation College. Head Coach John Michaletti's squad also owns a win over Briar Cliff. Like Jamestown, Mount Marty can sling the ball around the yard. Quarterback Ken Gay has thrown for 1,220 yards and nine touchdowns for an offense averaging 24.5 points per game.
GAME INFO
Concordia (2-3, 2-3 GPAC) vs. Mount Marty (2-4, 1-4 GPAC)
Saturday, Oct. 15 | 1 p.m.
Bulldog Stadium | Seward, Neb.
Webcast/Live Stats: Concordia Sports Network
Radio: 104.9 Max Country
Commentators: Parker Cyza and Ross Wurdeman
Online Tickets: HomeTown Ticketing (also sold on site)

STATISTICAL BREAKDOWN
Team Statistics
*2022 national rankings out of 98 NAIA football programs
Concordia
Offensive PPG: 17.4 (77th)
Defensive PPG: 18.8 (T-28th)
Total Offense: 357.6 (41st)
Pass Offense: 245.0 (24th)
Rush Offense: 112.6 (60th)
Total Defense: 344.4 (56th)
Pass Defense: 200.4 (46th)
Rush Defense: 144.0 (57th)
Turnover +/-: +1
Mount Marty
Offensive PPG: 24.5 (53rd)
Defensive PPG: 31.7 (70th)
Total Offense: 367.5 (37th)
Pass Offense: 204.0 (50th)
Rush Offense: 163.5 (31st)
Total Defense: 342.5 (53rd)
Pass Defense: 156.5 (16th)
Rush Defense: 186.0 (79th)
Turnover +/-: -1

2022 INDIVIDUAL LEADERS
Concordia
Head Coach: Patrick Daberkow (25-28, 6th season)
Passing: DJ McGarvie – 90/149 (.604), 972 yards, 4 td, 2 int, 121.4 effic.
Rushing: Devin Zeigler – 81 rushes, 278 yards, 3.4 avg, 1 td
Receiving: Korrell Koehlmoos – 46 receptions, 528 yards, 11.5 avg, 6 td
Defense: Devon Polley – 28 tackles, 6 tfl's, 3 sacks, 1 ff, 1 int

Mount Marty
Head Coach: John Michaletti (2-14, 2nd season)
Passing: Ken Gay – 93/153 (.608), 1,220 yards, 9 td, 4 int, 141.9 effic.
Rushing: Isaiah Thompson – 86 rushes, 414 yards, 4.8 avg, 5 td; 14 catches for 94 yards
Receiving: Jonah Miyazawa – 21 receptions, 490 yards, 23.3 avg, 4 td
Defense: Drew Pendleton – 46 tackles, 6.5 tfl's, 2 sacks

2022 SCHEDULE/RESULTS
Concordia (2-3, 2-3 GPAC)
9/3 at Doane, L, 10-12
9/17 vs. Hastings, L, 17-21 (homecoming)
9/24 at (4) Northwestern, L, 10-34
10/1 at Dakota Wesleyan, W, 20-12
10/8 vs. Jamestown, W, 30-15
10/15 vs. Mount Marty, 1 p.m.
10/22 vs. Dordt, 1 p.m.
10/29 at (23) Midland, 1 p.m.
11/5 at Briar Cliff, 1 p.m.
11/12 vs. (1) Morningside, 1 p.m. (senior day)

Mount Marty (2-4, 1-4 GPAC)
8/25 at Presentation, W, 42-10
9/10 at Hastings, L, 20-45
9/17 vs. (23) Midland, L, 7-20
9/24 at Briar Cliff, W, 41-19
10/1 at (4) Northwestern, L, 8-52
10/7 vs. Dordt, L, 29-44
10/15 at Concordia, 1 p.m.
10/22 vs. (1) Morningside, 1 p.m.
10/29 vs. Doane, 1 p.m.
11/5 at Dakota Wesleyan, 1 p.m.
11/12 vs. Jamestown, 1 p.m.

In the rankings
Concordia picked up three points in the 2022 NAIA preseason coaches' poll but fell off the national radar due to the 0-3 start. The program's most recent top 25 appearance came in November 2017 when they landed at No. 25. Current Massey Ratings list Concordia at No. 54 and Mount Marty at No. 70 in the NAIA. The Lancers are in just their second season as a football program.

Concordia
GPAC preseason: 4th
Current Massey Ratings: 54th
Mount Marty
GPAC preseason: 11th
Current Massey Ratings: 70th

Last time out
The outing last week represented by far the team's most complete performance so far in 2022. Concordia outgained Jamestown, 552-332, on the way to a 30-15 victory. Had it not been for a couple of lost fumbles in Jimmie territory, the Bulldogs could have slammed the door shut sooner. However, there was obvious progress made offensively as DJ McGarvie accumulated 393 passing yards while running for a touchdown and throwing for another. Not surprisingly, Korrell Koehlmoos was his favorite target. Koehlmoos caught 12 passes for 155 yards and a touchdown. In addition, three other receivers had at least 69 yards: Austin Jablonski (79), Carsen Arline (78) and Luke Lang (69). In the run game, Devin Zeigler ran for 67 yards and Mark Arp added 40 yards. Defensively, the Bulldogs bent a little, but they did not allow the Jimmies to convert any of their four fourth-down tries. Lukas Coe intercepted a pass and made 10 tackles.

Koehlmoos breaks school record, eyes another one
There's no doubt that Korrell Koehlmoos is the most dangerous offensive threat for the Bulldogs. Koehlmoos has turned in four consecutive games with more than 100 receiving yards while starring as the primary focus in the passing game. Those outbursts have allowed the Pilger, Neb., native to break the school record for career receptions with 172. In last week's win, Koehlmoos surpassed both Jared Garcia (161) and Ross Wurdeman (168) on the list. On other school career receiving charts, Koehlmoos ranks third in receiving yards (2,398) and third in receiving touchdowns (18). Koehlmoos has bested career highs for single game receptions in back-to-back weeks with 11 at Northwestern and 15 at Dakota Wesleyan. Among all NAIA receivers in 2022, Koehlmoos ranks second in catches (46), 14th in receiving yards (528) and 14th in receiving touchdowns (six). He ranks second nationally in receptions per game (9.2). On another note, Koehlmoos has eclipsed 4,000 career all-purpose yards (currently at 4,001).

Receiving yards, career
1. Jared Garcia – 2,495 (2014-17)
2. Ross Wurdeman – 2,458 (1998-01)
3. Korrell Koehlmoos – 2,398 (2018-present)
4. Clarence Woods – 2,011 (1984-88)
5. Eric Pralle – 1,974 (1987-1991)

Receptions, career
1. Korrell Koehlmoos – 172 (2018-present)
2. Ross Wurdeman – 168 (1998-01)
3. Jared Garcia – 161 (2014-17)
4. Eric Pralle – 147 (1987-91)
5. Dan Danielczyk – 140 (1968-71)

Receiving TDs, career
1. Jared Garcia – 35 (2014-17)
2. Ross Wurdeman – 24 (1998-01)
3. Korrell Koehlmoos – 18 (2018-present)
4. Brian Naber – 17 (1967-70)
5. Marlin Zobel – 16 (1948-51)

McGarvie: 8-3 as starter
DJ McGarvie made his 11th career start at quarterback and responded with another starring performance. He moved his record as a starter to 8-3 while completing 28-of-41 passes for 393 yards and a touchdown versus Jamestown. He also ran for a three-yard touchdown. Over the past two weeks, McGarvie has gone a combined 54-for-81 for 648 yards and four touchdowns. His career totals now stands 220-for-392 (.561) passing for 2,456 yards and a touchdown-to-interception ratio of 23-to-9. McGarvie's 393 passing yards were the second most by a Bulldog in a single game in program history.

Top five passing yardage totals in a single game, school history
1. Andrew Perea – 455 (vs. Northwestern, 2018)
2. DJ McGarvie – 393 (vs. Jamestown, 2022)
3. Blake Culbert – 361 (vs. Jamestown, 2020)
4. Rod Giesselman – 334 (vs. Nebraska Wesleyan, 1970)
5. Jarrod Pimentel – 333 (vs. Nebraska Wesleyan, 2001)

Offensive revival
The offensive numbers weren't pretty through the first three-and-a-half games of this season. Then a switch suddenly flipped. Over the past six quarters, Concordia has amassed 50 points and 855 total yards. That production immediately followed a scoreless second half at No. 4 Northwestern on Sept. 24 and a scoreless first half at Dakota Wesleyan. Two weeks ago, the Bulldogs were ranked 73rd nationally in total offense. They have now jumped to 41st. From a defensive perspective, Concordia still has yet to allow a single point in the first quarter this season. The Bulldogs have outscored the opposition, 37-0, in the opening quarter over the first five games.
Patching up the o-line
The results last week helped ease concern over the rash of injuries up front. It was 'next man up' on the offensive line as starters in tackle Gavin Mull, center Johnny Robinson III and guard Christian Schlepp were all sidelined last week. In stepped the likes of Jackson Anderson, Carson Fehlhafer, Nathan Miller, Blake Schlegel and Tyler Walford. A true freshman from Utica, Neb., Fehlhafer actually switched over from defensive line and saw snaps last week at center. Collectively, the group made it work as the Bulldogs averaged 4.2 yards per rush and allowed only one sack in the win over Jamestown.

Polley the playmaker
Watch out for No. 99 in the middle of the Concordia defensive line. The Edmond, Okla., native showed off his athleticism at Dakota Wesleyan with a sprawling interception and then made 2.5 sacks (and had two quarterback hurries) last week. As a result, Polley was named the GPAC Defensive Player of the Week on Monday. On the season, Polley has produced 28 tackles, six tackles for loss and three sacks. He's the anchor of a defensive line that has rotated heavily. Polley has started alongside Jordan Kavulak and Kyle Sterup while Stephen Hughes, Eric Kieper and Talatau Solo have also seen significant playing time.

Jabo makes transition
After starting at quarterback in the first two games of this season, Austin Jablonski has moved into a Swiss army knife type of do-it-all role. The results have spoken for themselves as McGarvie has thrived at quarterback and Jablonski has gotten more comfortable lining up away from the ball. A Lincoln Pius X High School alum, Jablonski has totaled 253 passing yards, 192 receiving yards and 149 rushing yards. If Jablonski can haul in a receiving touchdown, he would have the distinction of having passed for, rushed for and received a touchdown this season. While McGarvie is the quarterback, "Jabo" has still been used behind center in the shotgun formation as a dual threat.

Kicking-punting duo
One of the last additions to the 2022 team, Ty Harold has brought his soccer leg to the football field as a kicker. A transfer from Iowa Western Community College, Harold came to Concordia to play for Head Coach Jason Weides' men's soccer team. Harold impressed the coaching staff enough during preseason to be trusted with placekicking duties. Harold is now 4-for-7 on field goal tries and 9-for-11 on PATs in 2022. His 21 points are second on the team to Koehlmoos (36), who happens to be having a fine season at punter. On 30 punts this season, he is averaging 41.2 yards per attempt with nine of them landing inside the 20.

Lang emerges at tight end
Two-time First Team All-GPAC tight end Garrett Schardt had planned on playing a fifth year of college football, but injuries have kept him sidelined in 2022. In his absence, Luke Lang has taken over the starting role at tight end and has caught 14 passes for 202 yards. The 6-foot-3, 215-pound native of Brentwood, Calif., briefly left Concordia at one point and then returned. Lang hauled in three receptions for 69 yards, including one catch for 34 yards, in last week's win.

Series vs. Mount Marty
Every game last season marked a first for Mount Marty, which is in its second year of competing within the GPAC. The Bulldogs won the inaugural matchup, 38-7, in Yankton, S.D. The Concordia defense limited the Lancers to 232 total yards and got in the end zone on Caydren Cox's eight-yard interception return for a touchdown. DJ McGarvie threw for 151 yards and three touchdowns as the Bulldogs made Mount Marty pay for its three turnovers.

Scouting Mount Marty
The Lancers have shown they can put points on the board as they did in wins by scores of 42-10 over Presentation and 41-19 over Briar Cliff. The competitive level of the program has been impressive considering its youth. A former six-year assistant at Kansas Wesleyan University, John Michaletti took on head coaching duties. The Lancers are allowing more than 30 points per game, but the offense has playmakers in quarterback Ken Gay (9-to-4 touchdown-to-interception ratio), running back Isaiah Thompson and receiver Jonah Miyazawa. On 21 catches, Miyazawa has averaged 23.3 yards per reception. Mount Marty is coming off a 44-29 home loss to Dordt in Friday night matchup.