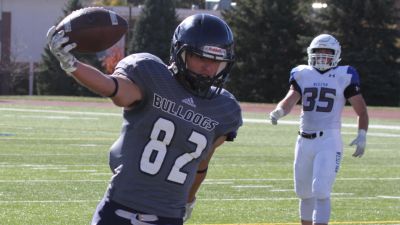 SEWARD, Neb. – After an up-and-down run through the first half of the season, the Concordia University football team has found a groove ever since its bye week. Winners of three-straight games, the Bulldogs flustered star Dakota Wesleyan quarterback Dillon Turner into a 15-for-37 performance in last week's 38-16 Concordia win inside Bulldog Stadium. First-year head coach Patrick Daberkow's squad now has its sights set on picking up its second road win of the campaign.
On the flip side, Briar Cliff is in danger of suffering through its first winless season since 2007. The Chargers have been beaten by at least 27 points in each of their first six GPAC contests. Head coach Dennis Wagner's team last played on Oct. 21 and fell at Dakota Wesleyan, 63-24. A bright spot has been running back Noah Ylagan, who ranks eighth nationally with 1,108 yards rushing this season. Defensively, Briar Cliff has struggled mightily, allowing more than 50 points per game.
Concordia is 12-2 all-time versus the Chargers. The Bulldogs have won 10 straight in the series.
GAME INFO
Concordia (5-3, 4-2) at Briar Cliff (0-9, 0-6)
Saturday, Nov. 4 | 1 p.m.
Bishop Heelan Memorial Field | Sioux City, Iowa
Webcast: Stretch Internet
Radio: 104.9 Max Country
Commentators: Tyler Cavalli and Roger Fitzke
STATISTICAL BREAKDOWN
2017 Team Statistics
*National rank in parentheses
Concordia
Offensive PPG: 26.4 (50th)
Defensive PPG: 21.5 (T-16th)
Total Offense: 375.1 (49th)
Pass Offense: 179.9 (59th)
Rush Offense: 195.3 (25th)
Total Defense: 349.4 (23rd)
Pass Defense: 196.0 (24th)
Rush Defense: 153.4 (36th)
Turnover +/-: -2 (T-48th)
Briar Cliff
Offensive PPG: 21.6 (T-65th)
Defensive PPG: 53.7 (87th)
Total Offense: 340.0 (60th)
Pass Offense: 149.2 (77th)
Rush Offense: 190.8 (27th)
Total Defense: 598.6 (88th)
Pass Defense: 274.1 (82nd)
Rush Defense: 324.4 (88th)
Turnover +/-: -2 (T-48th)
INDIVIDUAL LEADERS
Concordia
Head Coach: Patrick Daberkow (5-3, 1st season)
Passing: Riley Wiltfong – 63/114 (.553), 815 yards, 10 td, 4 int; rushing: 42 carries, 222 yards, 5.3 avg, TD
Rushing: Ryan Durdon – 192 rushes, 1,056 yards, 5.5 avg, 7 td; Receiving: 15 catches, 82 yards
Receiving: Jackson Hall – 25 catches, 318 yards, 12.7 avg, 3 td
Defense: D'Mauria Martin – 36 tackles, 6 tfl, 5 int, 8 pbu, ff
Briar Cliff
Head Coach: Dennis Wagner
Passing: Dylan Desmarais – 30/96 (.313), 355 yards, 4 td, 2 int
Rushing: Noah Ylagan – 211 rushes, 1,108 yards, 5.3 avg, 7 td; receiving: 15 catches, 133 yards
Receiving: Mike Jones – 26 catches, 297 yards, 11.4 avg, 2 td
Defense: Hank Glaros – 28 tackles, 6.5 tfl, 3.5 sacks, 2 fr
SCHEDULE/RESULTS
Concordia (5-3, 4-2 GPAC)
9/2 at (20) Kansas Wesleyan, L, 13-28
9/9 vs. Ottawa, W, 24-6
9/16 at (24) Northwestern, L, 21-35
9/23 vs. (7) Doane, W, 29-18 (homecoming)
9/30 at Hastings, L, 18-38
10/14 vs. Midland, W, 44-14
10/21 at Dordt, W, 24-17
10/28 vs. Dakota Wesleyan, W, 38-16
11/4 at Briar Cliff, 1 p.m.
11/11 vs. (4) Morningside, 1 p.m.

Briar Cliff (0-9, 0-6 GPAC)
8/26 at Waldorf, L, 26-62
9/2 at Bethany, L, 23-36
9/9 vs. Dakota State, L, 33-49
9/16 at Midland, L, 28-56
9/23 vs. Northwestern, L, 26-63
9/30 vs. (14) Doane, L, 10-39
10/7 at (24) Hastings, L, 14-45
10/14 vs. (4) Morningside, L, 10-70
10/21 at Dakota Wesleyan, L, 24-63
11/4 vs. Concordia, 1 p.m.
11/11 at Dordt, 1 p.m.
In the rankings
The Bulldogs are creeping up on the top 25 rankings and are now sitting two spots outside the national poll that was released on Monday (Oct. 30). Concordia also received votes last week following the road victory over Dordt. The Bulldogs happen to fall in exactly the same place in the Massey Ratings – 27th. Meanwhile, Briar Cliff checks in at 82nd in the Massey Ratings. Entering the week, the Chargers are exactly where they were picked to finish in the preseason – ninth in the GPAC.
Concordia
GPAC preseason: 5th (coaches); 6th (media)
NAIA coaches' poll (Oct. 30): listed second among others receiving votes
Massey Ratings: 27th
Briar Cliff
GPAC preseason: 9th (coaches); 9th (media)
NAIA coaches' poll (Oct. 30): did not receive votes
Massey Ratings: 82nd
Concordia's next All-American?
After watching D'Mauria Martin fly around in the secondary last week, 104.9 Max Country color commentator remarked, "D'Mauria Martin's got to be an All-American by the end of the season." In terms of numbers alone, Martin certainly has the look of an All-American. The senior safety from Converse, Texas, broke up three Dillon Turner passes last week while adding five tackles. On the season, Martin has collected 36 tackles, eight pass breakups, six stops for loss, five interceptions and a forced fumble. A three-year starter at corner prior to switching to safety this season, Martin has always been active in the defensive backfield. He's made 30 pass breakups over 39 career games as a Bulldog. Following a three-interception game against Midland, Martin reeled in GPAC and NAIA National Defensive Player of the Week accolades.
Martin is one of the leaders of a secondary that rates among the nation's best. Last week's four starters in the defensive backfield combined to make nine pass breakups. Teams continue to test a secondary that ranks eighth nationally in terms of pass efficiency (105.1). All four starters have notched at least six pass breakups: Martin (eight), Sebastian Garces (seven), Nate Gilmore (six) and Tarence Roby (six).
Durdon soars up single-season list
Ryan Durdon did it again. Last week he went for 201 yards and a touchdown on 30 carries, marking his third 200-yard rushing day of 2017. In the process, the sophomore from Decatur, Texas, vaulted himself from 14th to fourth on the program's single-season rushing list. A 76-yard touchdown run in the fourth quarter of the win over Dakota Wesleyan pushed Durdon over 1,000 yards on the season. He is the sixth player in program history to accomplish that feat. With two games remaining, Durdon needs 210 rushing yards to break the school's single-season record of 1,265 by JaMaine Lewis in 2007.
On paper, Saturday's matchup is a favorable one for Durdon and the Concordia offensive line. Briar Cliff's rush defense ranks dead last in the NAIA, surrendering 324.4 rushing yards per game. In an ideal world, the Bulldogs would be able to take some of the burden off of Durdon, who has carried the ball 99 times for 603 yards and five touchdowns over the past three weeks. He got 41 rushing attempts in the 24-17 win at Dordt on Oct. 21. Durdon ranks sixth nationally in rushing yards per game (132.0).
Program single-season rushing leaders
1. JaMaine Lewis – 1,265 (2007)
2. Cleve Wester – 1,114 (1984)
3. Randy Pospishil – 1,085 (1972)
4. Ryan Durdon – 1,056 (2017)
5. Bryce Collins – 1,016 (2014)
6. Jeff Towns – 1,002 (1979)
7. Cleve Wester – 970 (1983)
8. Ritchie Bishop – 949 (1994)
9. Bryce Collins – 946 (2015)
10. Jeff Towns – 928 (1978)

Garcia closes in on Wurdeman records
All senior receiver Jared Garcia does is catch touchdowns. He torched the Dakota Wesleyan defense for 116 yards and two touchdowns on six receptions. In his three games played this season, Garcia has reeled in 18 passes for 229 yards and four touchdowns. The native of Pearland, Texas, is beginning to close in on two career receiving records (see below). He needs 11 catches and 42 receiving yards to break two new school single-season records. He already owns program standards for touchdown receptions in a season (11) and for a career (33). Garcia has earned either first or second team all-conference accolades in each of his first three seasons.
Record watch
Career receiving yards: Wurdeman: 2,458 | Garcia: 2,417
Career receptions: Wurdeman: 168 | Garcia: 158
Napier, Small star for front seven
As just a freshman, linebacker Lane Napier has already emerged as a star. He tops the team with 68 tackles this season after racking up a career high 17 stops in last week's win over Dakota Wesleyan. He also added a sack and was named the GPAC defensive player of the week. Napier and company held Dakota Wesleyan to 16 points and 360 total yards, well below their averages that stood at 44.7 and 577.3, respectively, entering the game. Napier is a native of David City, Neb., and graduate of Aquinas High School.
Up front, senior Erik Small has provided steady play at nose guard. He enjoyed his biggest game yet last week. He finished with 10 tackles – three for loss – and a sack. Small has recorded 33 tackles and 5.5 stops for loss this season, which is his first playing on the defensive side of the ball. Small started at fullback the previous two seasons. His role at fullback has been eliminated, allowing him to focus solely on playing nose guard. Robert Ferguson has assumed the fullback spot and has been a solid lead blocker for Durdon.

Dual threat
Quarterback Riley Wiltfong is playing the best football of his career. With Durdon taking flight at running back, Wiltfong has been counted upon as a caretaker for the offense. It just so happens that Wiltfong can make the big play. Last week he fired touchdown passes of 42 and 36 yards to Jared Garcia and also ran for a score of 45 yards out. Wiltfong ended up with 221 passing yards and 87 rushing yards in the win over Dakota Wesleyan. In three collegiate seasons, Wiltfong has amassed 2,227 passing yards, 537 rushing yards and 28 total touchdowns (24 passing).
First-year success
Patrick Daberkow, the 10th head coach in program history, is enjoying one of the most successful seasons anyone has ever had as a first-year head coach of the Bulldogs. Only John Seevers (8-1 in 1970) and Kenneth Schroeder (6-2 in 1955) have posted more than Daberkow's five wins as a first-year head coach at Concordia. It will be difficult for anyone to ever top Seevers' first season. He inherited a talented roster from Ron Harms and led the 1970 team to an 8-1 record and a conference championship. Daberkow was part of a staff for head coach Vance Winter that has helped rejuvenate the program following a 1-9 season in 2008.

Records of Concordia head coaches in first year
Walter Hellwege: 1-0 (1925)
Herb Meyer: 2-4-1 (1941)
Kenneth Schroeder: 6-2 (1955)
Ralph Starenko: 3-6 (1959)
Ron Harms: 5-4 (1964)
John Seevers: 8-1 (1970)
Larry Oetting: 1-9 (1977)
Courtney Meyer: 1-7-1 (1990)
Vance Winter: 3-7 (2009)
Patrick Daberkow: 5-3 (2017)
Home cooking
Concordia's home win streak has moved to 10 with 2017 wins at Bulldog Stadium over Ottawa, Doane, Midland and Dakota Wesleyan. The Bulldogs went a perfect 5-0 at home during the 2016 season. Concordia also won its final home contest of 2015. Included in the win streak are eight triumphs over GPAC opponents and two over squads from the Kansas Collegiate Athletic Conference. The 2016 team was the program's first to complete an undefeated home season since 2000. The Bulldogs will need to defeat No. 4 Morningside on Nov. 11 in order to make it two years in a row with perfect home records.
Nine-game home win streak
10/28/17 | W, 38-16 | Dakota Wesleyan
10/14/17 | W, 44-14 | Midland
9/23/17 | W, 29-18 | No. 7 Doane
9/9/17 | W, 24-6 | Ottawa (Kan.)
11/12/16 | W, 31-28 | Hastings
10/22/16 | W, 20-14 | No. 22 Midland
10/8/16 | W, 56-0 | Briar Cliff
9/17/16 | W, 9-7 | Northwestern
9/3/16 | W, 23-7 | Mary (Kan.)
11/14/15 | W, 48-0 | Briar Cliff
Scouting Briar Cliff
The results through the first nine weeks of the season portray a program in a transitional phase under first-year head coach Dennis Wagner. Briar Cliff has struggled to get its program off the ground since its first season of football in 2003. Its best record was a 5-6 mark in 2006. This year's team has been underwhelming in many areas, but junior Noah Ylagan has been effective in the ground game. He is the school's first-ever 1,000-yard rusher. On the down side, the Chargers have had a rough time at the quarterback position and all over the field on defense. Briar Cliff yields 7.4 yards per rush and opposing quarterbacks have produced a sizzling 179.4 pass efficiency rating (33 touchdowns to seven interceptions). An upset of Concordia would be a big morale boost for the Chargers, who will finish their season on Nov. 11 with a trip to Dordt.