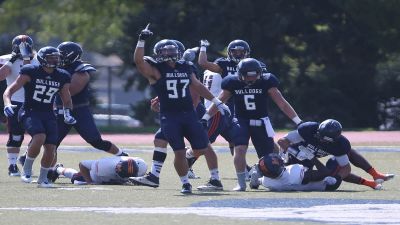 GAME NOTES: Bulldogs look to continue success versus Nebraska GPAC rivals
SEWARD, Neb. – The Bulldogs will take on a Nebraska GPAC rival for the third time in five games when Saturday's contest gets underway. On the road for the fourth time this season, Concordia will take on Midland at Heedum Field at 5 p.m. It will be homecoming for the Warriors.
Head coach Vance Winter's squad has now won six of its last seven games dating back to the end of the 2014 campaign. For the second time in three seasons, Winter has led the Bulldogs to at least four wins in the opening five games. Meanwhile, Midland snapped its 13-game losing streak last week by sneaking past Briar Cliff, 37-35.
GAME INFO
Concordia (4-1, 3-1 GPAC) at Midland (1-5, 1-3 GPAC)
Saturday, Oct. 17 | 5 p.m.
Site: Fremont, Neb.
Stadium: Heedum Field
Radio: 104.9 Max Country (KTMX-FM)
Webcast: Live Stream
STATISTICAL BREAKDOWN
2015 Team Statistics
*National rank in parentheses
Concordia
Offensive PPG: 30.8 (T-38th)
Defensive PPG: 13.0 (T-3rd)
Total Offense: 372.6 (48th)
Pass Offense: 171.8 (60th)
Rush Offense: 200.8 (25th)
Total Defense: 221.2 (1st)
Pass Defense: 103.8 (1st)
Rush Defense: 117.4 (19th)
Turnover +/-: +4 (T-14th)
Midland
Offensive PPG: 25.3 (49th)
Defensive PPG: 38.2 (70th)
Total Offense: 358.2 (53rd)
Pass Offense: 274.0 (15th)
Rush Offense: 84.2 (81st)
Total Defense: 476.0 (74th)
Pass Defense: 299.0 (81st)
Rush Defense: 177.0 (49th)
Turnover +/-: 0 (T-41st)
Individual Leaders
Concordia
Head Coach: Vance Winter (32-38, 7th year)
Passing: TJ Austin – 46/92 (.500), 8 TD, 2 INT, 602 yds, 129.3 effic. (rushing: 54 att, 280 yds, 2 TD)
Rushing: Bryce Collins – 68 att, 455 yds, 6.7 avg, 4 TD (receiving: 10 rec, 65 yds, 0 TD)
Receiving: Jared Garcia – 15 rec, 224 yds, 14.9 avg, 2 TD
Defense: Tait Sibbel – 29 tackles, 11.5 tfl's, 4 pbu's, 1 INT / Trey Barnes – 30 tackles, 5.0 tfl's, 3.0 sacks
Midland
Head Coach: Josh Gehring (11-25, 4th year)
Passing: Raul Alvarez – 130/196 (.663), 7 TD, 10 INT, 1,352 yds, 125.9 effic. (rushing: 41 att, 38 yds)
Rushing: Deon Ransom – 59 att, 284 yds, 4.8 avg, 2 TD
Receiving: Tristin Kamaka – 30 rec, 322 yds, 10.7 avg, 4 TD
Defense: Troy Rodriguez – 53 tackles, 4.0 tfl's
Bulldogs pick up votes in national coaches' poll
For the first time since the release of the Nov. 17, 2013 rankings, Concordia is listed among "others receiving votes" in the NAIA Football Coaches' Top 25 Poll. The Bulldogs received a total of four points (29th overall) in Monday's poll. Head coach Vance Winter's squad made regular appearances in the national ratings in 2013 when it earned top 25 rankings six-straight weeks (Sept. 23 – Oct. 28). Concordia rose as high as No. 14 after going 6-0 to begin the season. In the GPAC era (2000-present), the Bulldogs have been ranked as high sixth. That lofty rating was achieved during the 2001 co-GPAC championship season that saw Concordia receive top 25 placements in each of that campaign's final nine polls.
Conquering Nebraska
Even Concordia's last two conference championship teams (1981 and 2001) came up a win short of sweeping their league rivals from Nebraska. The last Bulldog football team to run the table against Nebraska opponents was the 1970 squad that captured a league title in the first year of the Nebraska Intercollegiate Athletic Conference's existence. Concordia went 5-0 that season against in-state schools, collecting wins over Doane (35-0), Hastings (28-0), Dana (9-6), Midland (43-14) and Nebraska Wesleyan (41-14).
This year's squad has rolled in its first two tests versus Nebraska institutions, having defeated Hastings, 28-3, and Nebraska Wesleyan, 47-14. After this week's game at Midland, the Bulldogs will host sixth-ranked Doane (Oct. 24) in their final game of the season against a Nebraska rival.
Sibbel stuffs the run
A three-year starter at safety entering this season, senior Tait Sibbel is thriving in his new role as an outside linebacker. Sibbel made four tackles for loss in last week's blowout of Nebraska Wesleyan, giving him an eye-popping nine stops behind the line of scrimmage over the last two weeks. With 11.5 tackles for loss this season, the pride of O'Neill, Neb., ranks fourth among all NAI A football players in TFLs per game (2.3). With 10 total tackles versus the Prairie Wolves, Sibbel (209 tackles) eclipsed 200 career stops. He also has nine interceptions in 37 games as a Bulldog.
Collins breaks 100 for 10th time
Junior Bryce Collins torched Nebraska Wesleyan for 142 yards and three touchdowns on nine carries. Now with 298 rushing yards over the past two weeks, the Boerne, Texas, native has 10 career games of 100 or more rushing yards. He surpassed 2,000 career rushing yards in the win at Dordt and is now knocking on the door of 3,000 career all-purpose yards (2,925). His 75-yard touchdown run in the second quarter versus Nebraska Wesleyan marked a career long carry.
Concordia 2,000-yard rushers
1. Cleve Wester (1982-85) – 3,658
2. Gary Seevers (1953-56) – 3,128
3. Alex Alvarez (1999-03) – 2,959
4. JaMaine Lewis (2004-07) – 2,731
5. Bryce Collins (2013-- ) – 2,175
6. Philip Elder (2002-05) – 2,027
D remains on top
Only one of Concordia's first five opponents has managed to produce more than 300 total yards (Northwestern, 347). The Bulldogs limited Nebraska Wesleyan to 238 yards (84 in the first half) and have remained the NAIA's top-rated defense with an average allowance of 221.2 yards per contest. That figure is the lowest for a Concordia defense in the post-NIAC era (1970-present), representing an even more dominant total than the 9-1 1981 team (228.0). Coordinator Patrick Daberkow's 2015 unit also ranks No. 1 nationally in pass defense (103.8) and pass efficiency defense (73.3).
Concordia all-time coaching records
Courtney Meyer (1990-2008) – 70-115-1
Larry Oetting (1977-89) – 63-64
Herb Meyer (1941-54) – 62-34-8
Walter Hellwege (1925-40) – 40-32-9
Vance Winter (2009-- ) – 32-38
John Seevers (1970-76) – 31-32-3
Ralph Starenko (1959-63) – 27-17
Ron Harms (1964-69) – 25-27-3
Kenneth Schroeder (1955-58) – 11-21
Series versus Midland
Concordia has gotten the upper hand in three-straight meetings with Midland, winning by scores of 35-28 (2014), 35-14 (2013) and 23-14 (2012). Since the formation of the GPAC, the Bulldogs own a record of 8-7 against the Warriors, who won five-consecutive series matchups from 2007 to 2011.
Scouting Midland
The Warriors picked up their first win of 2015 last week in a 37-35 shootout victory over Briar Cliff. Midland held off the Chargers despite 540 yards and three touchdowns through the air by Charger quarterback Dylan Desmarais. Midland, which led 17-0 at halftime, finally sealed the game when Briar Cliff's onside kick went out of bounds with 14 seconds left on the clock. The Warrior offense relives heavily upon transfer quarterback Raul Alvarez (College of the Sequoias). Alvarez has racked up at least 213 passing yards in each game and ranks ninth among all NAIA quarterbacks in passing yards (270.4). On the other side of the ball, Midland has struggled to contain opposing passing attacks (81st nationally in pass defense). Midland lost all five of its first or second team all-conference performers from 2014.