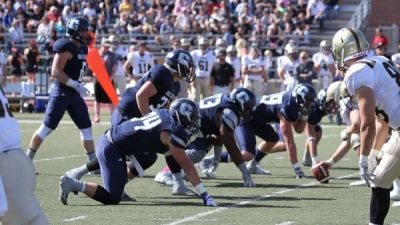 GAME NOTES: Bulldogs look to continue momentum in conference opener
SEWARD, Neb. – Fresh off an upset at 15th-ranked Sterling College in the season opener, the Concordia University football team is set to take aim at a 2-0 start for the second-straight year. The Bulldogs open up GPAC play on Saturday when they take on Hastings College (1-0) at Lloyd Wilson Field. The Broncos dominated in their 2014 opener, trouncing Kansas Wesleyan University, 61-21.
"Hastings looks good on film," Concordia sixth-year head coach Vance Winter said. "They have a lot of talent offensively and some nice skill people. They have a really good quarterback. They put up 61 points in their opener so I don't think we'll have any problem getting fired up to play.
"It should be a great game. We expect to be in a lot of four-quarter games and this will be one of them."
GAME INFO
Concordia (1-0) at Hastings (1-0)
Saturday, Sept. 13, 1 p.m.
Site: Hastings, Neb.
Stadium: Lloyd Wilson Field
Webcast: Stretch Internet
STATISTICAL BREAKDOWN
2013 Team Statistics
Concordia
Offensive PPG: 26.4 (43rd)
--2014: 21.0 (T-52nd)
Defensive PPG: 17.3 (6th)
--2014: 15.0 (16th)
Total Offense: 360.0 (45th)
--2014: 284.0 (T-62nd)
Pass Offense: 177.7 (53rd)
--2014: 167.0 (T-53rd)
Rush Offense: 182.3 (31st)
--2014: 117 (49th)
Total Defense: 285.5 (4th)
--2014: 295.0 (T-23rd)
Pass Defense: 135.5 (1st)
--2014: 204.0 (46th)
Rush Defense: 150.7 (31st)
--2014: 91.0 (17th)
Turnover +/-: +5 (T-26th)
--2014: -1 (T-53rd)
Hastings
Offensive PPG: 23.8 (56th)
--2014: 61.0 (T-2nd)
Defensive PPG: 34.8 (63rd)
--2014: 21.0
Total Offense: 351.6 (51st)
--2014: 654.0 (1st)
Pass Offense: 238.9 (23rd)
--2014: 286.0 (17th)
Rush Offense: 112.7 (75th)
--2014: 368.0 (3rd)
Total Defense: 428.7 (65th)
--2014: 440.0 (56th)
Pass Defense: 192.9 (27th)
--2014: 344.0 (79th)
Rush Defense: 235.8 (75th)
--2014: 96.0 (18th)
Turnover +/-: -15 (75th)
--2014: -1 (T-53rd)
Individual Leaders
Concordia
Head Coach: Vance Winter (24-31, 6th year)
Passing: Von Thomas – 13/25, 1 TD, 0 INT, 167 yards
Rushing: Bryce Collins – 18 att, 70 yards, 3.9 avg, 0 TD
Receiving: Bryce Collins – 4 rec, 68 yards, 17.0 avg, 0 TD
Defense: Kyle Rakow, 5 tackles, 2.5 TFL, 1 sack, 1 FF, 1 blk
Hastings
Head Coach: Tony Harper (15-16, 4th year)
Passing: Matt Overmiller – 18/33, 3 TD, 1 INT, 192 yards
Rushing: Ramiro Flores – 14 att, 105 yards, 7.5 avg, 1 TD
Receiving: Austin Curlee – 4 rec, 67 yards, 16.8 avg, 0 TD
Defense: Erik Wylie – 10 tackles, 2 TFL, 1 sack
Bulldogs topple another ranked opponent
The victory at 15th-ranked Sterling marked the third-straight season that Concordia has knocked off a ranked opponent. It was the first time the Bulldogs defeated a top 25 team on the road since an Aug. 28, 2010, win at No. 22 Peru State to open the season. Head coach Vance Winter has now guided the program to four victories over ranked opponents in his six seasons.
Wins over ranked opponents under Vance Winter
Sept. 6, 2014: 21-15 at No. 15 Sterling
Oct. 12, 2013: 19-3 vs. No. 22 Nebraska Wesleyan
Oct. 13, 2012: 17-16 vs. No. 11 Northwestern
Aug. 28, 2010: 13-7 at No. 22 Peru State
Dogged Defense
Despite saying goodbye to defensive stalwarts in corner Derek Blessing, defensive lineman Dylan Heithoff, linebacker Langston Jones and safety Darnell Woods after 2013, coordinator Patrick Daberkow's unit hardly seemed to miss a beat in limiting Sterling's potent offensive attack. Last season the Warriors ranked 14th in the NAIA in scoring at 35.2 points per game. The Bulldogs held them to 295 total yards and 15 points. Despite injuries to key players, Concordia made up for it as youngsters and upperclassmen with increased roles stepped up. The Bulldogs got a sack apiece from seniors Geoff Kleinschmit and Kyle Rakow and freshman Sam Noonan. In addition, junior linebacker Clay Mauro, who entered the game with eight career tackles, made nine stops, including 3.5 behind the line of scrimmage.
Thomas adds three more touchdowns to career total
In 32 career games, senior quarterback Von Thomas has thrown for 29 touchdowns and run for 11. His 40 total touchdowns are 12 shy of the school record held by Jarrod Pimentel (1998-2001), a Concordia Athletic Hall of Famer and quarterback for the 2001 Bulldog GPAC co-championship team. Thomas, owner of single-season school records for total yards (2,508), completions (197) and completion percentage (59.0), is chasing Pimentel in a number of career records. With 167 passing yards at Sterling, Thomas eclipsed 4,000 for his career and now has 4,143. Pimentel is the record holder with 6,435 career passing yards.
Pimentel vs. Thomas
--PIMENTEL: Passing – 470/943, 49.8%, 49 TD, 45 INT, 6,435 yards; Rushing – 248 att, -124 yards, 3 TD
--THOMAS: Passing – 398/738, 53.9%, 29 TD, 27 INT, 4,143 yards; Rushing – 297 att, 1,147 yards, 11 TD
Two Deep Notes
A few notable changes were made to this week's depth chart. All-conference right guard Josh Powell is back on the No. 1 line after being sidelined for the season opener with an injury. His return allows everyone to shift back to their natural spots with Glennon Manninger at left tackle, Ben Balduc at left guard, Adam Aschenbrenner at center and Saywer Birtell at right tackle. At running back, Trey Barnes reappears at the No. 1 slot after sitting out last week. Barnes rushed for 464 yards and seven touchdowns as a freshman in 2013.
Adam Vogt no longer appears at corner or as a punt returner. Vogt's collegiate football career lasted only one game after he suffered a knee injury at Sterling. He will miss the remainder of the season. In his place at corner, freshman D'Mauria Martin moves into a starting spot.
Happy early returns
With electrifying return man Derek Blessing having graduated, Concordia used four different players on either kick or punt returns at Sterling. Freshman receiver Logan Otte, who also caught a 23-yard touchdown pass, showed off an impressive burst with three punt returns for 67 yards, including a long of 50. Freshman Patrick Spicer came through with a 40-yard punt return and Bryce Collins had two kick returns for 65 yards.
Freshman receiver puts explosion in passing game
Von Thomas' favorite target in week one was freshman receiver Jared Garcia, who caught six passes for 62 yards. Otte hauled in his first career reception and touchdown on a 23-yard scoring strike from Thomas in the second quarter. The duo gives the Bulldogs more explosiveness in the passing game than they had in 2013. Garcia's 43-yard reception at Sterling already surpasses the team's longest play from scrimmage of 36 yards last season.
Hastings buries Kansas Wesleyan
Hastings shook off a 2-8 campaign in 2013 by putting up eye-popping offensive numbers in a 61-21 thrashing of Kansas Wesleyan University last week. The Broncos used 10 different ball carriers to rack up 368 yards on the ground. They put up another 286 through the air for a total of 654 yards of offense. Sophomore running back Ramiro Flores ran for 105 yards and a touchdown and senior quarterback Matt Overmiller threw for 192 yards and three scores. The offensive production was a big improvement from 2013 when Hastings ranked in the bottom half of the NAIA in both scoring and total offense.
Series with Broncos
In last year's matchup, Concordia topped Hastings 26-21 in a nailbiter inside Bulldog Stadium. Trailing 21-20, the Bulldogs scored on a 14-yard touchdown run on an end-around to wide receiver Jeff Balz with 59 seconds left. Concordia outgained Hastings 393-269 and improved to 2-0 at the time.
In the 14 meetings since the formation of the GPAC, the Broncos have won 10 of them. The Bulldogs have won two of the last three but are seeking their first win at Hastings since a 31-17 victory on Sept. 17, 2005.