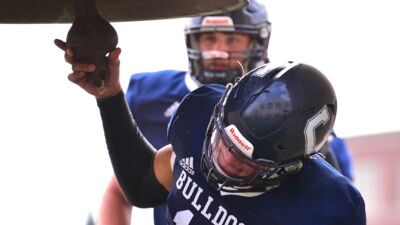 SEWARD, Neb. – The Concordia University Football team will have one more chance at beating an in-state rival this season. After suffering close losses earlier this season to Doane and Hastings, the Bulldogs will take on Midland in Fremont on Saturday. This will mark the 67th all-time meeting between the two sides, which played each other for the first time in 1944. Due to scheduling oddities (and a COVID cancellation), Concordia has not played at Midland's home field since 2015.
Head Coach Patrick Daberkow's squad has suffered three down-to-the-wire losses in 2022. The most recent one came last week as the Bulldogs were edged, 29-28, by Dordt. Concordia let a 28-20 fourth quarter lead slip away and fell despite a school record 458 passing yards from quarterback DJ McGarvie. A tough 0-3 start aside, the Bulldogs have played solid football since suddenly evolving into one of the NAIA's most potent passing attacks. McGarvie has fired 11 touchdown passes over the past four weeks.
The Warriors have ascended into the top 20 of the NAIA coaches' poll on the strength of a 7-1 start. In his seventh year as head coach, Jeff Jamrog has the Warriors in the playoff discussion with three games remaining in the regular season. The formula for Midland has been to run the football, win the turnover battle and play stout defense. The Warriors have won five games this season when scoring 22 points or less. The anchor of the defense is lineman Chase Lipsys, a returning First Team All-GPAC honoree. Midland is now seeking a Nebraska sweep of Concordia, Doane and Hastings.
GAME INFO
Concordia (3-4, 3-4 GPAC) at No. 14 Midland (7-1, 6-1 GPAC)
Saturday, Oct. 29 | 1 p.m.
Heedum Field | Fremont, Neb.
Webcast: Midland Stretch Portal
Live Stats: Presto Sports
Radio: 104.9 Max Country
Commentators: Parker Cyza and Ross Wurdeman
Online Tickets: HomeTown Ticketing (also sold on site)

STATISTICAL BREAKDOWN
Team Statistics
*2022 national rankings out of 98 NAIA football programs
Concordia
Offensive PPG: 23.1 (59th)
Defensive PPG: 21.0 (T-37th)
Total Offense: 388.3 (27th)
Pass Offense: 274.0 (12th)
Rush Offense: 114.3 (59th)
Total Defense: 357.4 (59th)
Pass Defense: 201.7 (50th)
Rush Defense: 155.7 (63rd)
Turnover +/-: +3
Midland
Offensive PPG: 28.6 (35th)
Defensive PPG: 15.5 (14th)
Total Offense: 342.3 (47th)
Pass Offense: 120.0 (92nd)
Rush Offense: 222.3 (8th)
Total Defense: 265.0 (T-14th)
Pass Defense: 191.4 (34th)
Rush Defense: 73.6 (9th)
Turnover +/-: +8
2022 INDIVIDUAL LEADERS
Concordia
Head Coach: Patrick Daberkow (26-29, 6th season)
Passing: DJ McGarvie – 148/250 (.592), 1,665 yards, 11 td, 3 int, 127.3 effic.
Rushing: Devin Zeigler – 107 rushes, 408 yards, 3.8 avg, 3 td
Receiving: Korrell Koehlmoos – 62 receptions, 730 yards, 11.8 avg, 9 td
Defense: Devon Polley – 34 tackles, 9.5 tfl's, 4.5 sacks, 1 ff, 1 int

Midland
Head Coach: Jeff Jamrog (45-25, 7th season)
Passing: Garrison Beach – 80/137 (.584), 637 yards, 6 td, 2 int, 109.0 effic.
Rushing: Trevor James – 120 rushes, 587 yards, 4.9 avg, 1 td
Receiving: Jordelle Lacy – 20 receptions, 169 yards, 8.4 avg, 1 td
Defense: Chase Lipsys – 41 tackles, 11.5 tfl's, 8 sacks, 2 ff

2022 SCHEDULE/RESULTS
Concordia (3-4, 3-4 GPAC)
9/3 at Doane, L, 10-12
9/17 vs. Hastings, L, 17-21 (homecoming)
9/24 at (4) Northwestern, L, 10-34
10/1 at Dakota Wesleyan, W, 20-12
10/8 vs. Jamestown, W, 30-15
10/15 vs. Mount Marty, W, 47-24
10/22 vs. Dordt, L, 28-29
10/29 at (23) Midland, 1 p.m.
11/5 at Briar Cliff, 1 p.m.
11/12 vs. (1) Morningside, 1 p.m. (senior day)

Midland (7-1, 6-1 GPAC)
8/27 vs. St. Mary, W, 64-10
9/3 vs. Hastings, W, 14-10
9/10 at Doane, W, 20-6
9/17 at Mount Marty, W, 20-7
9/24 vs. Jamestown, W, 21-10
10/1 vs. (1) Morningside, L, 12-47
10/8 at Briar Cliff, W, 56-21
10/22 at Dakota Wesleyan, W, 22-13
10/29 at Concordia, 1 p.m.
11/5 at (4) Northwestern, 1 p.m.
11/12 vs. Dordt, 1 p.m.

In the rankings
Concordia picked up three points in the 2022 NAIA preseason coaches' poll but fell off the national radar due to the 0-3 start. The program's most recent top 25 appearance came in November 2017 when they landed at No. 25. Current Massey Ratings list Concordia at No. 52 and Midland at No. 25 in the NAIA. The Warriors began this season unranked but have kept climbing in recent weeks, breaking in at No. 23 on Sept. 12 before attaining rankings of 19th, 17th, 20th, 17th, 17th and 14th in successive 2022 NAIA coaches' polls.
Concordia
GPAC preseason: 4th
Current Massey Ratings: 52nd
Midland
GPAC preseason: 5th
Current Massey Ratings: 25th

Last time out
The margins have been razor thin for a Concordia team that has suffered losses by scores of 12-10 to Doane, 21-17 to Hastings and 29-28 to Dordt. The Bulldogs mounted a 28-20 fourth quarter lead last week with the help of four touchdown passes from quarterback DJ McGarvie. The touchdown tosses went to Korrell Koehlmoos, Austin Jablonski (twice) and Luke Lang. McGarvie balanced out his targets while finding six different receivers for at least four catches apiece: Koehlmoos (seven for 96 yards), Lang (six for 117 yards), Devin Zeigler (six for 34 yards), Carsen Arline (five for 91 yards), Jablonski (five for 80 yards) and Daylan Russell (four for 34 yards). McGarvie finished with a school record 458 passing yards. Behind that passing game, Concordia edged Dordt in total yards, 499-485. A critical play in the game was Ty Harold's 27-yard field goal try that was blocked and returned 78 yards for a Defender touchdown in the third quarter. Dordt has won each of the last five series meetings.

McGarvie continues prolific sophomore season
As a team, Concordia has moved up to No. 12 in the NAIA in passing yardage per game (274.0). A lot of credit goes to sophomore quarterback DJ McGarvie, who is 9-4 in 13 career collegiate starts. While going 34-for-67 for 458 yards and four touchdowns last week, McGarvie eclipsed the program's previous single game school record of 455 passing yards by Andrew Perea (versus Northwestern in 2018). Some of previous Head Coach Vance Winter's best teams relied on running the football with star backs like Bryce Collins, but this Concordia team is built much differently. Daberkow has adjusted the system to fit personnel that includes two terrific receivers in Korrell Koehlmoos and Austin Jablonski and a breakout tight end in Luke Lang. Over the past four games, McGarvie has completed 112-of-182 pass attempts (.615) for 1,341 yards and 11 touchdowns (plus a rushing touchdown) to go against two interceptions. McGarvie was recognized on Monday as the GPAC Offensive Player of the Week.

Last four games:
--at Dakota Wesleyan: 26/40, 255 yards, 3 td, 1 int
--vs. Jamestown: 28/41, 393 yards, 1 td, 0 int (rushing td)
--vs. Mount Marty: 24/34, 235 yards, 3 td, 0 int
--vs. Dordt: 34/67, 458 yards, 4 td, 1 int

Koehlmoos pads record breaking totals
By the time it's all said and done, Korrell Koehlmoos is going to end up with one of the best seasons ever for a Concordia receiver. Koehlmoos caught seven passes for 96 yards last week while just missing out on a sixth straight 100-yard receiving game. The Pilger, Neb., native rose to the top of the career receptions list in the win over Jamestown on Oct. 8 and then set a new standard for career receiving yards in the victory over Mount Marty on Oct. 15. In 45 career collegiate games, Koehlmoos has caught 188 passes for 2,600 yards and 21 touchdowns. Koehlmoos sports NAIA national rankings this season of second in receptions (62), fourth in receiving touchdowns (nine) and 10th in receiving yards (730). Koehlmoos is on pace to do something no receiver at Concordia has ever done – crack 1,000 receiving yards in a single season. At 62 catches this season, Koehlmoos has tied Eric Pralle (62 receptions in 1990) for the most receptions in a single season in school history.

Receiving yards, career
1. Korrell Koehlmoos – 2,600 (2018-present)
2. Jared Garcia – 2,495 (2014-17)
3. Ross Wurdeman – 2,458 (1998-01)
4. Clarence Woods – 2,011 (1984-88)
5. Eric Pralle – 1,974 (1987-1991)

Receptions, career
1. Korrell Koehlmoos – 188 (2018-present)
2. Ross Wurdeman – 168 (1998-01)
3. Jared Garcia – 161 (2014-17)
4. Eric Pralle – 147 (1987-91)
5. Dan Danielczyk – 140 (1968-71)

Receiving TDs, career
1. Jared Garcia – 35 (2014-17)
2. Ross Wurdeman – 24 (1998-01)
3. Korrell Koehlmoos – 21 (2018-present)
4. Brian Naber – 17 (1967-70)
5. Marlin Zobel – 16 (1948-51)

Offensive revival
After the first three games of 2022, Concordia ranked 73rd nationally in total offense in 83rd in scoring offense. The numbers have rocketed skyward since halftime of the win over Dakota Wesleyan. Over the past 14 quarters, the Bulldogs have amassed 125 points and 1,785 total yards. This is the type of offensive renaissance the program has been waiting for. Over the previous five years, Concordia has posted scoring averages of 24.6 in 2017, 15.4 in 2018, 15.6 in 2019, 21.9 in 2020 and 23.6 in 2021. Another hopeful step forward is converting the yardage totals into more points.
Next man up
It's been a situation of next man up on the offensive line. The Bulldogs opened the season with an offensive line of (from left to right): Kaden Peters, Toby Hager, Johnny Robinson III, Christian Schlepp and Gavin Mull. In recent action, Robinson III, Schlepp and Mull have all sat out due to injuries. To help make up for that loss of beef up front, Concordia moved true freshman Carson Fehlhafer over from the defensive line. He made his first career start in the win over Mount Marty while playing at left guard. Jackson Anderson (center) and Blake Schlegel (right tackle) have also stepped into starting positions and helped the offense put together its best stretch of offensive football this season.

Defensive superlatives
The defensive leaders across categories include Michael Grindey in tackles (69), Devon Polley in tackles for loss (9.5) and sacks (4.5), Isiaha Conner in interceptions (three), Jayzen Armstrong in pass breakups (eight) and Kam Baker in forced fumbles (three). Grindey has had three games this season with double-digit tackle totals. His high of 14 stops came against Hastings. In the middle of the defensive line, Polley has been a force. He was recognized on Oct. 10 as the GPAC Defensive Player of the Week after he collected 2.5 sacks in the win over Jamestown. The defense has been solid in limiting opponents to averages of 21.0 points and 357.4 yards per game. Coordinator Corby Osten's unit has effectively made up for personnel losses from last season such as stars Lane Napier and Caydren Cox.

Jabo accomplishes rare feat
In the past 20 years of Concordia football, there are only three players who have thrown a touchdown pass, rushed for a touchdown and caught a touchdown during the same season. Austin Jablonski became No. 3 last week when he hauled in touchdown receptions that covered 22 and 14 yards last week. On the year, the Lincoln Pius X High School alum has passed for two touchdowns, rushed for three and has caught two touchdowns. The other players to achieve the trifecta over the past 20 years were Art Anderson in 2018 and Alex Alvarez in 2003. Jablonski started at quarterback the first two games this season before moving to receiver. On the year, he's passed for 253 yards, run for 152 and has totaled 310 yards receiving.

Kicking-punting duo
One of the last additions to the 2022 team, Ty Harold has brought his soccer leg to the football field as a kicker. A transfer from Iowa Western Community College, Harold came to Concordia to play for Head Coach Jason Weides' men's soccer team. Harold impressed the coaching staff enough during preseason to be trusted with placekicking duties. Harold is now 6-for-12 on field goal tries and 18-for-21 on PATs in 2022. His 36 points are second on the team to Koehlmoos (54), who happens to be having a fine season at punter. On 39 punts this season, he is averaging 42.3 yards per attempt with 16 of them landing inside the 20. Last week, Koehlmoos punted seven times for an average of 48.7 yards per attempt – six were downed inside the opponents' 20.

Lang emerges at tight end
Two-time First Team All-GPAC tight end Garrett Schardt had planned on playing a fifth year of college football, but injuries have kept him sidelined in 2022. In his absence, Luke Lang has taken over the starting role at tight end and has caught 24 passes for 363 yards and two touchdowns. The 6-foot-3, 215-pound native of Brentwood, Calif., briefly left Concordia at one point and then returned. Lang went past 100 receiving yards for the first time in his career while notching 117 on six catches last week. Lang has also found the end zone in back-to-back weeks.

Series vs. Midland
The series with Midland is one of the oldest rivalries in program history. The two sides first met in 1944 in what was six-man football at the time due to man power needs of World War II. The result that year was a 40-0 Concordia victory. The Bulldogs and Warriors did not play each other again until 1952. Then in 1957, they began playing annually all the way up to the present day (with the exception of 2020 due to a COVID no contest). Midland leads the all-time series, 37-28-1. In recent seasons, Concordia had its way by winning all six matchups during the 2012 through 2017 seasons. The Warriors broke that string with victories in 2018 and 2019. The Bulldogs got back on the winning side of the rivalry in 2021 with 21-7 decision over Midland. What stood out most about that game was Concordia's six interceptions, including three from safety Peyton Mitchell. Concordia is set to play in Fremont for the first time since 2015. In that '15 meeting, the Bulldogs erased a 35-14 second half deficit and won in overtime, 41-38, on Bryce Collins' 16-yard touchdown run.
Last 10 years vs. Midland
2021 – W, 21-7 (Seward)
2020 – COVID no contest
2019 – L, 7-27 (Seward)
2018 – L, 7-35 (Seward)
2017 – W, 44-14 (Seward)
2016 – W, 20-14 (Seward)
2015 – W, 41-38 | OT (Fremont)
2014 – W, 35-28 (Seward)
2013 – W, 35-14 (Fremont)
2012 – W, 23-14 (Seward)

Scouting Midland
Midland is hanging its hat on defense and comes into the week ranked in the top 15 nationally for both total defense and scoring defense. Offensively, the Warriors are the opposite of Concordia in that their season pass attempts (188) are barely more than DJ McGarvie's pass attempts (182) over the past four weeks (Midland averages only 5.1 yards per pass attempt). Midland intends to pound the rock with Trevor Jones (587 yards) and Tyson Denkert (400 yards), limit turnovers and then stifle the opposition with its defense. Opponents are averaging 2.7 yards per carry against a defense spearheaded by Chase Lipsys, who has totaled 11.5 tackles for loss and eight sacks. At 7-1, the Warriors have a real shot at reaching the NAIA playoffs for the first time since 1994. Under Head Coach Jeff Jamrog, Midland has posted a winning record in all seven seasons (including 2022).