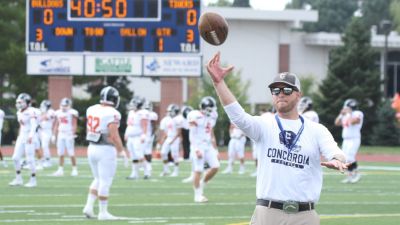 SEWARD, Neb. – Exactly halfway through its 10-game schedule, the Concordia University football team is set to return to action this week after a bye this past Saturday. The Bulldogs have been idle since a 38-18 loss at Hastings on Sept. 30. First-year head coach Patrick Daberkow's squad stands at 2-3 overall with the season's biggest highlight being a 29-18 victory over then seventh-ranked Doane on Sept. 23.
Meanwhile, Midland has dropped to 4-2 after suffering losses to No. 25 Dakota Wesleyan and No. 19 Northwestern over the past two weeks. The fortunes of the program have improved significantly since Jeff Jamrog became head coach last year. Jamrog has a record of 11-6 at the helm of the Warriors. Midland has won two of its first three road games in 2017.
GAME INFO
Midland (4-2, 2-2) at Concordia (2-3, 1-2)
Saturday, Oct. 14 | 1 p.m.
Bulldog Stadium | Seward, Neb.
Webcast: Concordia Sports Network
Radio: 104.9 Max Country
Commentators: Tyler Cavalli and Roger Fitzke
Live Stats: Stretch Internet
STATISTICAL BREAKDOWN
2017 Team Statistics
*National rank in parentheses
Concordia
Offensive PPG: 21.0 (63rd)
Defensive PPG: 25.0 (32nd)
Total Offense: 344.8 (57th)
Pass Offense: 190.8 (53rd)
Rush Offense: 154.0 (T-45th)
Total Defense: 374.2 (35th)
Pass Defense: 212.4 (40th)
Rush Defense: 161.8 (43rd)
Turnover +/-: -2 (T-51st)
Midland
Offensive PPG: 30.7 (T-37th)
Defensive PPG: 28.8 (T-46th)
Total Offense: 342.0 (58th)
Pass Offense: 165.2 (66th)
Rush Offense: 176.8 (36th)
Total Defense: 446.5 (75th)
Pass Defense: 265.8 (77th)
Rush Defense: 180.7 (52nd)
Turnover +/-: +6 (T-12th)
Individual Leaders
Concordia
Head Coach: Patrick Daberkow (2-3, 1st season)
Passing: Andrew Perea – 61/113 (.540), 624 yards, 5 td, 4 int
Rushing: Ryan Durdon – 93 rushes, 453 yards, 4.9 avg, 2 td; Receiving: 12 catches, 61 yards
Receiving: Jackson Hall – 14 catches, 246 yards, 17.6 avg, 2 td
Defense: Kordell Glause – 24 tackles, 3 tfl, 2 sacks, int
Midland
Head Coach: Jeff Jamrog (11-6, 2nd season)
Passing: Garry Cannon – 69/117 (.590), 820 yards, 10 td, 3 int; rushing: 68 carries, 256 yards, 3.8 avg, 3 td
Rushing: Lukas Vopnford – 63 rushes, 380 yards, 6.0 avg, 4 td; receiving: 9 catches, 141 yards, 2 td
Receiving: Mike Seawell – 13 catches, 206 yards, 15.8 avg, 2 td
Defense: Wyatt Tremayne – 45 tackles, 6 tfl, fr
Schedule/results
Concordia (2-3, 1-2 GPAC)
9/2 at (20) Kansas Wesleyan, L, 13-28
9/9 vs. Ottawa, W, 24-6
9/16 at (24) Northwestern, L, 21-35
9/23 vs. (7) Doane, W, 29-18 (homecoming)
9/30 at Hastings, L, 18-38
10/14 vs. Midland, 1 p.m.
10/21 at Dordt, 1 p.m.
10/28 vs. Dakota Wesleyan, 1 p.m.
11/4 at Briar Cliff, 1 p.m.
11/11 vs. (4) Morningside, 1 p.m.

Midland (4-2, 2-2 GPAC)
9/2 at Friends, W, 29-24
9/9 vs. North Park, W, 24-14
9/16 vs. Briar Cliff, W, 56-28
9/23 at Dordt, W, 33-28
9/30 at (25) Dakota Wesleyan, L, 21-55
10/7 vs. (19) Northwestern, L, 21-24
10/14 at Concordia, 1 p.m.
10/28 at (4) Morningside, 1 p.m.
11/4 vs. (19) Hastings, 1 p.m.
11/11 vs. (19) Doane, 1 p.m.
In the rankings
Neither team received votes in the NAIA coaches' poll released on Monday (Oct. 9). Midland checked in at No. 24 on Sept. 25 after a 4-0 start. The Warriors dropped out the next week following their first loss of the campaign. Meanwhile, Concordia has received votes in two of this season's polls. In the Massey Ratings, both squads appear inside the top 50.
Concordia
GPAC preseason: 5th (coaches); 6th (media)
NAIA coaches' poll (Oct. 9): did not receive votes
Massey Ratings: 47th
Midland
GPAC preseason: 4th (coaches); 4th (media)
NAIA coaches' poll (Oct. 9): did not receive votes
Massey Ratings: 40th
Happy returns
Saturday's game could come down to special teams. Two of the nation's top return men will be on display. In terms of kickoff return yards, the contest will feature the nation's leading kick returner in Exavier Edwards (505 yards) and the NAIA's No. 3 kick returner in Tarence Roby (475). Roby (33.9) averages slightly more yards per return than Edwards (31.6). A native of Rockford, Ill., Roby returned an interception 100 yards for a touchdown in the 24-6 win over Ottawa University (Kan.). In addition, he ranks ninth nationally in yards per punt return (11.9) and 20th in the NAIA in all-purpose yards per game (135.2). An all-conference performer at cornerback, Roby has found the end zone five times in his career (twice on kick returns and one apiece on interception, fumble and punt returns).
Hall pass
Sophomore receiver Jackson Hall has been a breakout performer this fall. The native of Berthoud, Colo., recorded his second 100-yard receiving effort of the season at Hastings where he caught six passes for 123 yards. He also reeled in five balls for 108 yards and a touchdown at Northwestern. Hall tops the Bulldogs with 246 receiving yards on the year. He has already dwarfed his freshman statistics of eight catches for 87 yards in 2016. The team's top receiver in terms of catches is freshman Lane Castaneda, who has 20 receptions for 195 yards and two touchdowns.
Offensive rhythm
The bye week gave Concordia time to fine tune an offense that has produced modest results (57th nationally in total offense) to this point. The Bulldogs hope to have junior quarterback Riley Wiltfong healthy again soon. The native of Doniphan, Neb., is the team's most experienced quarterback. He's also second on the team to Ryan Durdon (453 rushing yards) in rushing. Andrew Perea has started the past two games at quarterback. In those contests, Perea threw for a combined 365 yards and four touchdowns. At running back, freshman Sir-Zavius Broussard has become more involved. He rushed six times for 38 yards at Hastings.
Home cooking
Concordia's home win streak has moved to eight with 2017 wins at Bulldog Stadium over Ottawa University and Doane. The Bulldogs went a perfect 5-0 at home during the 2016 season. Concordia also won its final home contest of 2015. Included in that run are six wins over GPAC opponents and two over squads from the Kansas Collegiate Athletic Conference. The 2016 squad was the program's first to complete an undefeated home season since 2000.
Eight-game home win streak
9/23/17 | W, 29-18 | No. 7 Doane
9/9/17 | W, 24-6 | Ottawa (Kan.)
11/12/16 | W, 31-28 | Hastings
10/22/16 | W, 20-14 | #22 Midland
10/8/16 | W, 56-0 | Briar Cliff
9/17/16 | W, 9-7 | Northwestern
9/3/16 | W, 23-7 | Mary (Kan.)
11/14/15 | W, 48-0 | Briar Cliff
Five in a row
The home win streak and a five-game series win streak versus Midland will be on the line on Saturday. The last three games against the Warriors have each been decided by seven points or less. The 2015 meeting resulted in one of the greatest second half comebacks in Concordia football history. The Bulldogs trailed 35-14 late in the third quarter before Garrett Folchert connected on three touchdown passes (two to Jared Garcia and one to Brandon Luetchens) to force overtime. In the extra session, Midland settled for a field goal and then Bryce Collins ended the game with a 16-yard rushing touchdown on a fourth-and-one play. Folchert enjoyed one of the most productive single games ever for a Concordia quarterback, finishing with 315 yards and four touchdowns through the air. Last season's 20-14 Concordia win was not as closely contested as the final score made it appear. The Bulldogs outgained Midland 334-234 and led 20-7 when the Warriors scored a touchdown with two seconds remaining in the game. Linebacker Kordell Glause recorded six tackles (one for loss) and a fumble recovery in a dominant defensive performance.
Scouting Midland
A 4-0 start propelled Midland into the NAIA top 25 rankings, but the Warriors slipped in their next two outings and were bounced from the poll. The Warriors will attempt to avoid the fate they endured last season when they jumped out to a 5-0 record before finishing at 7-4 overall. Midland possesses a returning starter at quarterback in Chula Vista, Calif., native Garry Cannon, who has thrown 19 touchdowns and for nearly 2,500 yards in 15 career games as a Warrior. Cannon and running back Lukas Vopnford give Midland a solid rushing attack that churns out more than 175 yards per game. Defensively, the Warriors have been gutted during conference play and now rank 75th nationally in total defense. Though only 5-foot-9, linebacker Wyatt Tremayne averages 7.5 tackles per game and has made six stops in the backfield. Exavier Edwards is dangerous in the return game. Head coach Jeff Jamrog, a former member of the University of Nebraska coaching staff, quickly improved a program that went 2-8 prior to his arrival in Fremont. Midland was pegged to finish fourth in the GPAC by both the coaches and media preseason polls.