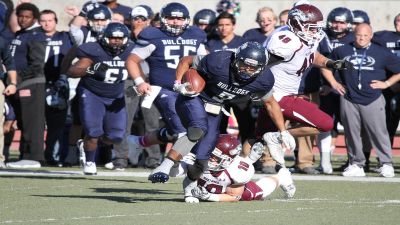 SEWARD, Neb. – The Concordia University football is gearing up to take on a top-20 ranked opponent for the third-straight week as part of a grueling stretch run. The Bulldogs will travel to Mitchell, S.D., for their final road game of the regular season. Kickoff from Joe Quintal Field is slated for 1 p.m. on Saturday.
No. 18 Dakota Wesleyan, led by fourth-year head coach Ross Cimpl, has won back-to-back games, including a 27-17 victory at No. 15 Northwestern on Oct. 24. Meanwhile, the Bulldogs are looking to return to the win column after dropping home contests to No. 6 Doane, 23-20 (OT), and No. 2 Morningside, 44-21, the past two weeks. Those two teams are a combined 14-0 in GPAC action this season.
GAME INFO
Concordia (5-3, 4-3) at (18) Dakota Wesleyan (7-2, 5-2 GPAC)
Saturday, Nov. 7 | 1 p.m.
Site: Mitchell, S.D.
Stadium: Joe Quintal Field
Radio: 104.9 Max Country (KTMX-FM)
Webcast: Stretch Internet
STATISTICAL BREAKDOWN
2015 Team Statistics
*National rank in parentheses
Concordia
Offensive PPG: 29.5 (36th)
Defensive PPG: 21.3 (19th)
Total Offense: 379.5 (42nd)
Pass Offense: 205.8 (41st)
Rush Offense: 173.8 (T-35th)
Total Defense: 298.5 (9th)
Pass Defense: 155.3 (8th)
Rush Defense: 143.3 (28th)
Turnover +/-: +1 (T-40th)
Dakota Wesleyan
Offensive PPG: 35.7 (21st)
Defensive PPG: 28.7 (T-46th)
Total Offense: 428.2 (21st)
Pass Offense: 216.6 (33rd)
Rush Offense: 211.7 (22nd)
Total Defense: 372.2 (34th)
Pass Defense: 215.6 (51st)
Rush Defense: 156.7 (33rd)
Turnover +/-: +1 (T-40th)
Individual Leaders
Concordia
Head Coach: Vance Winter (33-40, 7th year)
Passing: Garrett Folchert – 59/108 (.546), 9 TD, 3 INT, 748 yds, 134.8 effic.
Rushing: Bryce Collins – 134 att, 678 yds, 5.1 avg, 7 TD (receiving: 23 rec, 230 yds, TD)
Receiving: Jared Garcia – 34 rec, 590 yds, 17.4 avg, 6 TD
Defense: Trey Barnes – 60 tackles, 14.0 tfl's, 9.0 sacks / Tait Sibbel – 49 tackles, 12.0 tfl's, 5 pbu's, 1 INT, 2 blks
Dakota Wesleyan
Head Coach: Ross Cimpl (28-13, 4th year)
Passing: Dillon Turner – 153/257 (.595), 22 TD, 6 INT, 1,945 yds, 146.7 effic. (rushing: 134 att, 716 yds, 6 TD)
Rushing: John Fabrizius – 120 att, 431 yds, 3.6 avg, 5 TD
Receiving: Hayden Adams – 45 rec, 742 yds, 16.5 avg, 12 TD
Defense: Brady Bonte – 67 tackles, 17.5 tfl's, 8.5 sacks
In the rankings
After two-straight appearances in the top 25, Concordia dropped out this week. Under head coach Vance Winter, the Bulldogs have earned eight national rankings, including six during the 2013 season. Meanwhile, Dakota Wesleyan jumped one spot to No. 18 in the poll released on Monday. The Tigers have appeared in each of the last seven polls, rising as high as No. 12 on Oct. 5. The Bulldogs are 0-3 thus far against ranked opponents. A win over Dakota Wesleyan would extend the program's active streak of three-straight seasons with at least one victory over a top-25 opponent.
Sack lunch
Up against the nation's most potent offensive attack, junior defensive end Trey Barnes came up with a career high three sacks last week versus Morningside. Barnes also totaled eight tackles (four for loss) and four quarterback hurries. The Seward High School product now ranks first among GPAC players with nine sacks. Nationally, he ranks second in sacks per game (1.1). The pass-rushing terror is third on the team with 61 tackles and first in both tackles for loss (14) and quarterback hurries (10). Barnes has at least a partial sack in six of eight games in 2015.
Quarterback carousel
Sophomore Riley Wiltfong made his second-straight start last week at quarterback, but his status is in question after he left the game against Morningside due to injury. Head coach Vance Winter has also starter sophomore TJ Austin and senior Garrett Folchert at quarterback this season. Folchert has moved up to No. 1 on this week's depth chart. With Austin and Wiltfong nursing injuries, freshman Andrew Perea (starting JV quarterback) has moved up into the No. 2 position. Concordia's trio of quarterbacks has combined for 1,646 passing yards, 395 rushing yards and a touchdown-to-interception ratio of 19-7.
Big-play offense
No matter the quarterback, Concordia has shown the ability to beat teams deep with the receiving duo of sophomore Jared Garcia (34 catches, 590 yards, six touchdowns) and freshman Trae Owens (12 catches, 226 yards, five touchdowns). They have combined to average 17.7 yards per reception. Owens has three touchdown catches that have covered more than 40 yards (44, 48 and 57). In the loss to Doane, Garcia got loose for touchdown receptions of 64 and 67 yards. Over the past two weeks, Garcia has also drawn five pass interference penalties on opposing defensive backfields. Out of the backfield, Bryce Collins provides another big-play threat in the passing game. He took a screen 75 yards to the end zone in the win at Midland.
Touchdown Collins
While the Morningside defense limited Concordia junior running back Bryce Collins to 49 rushing yards on 26 carries, the native of Boerne, Texas, managed to find the end zone twice. Collins now has seven rushing touchdowns on the year, making him the only Bulldog back ever to post at least seven touchdowns on the ground in three-straight seasons. Collins has 27 total touchdowns (25 rushing, two receiving) in his collegiate career. He has also amassed 2,398 rushing yards and 3,313 all-purpose yards in 28 games as a Bulldog. He is chasing the all-time program rushing record of 3,658 yards set by Cleve Wester (1982-85).
Stout pass D
Spurred by corners D'Mauria Martin and Tarence Roby, opposing quarterbacks have struggled. Morningside quarterback Ryan Kasdorf entered last week's matchup completing more than 70 percent of his passes. He went 14-for-28 against Concordia's rock-solid pass defense. Among all NAIA teams, Concordia ranks eighth in pass defense (155.3 ypg) and ninth in pass efficiency defense (103.4). Three Bulldog opponents failed to reach 100 passing yards.
Series versus Dakota Wesleyan
Dakota Wesleyan holds an 8-7 edge in the all-time series with Concordia. Last season the Bulldogs snapped a four-game series losing streak with a 27-19 win over then No. 24-ranked Dakota Wesleyan in Seward. Bryce Collins ran 26 times for 127 yards and Concordia got a boost from its defense when Tait Sibbel returned a fumble 41 yards for a touchdown in the first quarter. On the flip side, the Tigers have won each of the last three meetings that have taken place in Mitchell. Concordia last won at Dakota Wesleyan in 2007.
Scouting Dakota Wesleyan
The Tigers have a strong resume that includes two wins over top-15 opponents (No. 14 Ottawa University and No. 15 Northwestern). Both losses have been suffered at the hands of top-10 teams (No. 3 Morningside and No. 8 Doane). Cimpl's team is built around one of the nation's most dangerous dual-threat quarterbacks in Dillon Turner who has accounted for 2,661 total yards and 28 total touchdowns.