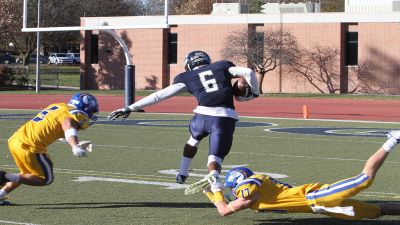 SEWARD, Neb. – Concordia will attempt to shake a three-game losing streak as it welcomes Briar Cliff to Seward for senior day. Saturday's kickoff is slated for 1 p.m. from Bulldog Stadium. A total of 18 seniors will be recognized in a ceremony scheduled to start roughly 25 minutes prior to kickoff.
The Bulldogs committed six turnovers in last week's 17-10 loss at No. 18 Dakota Wesleyan. All four of Concordia's defeats have come at the hands of teams ranked inside the top 20. Meanwhile, Briar Cliff suffered its fifth-consecutive loss last week, falling 31-17 in a home game against No. 5 Doane. The Chargers took a 17-14 lead to the fourth quarter before the Tigers put up 17 unanswered points to remain unbeaten.
GAME INFO
Briar Cliff (3-7, 2-6) at Concordia (5-4, 4-4)
Saturday, Nov. 14 | 1 p.m.
Site: Seward, Neb.
Stadium: Bulldog Stadium
Radio: 104.9 Max Country (KTMX-FM)
Webcast: Concordia Sports Network
STATISTICAL BREAKDOWN
2015 Team Statistics
*National rank in parentheses
Concordia
Offensive PPG: 27.3 (44th)
Defensive PPG: 20.8 (18th)
Total Offense: 378.1 (43rd)
Pass Offense: 209.4 (40th)
Rush Offense: 168.7 (42nd)
Total Defense: 282.9 (7th)
Pass Defense: 147.2 (7th)
Rush Defense: 135.7 (27th)
Turnover +/-: -3 (T-56th)
Briar Cliff
Offensive PPG: 20.6 (65th)
Defensive PPG: 33.8 (62nd)
Total Offense: 325.8 (65th)
Pass Offense: 217.2 (33rd)
Rush Offense: 108.6 (78th)
Total Defense: 419.5 (60th)
Pass Defense: 249.2 (74th)
Rush Defense: 170.3 (39th)
Turnover +/-: -2 (T-51st)
Individual Leaders
Concordia
Head Coach: Vance Winter (33-41, 7th year)
Passing: Garrett Folchert – 78/149 (.523), 9 TD, 6 INT, 987 yds, 119.9 effic.
Rushing: Bryce Collins – 165 att, 805 yds, 4.9 avg, 8 TD (receiving: 28 rec, 269 yds, TD)
Receiving: Jared Garcia – 34 rec, 638 yds, 17.7 avg, 6 TD
Defense: Trey Barnes – 69 tackles, 18.0 tfl's, 10.0 sacks
Briar Cliff
Head Coach: Tom Rethman (20-67, 8th year)
Passing: Dylan Desmarais – 135/280 (.482), 13 TD, 7 INT, 1,927 yds, 116.3 effic. (rushing: 80 yds, 2 TD)
Rushing: Mitch Heikes – 193 att, 757 yds, 3.9 avg, 4 TD
Receiving: Donald Drisdom – 37 rec, 820 yds, 22.2 avg, 6 TD
Defense: Andre Reyes – 129 tackles, 6.5 tfl's, 3 INT, 3 FR
Thank you seniors
This year's senior class includes 15 players and a trio of student assistant coaches (see list below). Among them, linebacker Tait Sibbel possesses one of the most impressive resumes having been named all-conference in some form in each of his first three seasons. In his career, Sibbel has racked up 231 tackles and nine interceptions over 41 games. Kicker Adam Meirose has made 19 field goals and 102 extra points. He is a two-time all-conference honoree. Of the 15 senior players, seven are listed as starters on this week's two deep. The group of four-year seniors has a combined record of 22-20 since the start of the 2012 season.
Ben Balduc
Collin Christiansen
Cody Eitzmann
Sandy Fisher
Garrett Folchert
Clint Gardels
Michael Gill
Trent Good
Riley Herren
Clay Mauro
Adam Meirose
Zack Moje
Brandon Namuth
Tait Sibbel
Josh Slechta
Student Assistants
Michael Grau
Jerad Leifeld
Chase Murman
D ranks as one of school's all-time best
With an average of 282.9 yards allowed per game, Concordia's 2015 defense ranks right in line with the 2013 unit led by All-American safety Darnell Woods (see comparison below). That group surrendered a mean of 285.5 yards per game and 17.3 points per contest. This year's Bulldogs lowered their defensive yards per game average to a program GPAC era low by limiting Dakota Wesleyan to just 158 total yards. Concordia allows just 14.8 first downs per game.
2015 D
Total defense: 282.9
Scoring defense: 20.8
Pass defense: 147.2
Rush defense: 135.7
Pass efficiency D: 100.5
First downs allowed/game: 14.8
2013 D
Total defense: 285.5
Scoring defense: 17.3
Pass defense: 134.7
Rush defense: 150.7
Pass efficiency D: 94.7
First downs allowed/game: 17.0
Barnes makes home in backfield
Junior defensive end Trey Barnes has been the most productive player for Concordia's elite unit. Barnes has at least one sack in four-straight games and at least a partial sack in seven of nine contests this season. His 10 sacks rank as the second most in the GPAC. Among all NAIA players, the Seward High School product ranks second in sacks per game (1.1) and seventh in tackles for loss per game (2.0). Barnes continues to climb the program's all-time single season sack list. He currently ranks No. 4 (see list below).
Highest single-season sack totals, program history
1. Al Dean Smith (1983) – 15.0
2. Mike Reith (1979) – 13.0
3. Eric Teegerstom (1987) – 11.0
4. Trey Barnes (2015) – 10.0
4. Kevin Kromminga (1987) – 10.0
Folchert settles in at quarterback
With injuries sidelining both TJ Austin and Riley Wiltfong, senior Garrett Folchert has settled in as the team's primary quarterback. The Ogallala native took every snap at quarterback last week at Dakota Wesleyan. He went 19-for-41 for 239 yards. He was also intercepted three times and sacked on three occasions. Folchert is listed atop this week's depth chart with freshman Andrew Perea at No. 2. Concordia's quarterbacks have combined to complete 146-of-281 passes for 1,885 yards to go along with 19 touchdown passes and 10 interceptions.
Collins for six
After scoring only one touchdown in the season's first four games, junior running back Bryce Collins has found the end zone eight times over the past five contests. Collins scored the lone Bulldog touchdown last week on a 24-yard run that gave Concordia an early lead at Dakota Wesleyan. One of the most prolific scorers in program history, Collins has 28 total touchdowns (26 rushing) in 29 career games. The native of Boerne, Texas, had a career high 11 rushing touchdowns as a freshman.
Series vs. Briar Cliff
Since the formation of the GPAC in 2000, Concordia has won 10 of 12 matchups with Briar Cliff, including each of the last eight. Last season the Bulldogs won, 37-25, in Sioux City, Iowa, in snowy conditions. Demarques Saulberry carved up the Chargers for 171 yards and a touchdown on the ground. Concordia ran for 222 yards as a team and outgained Briar Cliff, 426-201. The Bulldogs have triumphed by an average margin of 29.5 points over their last four meetings with the Chargers.
Scouting Briar Cliff
The Chargers have endured five-straight losses since a 3-2 start that included wins over University of St. Mary, Nebraska Wesleyan and Dordt. In head coach Tom Rethman's eight seasons at Briar Cliff, the program's high-water win mark was four (2009 and 2013). Also the offensive coordinator, Rethman runs an offense built around big-play receiver Donald Drisdom, who has 37 catches for 820 yards and six touchdowns. On the other side of the ball, linebacker Andre Reyes has racked up a GPAC high 129 tackles.