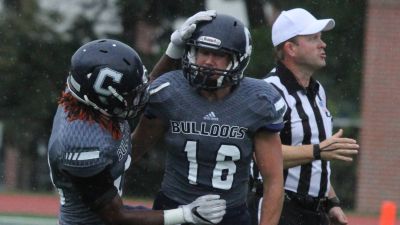 SEWARD, Neb. – Homecoming week on the Concordia University campus will be highlighted by Saturday's GPAC matchup between the Bulldogs and visiting Briar Cliff. Kickoff from Bulldog Stadium is set for 1 p.m. CT. Eighth-year head coach Vance Winter's squad hopes to get back in the win column after dropping back-to-back road games against top-10 ranked opponents.
Ninth-year head coach Tom Rethman's Chargers have lost five in a row since opening the season with a 23-19 win over Waldorf University (Iowa). Briar Cliff has been outscored by a combined total of 118-19 over its first three conference games of 2016. Saturday's matchup will feature two teams attempting to get their offensive attacks on track.
GAME INFO
Briar Cliff (1-5, 0-3) at Concordia (3-2, 1-2)
Saturday, Oct. 8 | 1 p.m. CT
Bulldog Stadium | Seward, Neb.
Live Webcast: Concordia Sports Network
Radio: KTMX-FM 104.9 Max Country
Commentators: Jayson Jorgenson and Tyler Cavalli
STATISTICAL BREAKDOWN
*National rank in parentheses
Concordia
Offensive PPG: 17.2 (72nd)
Defensive PPG: 23.8 (27th)
Total Offense: 320.2 (67th)
Pass Offense: 187.6 (57th)
Rush Offense: 132.6 (56th)
Total Defense: 321.2 (16th)
Pass Defense: 187.4 (24th)
Rush Defense: 133.8 (30th)
Turnover +/-: -4 (T-58th)
Briar Cliff
Offensive PPG: 10.5 (T-79th)
Defensive PPG: 32.2 (T-57th)
Total Offense: 252.7 (80th)
Pass Offense: 145.5 (74th)
Rush Offense: 107.2 (69th)
Total Defense: 425.5 (61st)
Pass Defense: 233.2 (53rd)
Rush Defense: 192.3 (59th)
Turnover +/-: -7 (T-75th)
Individual Leaders
Concordia
Head Coach: Vance Winter (37-43, 8th season)
Quarterback: Riley Wiltfong – 41/88 (.466), 615 yards, 4 td, 5 int
Running Back: Bryce Collins – Rushing: 106 att, 396 yards, 3.7 avg, 1 td; Receiving: 12 catches, 94 yards
Receiving: Jared Garcia – 24 catches, 352 yards, 14.7 avg, 4 td
Defense: Michael Hedlund – 64 tackles, 2.0 tfl's, 2 int, 1 ff / Trey Barnes – 29 tackles, 8.5 tfl's, 3 sacks
Briar Cliff
Head Coach: Tom Rethman (21-73, 9th season)
Quarterback: Jared Ford – 56/115 (.487), 445 yards, 2 td, 6 int
Running Back: Noah Ylagan – Rushing: 137 att, 530 yards, 3.9 avg, 0 td; Receiving: 16 catches, 77 yards, 1 td
Receiving: Miles Jones – 21 catches, 267 yards, 12.7 avg, 3 td
Defense: Ryan Dozier – 63 tackles, 2.5 tfl's, 1 sack
In the rankings
Concordia made its third-straight appearance in the top 25 last week, but landed just outside of the rankings in the poll released on Monday (Oct. 3). The Bulldogs were listed first among "others receiving votes." During head coach Vance Winter's tenure, Concordia has garnered a total of 11 national rankings, rising as high as 14th in 2013. After this year's 3-0 start, the Bulldogs vaulted up to No. 16.
Since the inaugural season of Briar Cliff football in 2003, the Chargers have yet to crack the NAIA top 25. Briar Cliff, pegged eighth in the GPAC preseason poll, continues to seek the program's first ever winning season.
Own it
Concordia has owned the series with Briar Cliff. The two sides first began meeting in 2003 and have played each season since then. After they split the first four matchups, the Bulldogs have won nine in a row over the Chargers. That streak includes lopsided scores of 48-0 in 2015, 45-7 in 2013, 45-12 in 2012 and 47-12 in 2011. The last five meetings have each been decided by a margin of at least 12 points and by an average margin of 33.2 points. Concordia is now 11-2 all-time versus Briar Cliff.
Last season's meeting got out of hand early. Touchdowns by Jared Garcia, Trae Owens and Bryce Collins helped Concordia build a 24-0 halftime lead. After a second Garcia touchdown came early in the third quarter, Clint Gardels scooped up a Charger fumble and rumbled 70 yards to the end zone, making it 38-0. The Bulldogs added 10 more points in the contest that closed the 2015 season.
Mr. 3,000
Two time first team all-conference running back Bryce Collins became the third player in the history of the program to surpass 3,000 career rushing yards when he carried the ball for a gain of 15 yards during the second quarter of last week's loss at Morningside. Collins has been a steady performer ever since arriving at Concordia via Boerne, Texas, in 2013. He has put up yearly rushing totals of 704, 1,016, 946 and 396 so far in 2016. One of four players in school history with 30 or more career total touchdowns, Collins has also exceeded 4,000 career all-purpose yards. Also a threat in the passing game, Collins has caught 74 passes for 727 yards over his 35 games as a Bulldog.
Concordia all-time leading rushers
1. Cleve Wester (1982-85) – 3,867
2. Gary Seevers (1953-56) – 3,257
3. Bryce Collins (2013-16) – 3,062
4. Alex Alvarez (1999-03) – 2,959
5. JaMaine Lewis (2004-07) – 2,731
Touchdown Garcia
Junior Jared Garcia has caught at least one touchdown pass in three of five games this season and now has 23 career scoring receptions. The 6-foot-3 native of Pearland, Texas, needs just one more touchdown grab to tie Concordia Athletic Hall of Fame tight end Ross Wurdeman for the most in program history. Garcia has been the Bulldogs' go-to passing target since he arrived in Seward in 2014. Over 24 career games, he's caught 109 passes for 1,715 yards to go along with his 23 touchdowns. Wurdeman still stands as Concordia's all-time leading receiver in terms of touchdowns as well as catches (168) and yards (2,458).
Hedlund moves up tackle list
Senior linebacker Michael Hedlund continues to climb the list of top tacklers among players who have worn Bulldog blue during Vance Winter's tenure (2009-present). Hedlund made 15 more stops last week, running his totals to 64 for the season and 218 for his career. Only three other Winter-era players have amassed more tackles. Former all-conference safety Ben Klein (246) tops the list. With 29 more tackles, Hedlund would move past Klein. Hedlund was named the GPAC defensive player of the week on Sept. 12 after Concordia's win at Ottawa University (Kan.).
200+ career tackles, coached by Winter
Ben Klein (2008-11) – 246
Jerrod Fleming (2008-11) – 237
Tait Sibbel (2012-15) – 234
Michael Hedlund (2013-16) – 218
Langston Jones (2010-13) – 209
Roby returns
Not just a shutdown corner, junior Tarence Roby has become one of the most dangerous return men in the country. Last week he had a 99-yard kickoff return for a touchdown wiped out by a holding call. The native of Rockford, Ill., already returned a touchdown 91 yards for a score in the victory at Ottawa. Among all NAIA players the 2015 first team all-conference selection ranks ninth in kickoff return yards per attempt (28.9) and 15th in total kickoff return yards (318). With his average of 79.5 all-purpose yards per game, Roby ranks second only to Bryce Collins (98.0) among teammates. Despite playing on the defensive side of the ball, Roby has four career touchdowns (two kick returns, one fumble return, one blocked punt return).
Next man in
Concordia has made adjustments to its two deep this season on both sides of the ball after injuries set in. The Bulldogs have been without starting offensive linemen in tackle Hallick Lehmann and guard Keddrick Fuselier. This week's starting five up front is listed as Austin Taylor at left tackle, Trey Anderson at left guard, Austin Reese at center, Matthew Romero at right guard and Grady Koch at right tackle. In place of Cameron Christiansen at tight end, Derek Luzum has been elevated to the No. 1 line. Formerly a linebacker, Josh Davis has also converted to tight end. Defensively, senior Matt Keener has slid to outside linebacker after spending nearly his entire career as a defensive back. Patrick Skwara has also jumped into the starting lineup as an inside linebacker, filling the vacancy left by Parker Johnson, who is out with an injury.
Standing in the Hall of Fame
Two former Bulldog football players are set to join the Concordia Athletic Hall of Fame as part of an on-campus ceremony on Friday. This year's class includes quarterback Phil Seevers ('90) and safety Sean Stewart ('03). Seevers led NAIA District 11 with 1,938 passing yards in 1988 when he piled up 2,443 total yards. Over his final three football seasons, Seevers compiled passing totals of 3,109 yards and 25 touchdowns and rushing numbers of 1,365 yards and 25 touchdowns. He was named honorary captain of the 1988 All-Nebraska Football Team, as selected by the Omaha World-Herald. Stewart garnered NAIA All-America accolades three times (second team once, honorable mention twice) as one of the top defensive backs in Concordia football history. During his impressive career, Stewart piled up 290 tackles (11 for loss) and a school career record 20 interceptions. His nine interceptions his senior year are tied for a single-season program standard. Originally from Beaumont, Texas, Stewart was named to the first team of the Great Plains Athletic Conference three times and selected as defensive captain of the 2002 Omaha World-Herald All-Nebraska Football Team during his career as a four-year starter.
Scouting Briar Cliff
The Chargers have had a rough go of late, losing their previous four games by an average margin of 32.0 points per game. Briar Cliff has struggled on both sides of the ball, ranking 80th nationally in total offense and 61st in total defense. Head coach Tom Rethman's squad has had to move on without starting quarterback Stephen Miller. Freshman Jared Ford has been thrown to the fire in place of Miller. Ford has completed 48.7 percent of his passes and has been burned for six interceptions in 115 attempts. Without a consistent presence at quarterback, Briar Cliff has made liberal use of running back Noah Ylagan, who has carried the ball 137 times for 530 yards. On the other side of the ball, strong side linebacker Ryan Dozier has cleaned up with 63 tackles through six games. The Chargers have fallen in nine-straight GPAC contests dating back to October 2015.