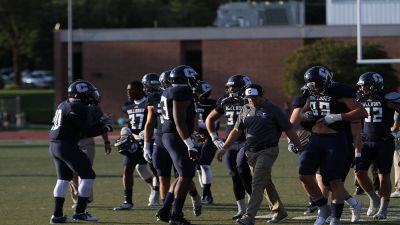 GAME NOTES: 2-0 Bulldogs ready for trip to No. 9 Northwestern
SEWARD, Neb. – A pair of teams with 2-0 records will go head-to-head in Orange City, Iowa, on Saturday on Korver Field inside De Valois Stadium. Kickoff between Concordia and ninth-ranked Northwestern is slated for 1 p.m.
Since the formation of the GPAC in 2000, the Red Raiders have won 12 of 15 meetings with the Bulldogs. Concordia is seeking its first win in Orange City, Iowa, since a 43-37 victory at Northwestern on Oct. 19, 2002. Both squads are coming off GPAC-opening wins last week. The Red Raiders rolled past Dordt, 47-7, and the Bulldog defense dominated in a 28-3 triumph over Hastings.
All 10 of Concordia's games can be heard live on KTMX 104.9 Max Country. Jayson Jorgensen serves as the voice of Bulldog football. Matt Harab provides the color commentary.
GAME INFO
Concordia (2-0) at No. 9 Northwestern (2-0)
Saturday, Sept. 19 | 1 p.m.
Site: Orange City, Iowa
Stadium: De Valois Stadium
Radio: 104.9 Max Country
Webcast: Stretch Internet
Live Stats: Dakstats
STATISTICAL BREAKDOWN
2015 Team Statistics
Concordia
Offensive PPG: 29.5 (33rd)
Defensive PPG: 6.5 (2nd)
Total Offense: 348.0 (50th)
Pass Offense: 157.5 (61st)
Rush Offense: 190.5 (28th)
Total Defense: 112.0 (2nd)
Pass Defense: 43.0 (4th)
Rush Defense: 69.0 (10th)
Turnover +/-: +1
Northwestern
Offensive PPG: 28.0 (39th)
Defensive PPG: 7.0 (T-3rd)
Total Offense: 415.0 (T-30th)
Pass Offense: 240.5 (T-32nd)
Rush Offense: 174.5 (36th)
Total Defense: 218.0 (6th)
Pass Defense: 24.0 (3rd)
Rush Defense: 194.0 (60th)
Turnover +/-: +4
Individual Leaders
Concordia
Head Coach: Vance Winter (30-37, 7th year)
Passing: TJ Austin – 18/31 (.581), 4 TD, 1 INT, 171 yds, 140.5 effic. (rushing: 25 att, 106 yds)
Rushing: Bryce Collins – 29 att, 142 yds, 4.9 avg, 1 TD (receiving: 6 rec, 36 yds, 0 TD)
Receiving: Carey Harrison – 3 rec, 72 yds, 24.0 avg, 1 TD
Defense: Trey Barnes – 10 tackles, 4.0 tfl's, 2.5 sacks
Northwestern
Head Coach: Kyle Achterhoff – (52-15, 7th year)
Passing: Jonathan Kodama – 35/59 (.593), 4 TD, 0 INT, 450 yds, 145.8 effic. (rushing: 21 att, 65 yds, 1 TD)
Rushing: Paul Hudson – 31 att, 166 yds, 5.4 avg, 0 TD
Receiving: Sam Rall – 16 rec, 179 yds, 11.2 avg, 2 TD
Defense: Court Ecklund – 15 tackles, 2.0 tfl's
Defense smothers Hastings
Spurred by a dominant effort from junior defensive end Trey Barnes (two sacks), Concordia stifled a Hastings offense that had amassed 363 passing yards in its week one victory over Bethel College. The Bulldogs hounded the Broncos, who last week managed only 146 total yards and committed three turnovers. Concordia allowed Hastings to reach the red zone just one time and Bronco quarterback Jason Gaines suffered through a 6-for-23, 53-yard passing performance that included a pair of interceptions. Concordia safety LeDontrae Gooden stepped in front of a Gaines pass and set up a touchdown less than a minute into action. On the next Bronco offensive series, linebacker Tait Sibbel plucked his ninth career pick.
Bulldog D returns to form
The 2013 Concordia defense finished the season with national rankings of fourth in total yards (285.5) and sixth in scoring (17.3). Those comparative rankings rose to 48th (384.7) and 44th (27.5) last season after Concordia said goodbye to All-American safety Darnell Woods and broke in several young players. Coordinator Patrick Daberkow's unit has found the right formula again this season. Barnes shifted from linebacker to defensive end and Sibbel, a three-year starter at safety, moved closer to the line of scrimmage at outside backer. In addition, a secondary led by corners Tarence Roby and D'Mauria Martin has flourished. Concordia enters week three ranked second in the NAIA in both total and scoring defense.
The unit as a whole is faster, more athletic and more experienced. Said Barnes after the win over Hastings, "It's a whole different defense from last year. I feel like we're a lot faster, really athletic. It puts a lot of pressure on that quarterback and the receivers get frustrated when we've got good corners locking them down."
Austin fires three second-half touchdown passes
While senior Garrett Folchert got his first career start at quarterback last week, sophomore signal caller TJ Austin played a pivotal role in Concordia's offensive surge in the second half of last week's win. Austin tossed short touchdown passes of four, four and five yards as the Bulldogs pulled away from Hastings. A dual threat performer, Austin also gashed the Broncos in the running game, going for 64 yards on 13 carries. The native of Angleton, Texas, did most of his damage off the zone read that also gives Austin the option to hand the ball to running backs Bryce Collins and Demarques Saulberry. Austin now has a career touchdown-to-interception ratio of 8-2.
Collins surpasses 2,500 all-purpose yards, nears 2,000 rushing
With 95 combined rushing/receiving yards last week, junior Bryce Collins eclipsed 2,500 all-purpose yards for his career. He is also within striking distance of 2,000 career rushing yards. He enters the week ranked seventh in program history with 1,862 rushing yards (see list below). Last season he became the fifth ever Bulldog back to reach the 1,000-yard mark in a single season.
Concordia career rushing leaders
1. Cleve Wester – 3,658 (1982-85)
2. Gary Seevers – 3,128 (1953-56)
3. Alex Alvarez – 2,959 (1999-03)
4. JaMaine Lewis – 2,731 (2004-07)
5. Philip Elder – 2,027 (2002-05)
6. Jeff Towns – 1,930 (1978-79)
7. Bryce Collins – 1,862 (2013-- )
Bulldogs seek win over ranked foe for fourth-straight season
Under Vance Winter, Concordia has defeated five ranked teams and has knocked off at least one top 25 squad in three-straight seasons and four of the past five. Two of those victories have come on the road, including last year's season-opening victory at No. 15 Sterling College. Since the beginning of 2012, the Bulldogs are 4-6 against ranked opponents.
Winter wins vs. top 25 opponents
11/8/14 – vs. (24) Dakota Wesleyan, 27-19
9/6/14 – at (15) Sterling College, 21-15
10/12/13 – vs. (22) Nebraska Wesleyan, 19-3
10/13/12 – vs. (11) Northwestern, 17-16
8/28/10 – at (22) Peru State, 13-7
Recent series versus Northwestern
Northwestern won nine-consecutive meetings with Concordia between 2003 and 2011 until the Bulldogs upset the then 11th-ranked Red Raiders, 17-16, inside Bulldog Stadium in 2012. Concordia is winless in its last seven trips to Orange City, Iowa, though there have been several close calls that involved controversial endings.
The series has been especially competitive over the last three seasons with the three games being decided by a total of nine points. In the most recent matchup in Orange City, Northwestern hung on for a 30-28 win that handed Concordia (6-1) its first loss of the 2013 season. Last year the Red Raiders entered Bulldog Stadium ranked 12th and emerged with a 27-21 victory. Concordia hung within a touchdown despite a minus-five turnover disadvantage.
Scouting the Red Raiders
Northwestern has finished with a top 25 national ranking in each of Kyle Acheterhoff's first six seasons at the helm of the program. The Red Raiders also bring a streak of three-straight NAIA playoff berths into 2015 and are coming off a co-GPAC championship in 2014. Known for stout defense, Northwestern returns three 2014 first team all-conference performers on that side of the ball: linemen Sam Van Ginkel and Lawton De Jong and defensive back Justin Wohlert. They led a unit that ranked as the NAIA's top defense last season in terms of both yards and scoring. Offensively, transfer quarterback Jonathan Kodama has piled up 450 yards and four touchdowns through the air. In this week's national rankings, the Red Raiders moved up three spots from their preseason ranking of 12th to No. 9.