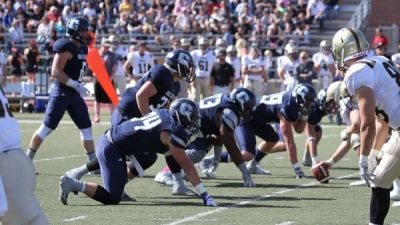 Fourth quarter lead slips away in overtime loss at Nebraska Wesleyan
LINCOLN, Neb. – Despite burrowing itself into a 14-0 hole, the Concordia University football team came within an eyelash of accomplishing something it had not done in 12 years – defeat Nebraska Wesleyan on the road. Quarterback Von Thomas threw for a career-high 284 yards and ran for 111, but it wasn't quite enough as the Prairie Wolves rallied to tie in the fourth quarter and then won in overtime, 37-34, inside Abel Stadium on Saturday afternoon.
After Concordia settled for an Adam Meirose 36-yard field goal to begin the overtime, Nebraska Wesleyan followed with an 18-yard touchdown pass from quarterback Tyler Francis to running back Joel Wiedel to clinch the game and send its homecoming crowd home happy.
Other than last week's 38-14 blowout of Dordt, every Bulldog game has been decided by seven points or fewer. Concordia is now 3-3 overall and 2-2 in GPAC play.
"We definitely did some nice things today," Bulldog head coach Vance Winter said. "But we had a lot of critical mistakes throughout the game whether it was a touchdown taken off the board or dropping coverages – things like that. They really cost us the game.
"Credit to Wesleyan. They really played a good football game."
Thomas and the young receiver core sparkled for much of the game after a quiet first quarter. Freshman Logan Otte (Katy, Texas) made a big splash, catching a 62-yard touchdown pass in the middle of the second quarter prior to a 35-yard leaping snare that set up Jared Garcia's 13-yard touchdown grab late in the first half. Otte finished with a career high 132 receiving yards – 109 of which came in the opening half.
After amassing 548 total yards in last week's win over Dordt, Concordia piled up 508 more yards at Nebraska Wesleyan.
"They're going to be pretty good every week," Winter said of his group of offensive skill players. "We have to be more consistent in other areas. I felt like we ran the ball a lot better in the second half. We did a lot of good things offensively. We finished drives with scores for the most part."
The Bulldogs finally grabbed their first lead, 24-20, at the 9:54 mark of the fourth quarter when Von Thomas kept the ball on the read option and waltzed untouched 29 yards to the end zone. The Miami native, bottled up in the running game in the first half, nearly had another rushing touchdown but was tripped up from behind after a 34-yard run that made it first and goal at the two.
Three plays later Thomas floated a touch pass to tight end Clinton Gardels for a four-yard score that put the Bulldogs in control, 31-20, or so it seemed.
Down 11, Francis and the Prairie Wolf offense went to work with under five minutes remaining in the contest. Francis converted a critical fourth and 10 (from own 41) by letting GPAC-leading receiver Connor Zumpfe go up and get the ball. His 16-yard catch kept a drive alive that ultimately covered 73 yards in 1:36 and ended with Zumpfe's five-yard touchdown grab. A successful two-point try cut Concordia's lead to three.
The Wesleyan offense then got the ball back at its own 28 with 2:17 remaining. Again the combo of Zumpfe and Ryan Larsen wreaked havoc on the Concordia secondary. Larsen reeled in a 24-yard completion on the final Prairie Wolf possession of regulation, setting up Kramer Rath's third field goal of the game. His 31-yard boot forced the overtime.
While Nebraska Wesleyan again struggled to find consistency in the run game (2.6 yards per attempt), it got a huge day from Francis, who completed 31 of 49 passes for 399 yards and three touchdowns. Zumpfe caught 11 balls for 171 yards and a score. Wiedel notched 104 receiving yards on 10 catches out of the backfield.
"We let the ball be thrown over our heads way too many times today," Winter said. "399 yards passing is too much. They were able to extend drives on third downs. We only had four possessions on offense in the first half."
Bulldog running back Bryce Collins shouldered a heavy load again on Saturday as he carried the ball 26 times for 113 yards. The native of Boerne, Texas, now has three 100-yard rushing games this season and five for his career.
Defensively, Concordia got great production from its stalwarts up front, junior Michael Gill (nine tackles, three tackles for loss) and Kyle Rakow (seven tackles, one tackle for loss). Freshman Tarence Roby made a game high 11 stops.
Last week Thomas eclipsed program career records for total yards of offense and total touchdowns. In Saturday's loss Thomas surpassed Jarrod Pimentel's former career record of 470 pass completions. Thomas now has 479 after hitting on 20 of 36 passes. Thomas is also nearing the single-season record of 17 touchdown passes in a season, set by Rod Giesselman in 1970. Thomas has 14 touchdown tosses after throwing for three scores on Saturday.
The Bulldogs return home next Saturday to host No. 13 Northwestern (4-1, 4-0 GPAC) at 1 p.m. The game has been designated Parent's Day at Bulldog Stadium. The Red Raiders defeated Briar Cliff 38-0 on Saturday for their fourth-straight victory.