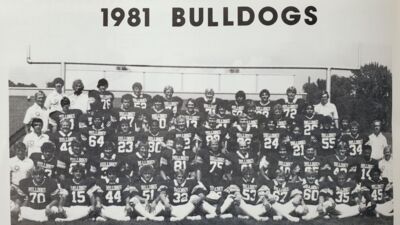 1981 Schedule/Results – 9-1
--Final NAIA national rank of No. 12
at Tarkio (Mo.) – W, 31-7
at Central (Iowa) – W, 20-0
at Peru State – W, 20-9
at Nebraska Wesleyan – W, 13-0
at Midland – L, 21-28
vs. Doane – W, 7-3
vs. Dana – W, 41-7
vs. Hastings – W, 25-13
vs. Concordia-River Forest – W, 58-6
at Benedictine (Kan.) – W, 33-15
Story of the 1981 team
NOTE: The narrative below is a passage from the book, "Cultivating Men of Faith and Character: The History of Concordia Nebraska Football," published in 2016. The book was authored by Jake Knabel, Concordia Director of Athletic Communications.

The 1981 team entered the season "with several counts against it" as a narrative from the time read. The Bulldogs had a roster of only 52 players and had significant question marks along the offensive line and in the secondary. An account from the Concordia office of college relations wrote that fifth-year head coach Larry Oetting was "concerned about a lack of depth." Guard Tim Preuss, a transfer from the University of Nebraska joked, "We had about 15 guys on the two-deep roster." Cornerback Keith Theimer pointed to stellar leadership as a driving force behind what would end up being one of the greatest seasons in program history. The captains were two four-year starting linebackers in seniors Tom Kelzer (Watertown, Michigan) and Scott Smith (Racine, Wisconsin) as well as senior slot back Greg Williams (St. Louis, Missouri) and senior center Tim Voelker (Palmer, Kansas). Though short on players, Oetting believed he had a talented defense.
The third game of the season hinted at how special Oetting's fifth edition would turn out. The Bulldogs went to Peru State and shocked the fourth-ranked Bobcats, 20-9, in a win so thrilling that visiting Concordia fans stormed onto the field. A week earlier Concordia's opportunistic defense forced seven turnovers (six fumbles, one interception) in a 20-0 blanking at Central College in Pella, Iowa. Said assistant coach Dean Vieselmeyer, "We had games that just shocked the tar out of everybody." Peru State simply wasn't ready for Concordia's dominant defensive unit. Scott Smith battered Bobcat ball carriers with 17 tackles and a sack while also recording an interception. Smith and the smothering defense shut down star Bobcat running back Al Holder, who went on to be named a Nebraska state college athlete of the century by the Lincoln Journal Star in 1999.
Defensive coordinator Courtney Meyer and the rest of the staff had another thing coming for Holder. However, no one knew it leading up to the game. As Vieselmeyer recalled, "We were saying, 'how in the world are we going to beat these guys?'" In scouting the Bobcats, Meyer and Vieselmeyer noted that they typically ran just one or two plays while trying to disguise them in multiple formations (the detail-oriented Vieselmeyer believed it to be a 132 total formations). The staff then used its scout team to mimic Peru State all week long at practice. They coached their defense up to a point that Bulldog defenders were easily calling out plays just by diagnosing the alignment of the offense. When it came time to go to battle, the staff instructed its defensive personnel not to yell out play calls during the first half to limit the adjustments Peru State could make at halftime.
Said Vieselmeyer, "By the third quarter I told the guys, 'now you can start saying it.' 'Watch the screen over here.' 'Watch the dive over here.' We started doing that and we got in their heads." It was about all the All-American Holder could handle. He had come accustomed to shredding opposing defenses. After being run out of bounds in the third quarter, frustrations boiled over for Holder, who flipped the ball to his coach and said, "I'm done." Two words summed up a stifling defensive effort that left Peru State fuming so much that it neglected to unlock the visiting locker rooms for nearly 40 minutes after the game. The game also came with a "free light show" when a transformer in the stadium blew up. "They were really, really good," Vieselmeyer said. "So we knew we had something special." The following week Smith was named a Booster Club Athlete of the Week. The win did not go unnoticed by the community. On September 29 Wayne Tanderup and Seward Motor Freight hosted the weekly Booster Club luncheon in the Jones National Bank auditorium where Oetting described the details of the victory.
Throughout the '81 season, the Bulldogs smothered their opponents with one of the top defensive squads in program history. It started up front with nose guard Gary Pomerenke, who recorded seven sacks and forced four fumbles in 1981, his first of back-to-back All-America campaigns. The Nebraska Intercollegiate Athletic Conference defensive player of the year hailed from Miami, Missouri, stood at 6-foot-2 and weighed in at 250 pounds, making him an imposing figure for the time period. Assistant Coach Steve Sirek confidently believes that Pomerenke would have gotten a shot in the NFL had he simply been a couple inches taller. During Pomerenke's four-year run the Bulldogs went a combined 28-12 with Meyer calling plays for the defense.
Pomerenke was complimented by a 1981 linebacker core headed by all-district selections in Smith and Tom Kelzer. Joining Pomerenke up front, Brett Smith punished opposing quarterbacks with nine sacks. He was surrounded by all-conference defensive ends Dave Kjergaard and Tom Voelker. Coordinated by Meyer, the unit allowed just 228.0 yards and 8.8 points per game. It held seven of 10 foes to less than 10 points. Only one squad reached the 20-point mark against the Bulldogs. Midland hung 28 on them in a 28-21 Warrior victory in Fremont – the only Concordia loss all season.
Backing the dominant defense was game-breaking receiver and return man Terrance Square, then a sophomore, who provided flair for Oetting's offensive attack. That season he caught 38 passes for 586 yards and five touchdowns. He also toasted opposing special teams units with kickoff return scores of 97 and 95 yards. Square caught passes from then senior quarterback Paul Reinisch (6-1, 192), the team's offensive MVP. Reinisch totaled 21 touchdowns (14 passing, seven rushing) and 1,612 yards (1,247 passing, 365 rushing) for a strong rushing squad. Kelzer led the attack with 829 rushing yards.
The 1981 season actually got off to an inauspicious start in the opener at Tarkio, surrounded by cornfields. Oetting and his staff already had reason to believe they had assembled a stout defense. This was supposed to be a breeze against a Tarkio squad that entered the year with a lengthy losing streak. But Tarkio landed the first punch with a scoring drive on its opening possession to make it 7-0. Tarkio even tried to send a message when one of its linebackers deliberately struck a forearm underneath the facemask of guard Tim Preuss. The Bulldog offense responded with a dominant first outing. A fake field goal that went for a touchdown highlighted the 31-7 win over Tarkio. A week later Oetting used the same swinging gate trick play (installed by Vieselmeyer, who worked with the special teams units) in the 20-0 victory over Central College, a nationally-ranked team. Bulldog football was back. "At that time they were a powerhouse," Vieselmeyer said of Central. What Vieselmeyer remembered most about the momentum-building victory was an exchange afterwards with the head official. He flagged down a hurried Vieselmeyer, who was racing to leave to go scout a game that night. The official told Vieselmeyer, "I have never officiated a more impressive team. I didn't hear a single swear word on the sideline. When you guys knocked the snot out of somebody, you picked him back up. I want you to know that this is the best game I've ever officiated in my life."
The blanking of Central College was the first big clue that the 1981 team could hang with anyone in the nation. It helped lessen concerns held by Vieselmeyer and other members of the defensive coaching staff. They rightfully worried about the team's ability to make it through a season with the lack of depth all over the field. Guys like Kjergaard and Voelker had matured and were "strong as bulls" as Vieselmeyer put it. But there wasn't a whole lot behind them. "We thought it was going to be a disaster," Vieselmeyer said. "We had three defensive ends and two linebackers. That's it. What we had were good players at every spot. The Lord blessed us and protected those guys. Somehow we got through the whole season without an injury."
Ranked 12th nationally after the win at Peru State, the Bulldogs ran their undefeated mark to 4-0 behind another stellar defensive display that led a 13-0 shutout over Nebraska Wesleyan on a muddy Saturday night on October 3. Wesleyan managed just 108 total yards (16 rushing). Concordia got one of its two touchdowns that day courtesy of Kelzer's still-standing school record 100-yard interception return for a touchdown. That score helped make up for the offense's lack of production despite six trips to the red zone. Unfortunately that momentum did not carry over a week later when the Bulldogs fell at Midland in another rivalry affair. Down a touchdown, Concordia's late fourth-quarter drive stalled at the Warrior 36 and Midland celebrated an upset win.
Customary for the time, coaches had the ability to hire officiating crews that they preferred. Oetting remembered several questionable calls from the '81 season's only defeat. A controversial ruling in the latter stages of the game at Midland occurred when officials judged a Concordia pass catcher to have come down out of bounds. Oetting and company disagreed with the call that robbed the Bulldogs of a potential winning score. Said Oetting, "Sometimes a loss helps. I think it made us a better team."
The Bulldogs rebounded a week later with a win, a 7-3 decision over Doane with the only touchdown being a one-yard plunge by Fred Friedrichs (Herkimer, Kansas). Concordia's defense surrendered only 171 yards. Then came a blowout victory over Dana, 41-7, that gave the Bulldogs a chance to clinch a tie for the conference championship on October 31. Pomerenke made it a mission to ensure that happened. He abused Hastings for nine tackles, a sack, two forced fumbles and a fumble recovery and even knocked down a pass on an attempted two-point conversion. On the other side of the ball, junior Tuhran Hall caught five passes for 126 yards and rushed for another 69 yards on three carries, allowing him to net national offensive player of the week accolades. Concordia defeated Hastings, 25-13, to improve to 7-1 overall and 4-1 in the conference.
The Bulldogs moved up to No. 9 in the national rankings and, with one contest left, had a shot to qualify for the eight-team NAIA playoff. Once again, Concordia's defense was up to the task and Benedictine College (Kansas) could muster only 248 yards in the regular-season finale. The Bulldogs got out to a 23-3 halftime lead and cruised to a 33-15 win, finishing the year at 9-1 overall. However, it wasn't quite enough to earn a playoff berth and the school record-breaking campaign came to an end. Fifteen Bulldogs were tabbed all-NIAC, including eight who were placed on the league's first team. Reinisch was a unanimous first-team choice at quarterback.
"We probably played one of our best games of the season. We beat them really bad," Oetting said of the victory over Benedictine. "Their coach was a (national) rater and the loss made him very upset. What do you do when you go into your very last game and you might make the playoffs? How do you show them that you belong? We played our best game possible. We actually dropped in the rankings (from ninth to 11th)." To this day, that victory stands out as one of the most satisfying in Oetting's career. It was a game that Concordia almost had to play without Pomerenke and the Smith brothers who were part of a handful of players that rode with Vieselmeyer in a Station Wagon separate from the team bus. The wagon was grounded to a halt when a tire blew out. No one else noticed and the bus kept rolling without Vieselmeyer and the team's star nose guard. Eventually Vieselmeyer flagged someone down who could change the tire, but the wagon pulled into Benedictine just 30 minutes prior to kickoff.
As part of a summary put together shortly after the 1981 season, Coach Oetting wrote:
The 1981 Bulldogs enjoyed the greatest success in the history of Concordia Football, although one may get an argument from the 7-0 team of 1931 or the 8-1 team of 1970. Not only did this exceptional team work hard to achieve a 9-1 record, but they gained national attention in the third game of the season with their stunning 20-9 upset of nationally fourth-ranked Peru State. Ranked thirteenth after the Peru State victory, they suffered their only setback two weeks later in a hard-fought loss to conference rival Midland, 28-21, then finished strong with a five-game winning streak. Their impressive 25-13 win over Hastings gave them the elusive NIAC championship, shared with Hastings and Midland. They finished twelfth nationally.
NOTE: The 1981 Concordia Football team was inducted into the Concordia Athletic Hall of Fame in 2006. The team was coached by Larry Oetting, who was inducted into Concordia's HOF individually that same year.
Coaching Staff
Head Coach: Larry Oetting
Assistant Coaches: Dean Vieselmeyer, Courtney Meyer, Steve Sirek, Lee Vieselmeyer, Casey Vreeland, Randy Krieger.
Head Trainer/Equipment Manager: Stan Schlueter
1981 Lettermen – Clarke Abbe, Jim Beaudoin, John Dumar, Fred Friedrichs, Dana Gerard, Tuhran Hall, Matt Heibel, Tom Kelzer, Kahlil King, Donnell Kinsey, Dave Kjergaard, Mark Koehlinger, Gary Koke, Jay Krause, Gary McDaniel, Steve Muller, Mike Neben, Joel Niebuhr, Greg Oelke, Gary Pomerenke, Von Portwood, Tim Preuss, Paul Reinisch, Carl Robinson, Kenneth Roupe, Ron Schultz, Brett Smith, Brian Smith, Scott Smith, Terrance Square, Brian Stacy, Keith Theimer, Tim Voelker, Don Vos, Tim Walter, Greg Williams, James Woolfolk.
1981 Honor Roll
Team Awards
Co-Captains: Scott Smith, Greg Williams, Tim Voelker, Tom Kelzer
Most Valuable Player: Paul Reinisch, QB
Top Offensive Player: Donnell Kinsey, TB
Top Defensive Player: Scott Smith, LB
Top Offensive Lineman: Tim Voelker, C
Top Defensive Lineman: Gary Pomerenke, NG
Top Offensive Rookie: Gary Koke, G
Top Defensive Rookie: Ken Roupe, DT
Most Improved Player: Matt Heibel, SS
All-Nebraska Intercollegiate Athletic Conference
FIRST TEAM
Tim Walter, OT
Paul Reinisch, QB
Tim Voelker, C
Donell Kinsey, TB
Gary Pomerenke, NG
Dave Kjergaard, DE
Scott Smith, LB
Jim Beaudoin, CB
SECOND TEAM
Terrance Square, WR
Greg Williams, TE
Gary McDaniel, OG
Fred Friedrichs, FB
John Dumar, K
Tom Voelker, DE
Tom Kelzer, LB
HONORABLE MENTION – Tuhran Hall, Don Vos, Joel Niebuhr, Brian Smith, Brett Smith, Brian Stacy.
All-NAIA District 11
FIRST TEAM – John Dumar, Gary Pomerenke, Scott Smith
HONORABLE MENTION – Greg Williams, Tim Walter, Tim Voelker, Terrance Square, Tuhran Hall, Paul Reinisch, Fred Friedrichs, Donell Kinsey, Dave Kjergaard, Tom Voelker, Brett Smith, Brian Smith, Tom Kelzer, Jim Beaudoin.
Academic All-American
John Dumar
NAIA District 11 Coach of the Year
Larry Oetting