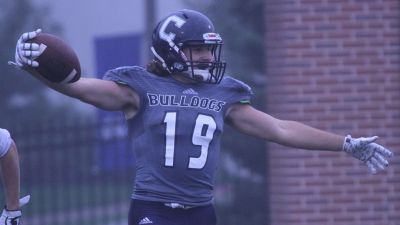 We'll excuse you as a Concordia football fan if you had no idea who Ryan Durdon was before Sept. 2 of this year. Lightly recruited out of Decatur High School, Durdon saw one measly play of varsity action the entire 2016 season. From the sideline he watched, buried on the depth chart as a reserve receiver.
In the final junior varsity contest of 2016, Durdon found himself at running back, a position he hadn't played since his freshman year of high school. What he showed that day was simply a sign of things to come.
"He shined there so it was a pretty easy move," said head coach Patrick Daberkow. "He was wanting to try it out. Both sides wanted to take a look at that."
Durdon has proven to be the answer to a huge offseason question mark that faced the program: who replaces the second most prolific rusher in school history, Bryce Collins? Two 200-yard rushing performances later, Durdon is making a name for himself. After he burned Midland for a school-record tying 266 rushing yards last week, Warrior head coach Jeff Jamrog lamented afterwards that Durdon looked like "Herschel Walker" on that particular day.
But at one point not long ago, it seemed hard to imagine someone without a single college carry would rise to the top of the depth chart as just a sophomore. Durdon brought pass-catching credentials to Concordia as someone who hauled in a combined 109 receptions for 1,795 yards and 19 touchdowns over his final two seasons (2014-15) as a high school player. Durdon really didn't even know the running back responsibilities for each play when he was thrust into the backfield for junior varsity action last season.
"I guess I'm just going to run towards the right or run towards the left," Durdon recalled thinking of his first taste of the running back position. "I didn't know the specific calls. We ended up losing that game. Coach (Vince) Winter said after the game, 'We may have found you a new position.' I thought that would be cool because I knew Bryce Collins wasn't going to be here."
Durdon gave his best Bryce Collins impression in the season opener at No. 20 Kansas Wesleyan, rushing for 208 yards, 77 of which came on a touchdown burst. Durdon's debut performance likely had fans checking their game day programs. Who is this No. 19?
Said starting offensive tackle Grady Koch, "He came out and had that really good first game. I think that's where it started for him. He really did come out of nowhere."
If one can recall, the only real publicity Durdon received during his freshman year came because of the events of Oct. 2, 2016. His name appeared in several local Nebraska newspapers, but for unfortunate circumstances. Durdon had been a passenger in a car wreck that occurred in southwest Butler County near Surprise, Neb. Four other Concordia football players were also inside the car that entered a ditch, hit a culvert and rolled at 11:55 p.m. on a Sunday.
Durdon escaped with only minor bumps and scratches. He was quickly treated and released from a hospital. Three teammates suffered more significant injuries and spent extended time in a Lincoln hospital before making their recoveries. Durdon gained a new perspective on how blessed he is to have the opportunities he's been afforded. A scary situation could have had much worse consequences.
Durdon didn't sleep a wink that night while he worried about the health of his friends. Says Durdon, "At that point I didn't look at practices like, 'Oh man, it's going to be hard today.' It's going to be fun. We get to go out there and play football. My friends couldn't do that anymore. Life is special. We should have never been in that situation. You have to be smart."
If anything, the accident may have accelerated Durdon's growth as a person. It certainly didn't slow his development on the football field. He kept plugging away despite his only varsity action in 2016 being one single play on a kick return. The proper attitude is part of what makes Durdon, and just about any other athlete, a success story.
"He's a fun-loving kid," Daberkow said. "He's a fun person to coach. He's a great locker room guy. When we played Doane, his reps went down because we got TJ (Austin) back and we were using some other packages. He was just a team player about it. He's selfless and that's what's the most fun part to coach about him."
Of course it's also fun watching Durdon, those long brown locks flowing beneath his helmet, running over and past defenders on his way to the end zone. Durdon packs a diverse skill set. He combines power and speed into a 6-foot frame. If you ask Daberkow, it wasn't the long touchdown runs against Midland that stand out the most, it was his 16-yard rush in which he refused to be tackled. Carrying defenders for several yards, Durdon picked up a first down on a third-and-10 with Concordia backed up near its own end zone.
"He's a really hard runner," Koch said. "He's always fighting for the extra yards. It's always great to see him always striving for more."
Last week's performance brought pride to Decatur, a town with roughly the same population as Seward. Durdon made himself known in small town Texas, where high school football is something of a religion.
Named GPAC offensive player of the week on Monday (Oct. 16), Durdon is now a college feature back as just a sophomore. His play is making Concordia's football scholarship offer, the first Durdon ever received, look like a stroke of genius.
When No. 19 gets the football in his hands, fans no longer have to go scrambling for their game program. It's simply another carry for the Texan with a signature record-setting game – and signature hairdo. Joked Durdon, "I like the way it looks coming out of my helmet."