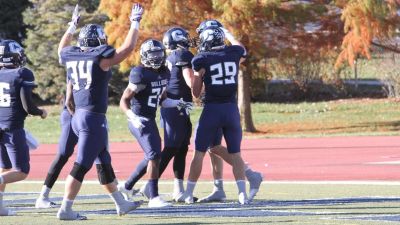 SEWARD, Neb. – The Concordia University football program has announced a 10-game varsity slate for the 2016 season (complete schedule below). Head coach Vance Winter's squad is set to appear at Bulldog Stadium five times with the season kicking off in Seward on Saturday, Sept. 3 when the University of Saint Mary (Kan.) pays a visit.
The season-opening contest is one of nine games that will make up the GPAC/KCAC Football Challenge, a series that began in 2015. Concordia will draw another member of the Kansas Collegiate Athletic Conference when it travels to Ottawa University (Kan.) on Sept. 10 for an evening kickoff. Last season the Bulldogs dominated the second half of their GPAC-KCAC Challenge game on the way to a 31-10 win at Southwestern College.
The GPAC slate opens on Sept. 17 with Concordia hosting Northwestern College as part of a football alumni weekend on campus. Homecoming is locked in for Oct. 8 versus Briar Cliff. The final two home games will feature Parent's Day (Oct. 22) and Senior Day (Nov. 12). The conference schedule has been reduced to eight games this year due to Nebraska Wesleyan's transition to the Iowa Intercollegiate Athletic Conference (NCAA Division III).
Winter will enter his eighth season as Concordia's head football coach in 2016. The Bulldogs will return first team all-conference performers in defensive end Trey Barnes (second team All-American), running back Bryce Collins, tight end Seth Fitzke, receiver Jared Garcia and cornerback Tarence Roby. Second team all-conference choices in safety LeDontrae Gooden and linebacker Michael Hedlund will also be back in the fold to help anchor coordinator Patrick Daberkow's defense.
2016 varsity football schedule
*Home games in BOLD | All times CT
Sept. 3 – University of Saint Mary, 1 p.m.
Sept. 10 – at Ottawa University, 6 p.m.
Sept. 17 – Northwestern College, 1 p.m.
(Football alumni reunion)
Sept. 24 – at Doane College, 1 p.m.
Oct. 1 – at Morningside College, 1:30 p.m.
Oct. 8 – Briar Cliff University, 1 p.m.
(Homecoming)
Oct. 15 – at Dakota Wesleyan University, 1 p.m.
Oct. 22 – Midland University, 1 p.m.
(Parent's Day)
Nov. 5 – at Dordt College, 1 p.m.
Nov. 12 – Hastings, 1 p.m.
(Senior Day)