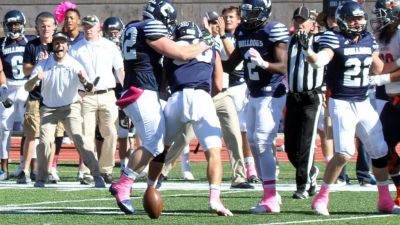 2017 Varsity Football Schedule
SEWARD, Neb. – A new era of Concordia University football will begin on Saturday, Sept. 2. That's when Patrick Daberkow will make his head coaching debut on the road as part of the KCAC/GPAC Challenge that inaugurated in 2015. Kansas Collegiate Athletic Conference foe Kansas Wesleyan University will serve as the 2017 season-opening opponent.
The 2017 schedule will feature a 10-game regular-season slate. Both nonconference contests will put the Bulldogs up against KCAC members. Kansas Wesleyan (9-2) checked in at No. 17 in the most recent top 25 poll. Concordia will then host Ottawa University (Kan.) on Sept. 9 in a rematch of the game played in Ottawa this past fall. The Bulldogs defeated the Braves, 34-23.
After taking on Ottawa, Concordia will play GPAC opponents over the final eight games of the season. Upon being introduced to the team as head coach on Dec. 9, Daberkow spoke of his intentions of continuing the Bulldogs' climb up the GPAC standings. Concordia, ranked 18th in the NAIA's final regular-season coaches' poll, finished fourth in the conference in 2016.
Said Daberkow, "My resolve to continue to build Concordia football into a GPAC championship program and perennial and sustainable power is strengthened all the more. I know this university wants to win in football and I know that we have the people in this room and the resources and the tools to do it."
The conference slate kicks off with a trip to Northwestern on Sept. 16. A week later, the Bulldogs will host rival Doane, playoff qualifier two-straight years, inside Bulldog Stadium. It will be homecoming on campus when Doane is in town. The regular season ends on Nov. 11 when defending GPAC champion Morningside makes its way to Seward. Concordia will alternate home and away each game throughout the season.
Game times have been announced for eight of the 10 games. All eight kickoff times are set for 1 p.m. CT.
Daberkow has taken over as head coach following seven seasons as Concordia's defensive coordinator under previous head coach Vance Winter. Daberkow is the 10th head coach in the history of a program that dates back to 1925.
The junior varsity schedule has not yet been finalized.
2017 Varsity Football Schedule
Sept. 2 – at Kansas Wesleyan University, TBA
Sept. 9 – vs. Ottawa University, 1 p.m. (Parents' Day)
Sept. 16 – at Northwestern, 1 p.m.
Sept. 23 – vs. Doane, 1 p.m. (Homecoming)
Sept. 30 – at Hastings, 1 p.m.
Oct. 14 – vs. Midland, 1 p.m.
Oct. 21 – at Dordt, 1 p.m.
Oct. 28 – vs. Dakota Wesleyan, 1 p.m.
Nov. 4 – at Briar Cliff, TBA
Nov. 11 – vs. Morningside, 1 p.m. (Senior Day)