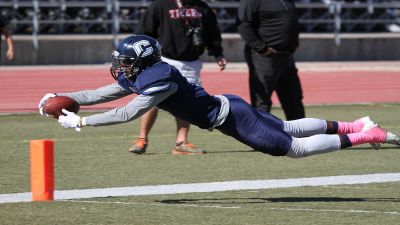 Football re-enters NAIA top 25
SEWARD, Neb. – After receiving votes in the national poll last week, the Concordia University football team has returned to the top 25 of the NAIA national rankings. The Bulldogs were slotted in at No. 23 in the poll released on Monday. Head coach Vance Winter's program had last appeared in the national poll with the release of the Oct. 28, 2013, edition.
Concordia is one of five GPAC teams ranked inside the top 25. The 23rd-ranked Bulldogs will take on No. 6 Doane on Saturday with kickoff scheduled for 1 p.m. from Bulldog Stadium.
During the 2013 season, Winter's squad earned national rankings in six-straight polls on the strength of a 6-0 start. Concordia rose as high as No. 14 that season and finished the year with an overall record of 7-4. The 2013 team broke a rankings drought of more than 10 years for Concordia. During the GPAC era (2000-present), the Bulldogs have garnered a spot in the top 25 on 18 occasions.
Concordia spent nine-straight polls inside the top 25 in 2001 when it went on to share the GPAC title. That season head coach Courtney Meyer's squad found itself ranked as high as sixth before achieving a postseason placement of No. 7.