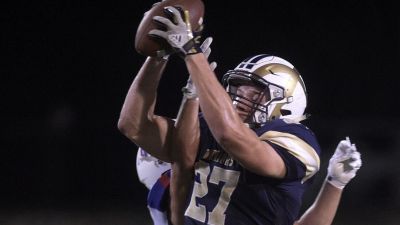 WHERE THEY COME FROM ...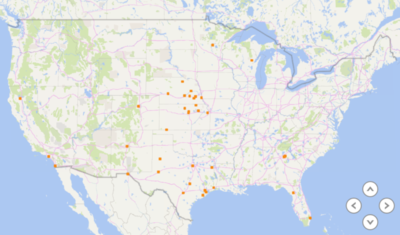 SEWARD, Neb. – Head coach Patrick Daberkow calls the February National Signing Day that arrived today (Feb. 7) a benchmark in regards to each year's recruiting efforts. As of National Signing Day, the Concordia University football program has announced a class of 44 incoming recruits that have either officially signed or have pledged commitments. Daberkow says that he and his coaching staff plan to have the entire 2018 class wrapped up by the end of February.
Ten different states are represented in the current list of recruits (see at bottom). Daberkow and his staff landed student-athletes from Texas (14), Nebraska (12), Kansas (7), California (3), Florida (2), Georgia (2), Colorado (1), Minnesota (1), New Mexico (1) and Wisconsin (1).
"We're always going to have an emphasis on offensive line," said Daberkow of a class that includes seven offensive linemen. "Whatever scheme you run, you're only going to be as good as your offensive line. We are always going to be looking at talented offensive linemen. There are guys in this recruiting class who are going to have the ability to come in and make an instant impact, but we never want to be in a situation where we need a guy to play immediately. A lot of these guys will be in a position to play early, but we're also excited about what the guys in the locker room right now are doing."
Of the dozen Nebraska athletes set to become Bulldogs, many come from within an hour's radius of campus. Lincoln Lutheran High School stars Logan Kriezel and Cole Schaedel will both be making their way to Seward. They led the Warriors to the Class C2 state semifinals while putting up eye-popping numbers in 2017. Schaedel projects as a receiver at the college level, but played quarterback at Lincoln Lutheran and threw for 2,034 yards and added 33 total touchdowns (25 passing, eight rushing) as a senior. Kriezel was on the receiving end of many of those tosses. He totaled 75 receptions for 1,209 yards and 16 touchdowns.
"Kriezel is a very versatile guy. We're listing him as an athlete," Daberkow said. "Schaedel is a receiver who has experience at quarterback. He brings a lot to the table. He's a great team player. He stepped into a role last year for Lincoln Lutheran where he started fall camp at one position and filled in at quarterback. He did a dynamite job taking them about as far as they've been. We're very excited to get both of those guys."
The list of local talent goes on and on. Daberkow also came through with a coup to get Crete standouts in receiver Blake Sears and running back Jonah Weyand. Additionally, the son of Concordia assistant professor of health and human performance Chris Luther recently made his signing official. Jorre Luther of Class B state champion York High School should help solidify the kicking game. Duke teammate Dylan Rahder will also be joining the Bulldogs.
Daberkow and his full-time staff that includes defensive coordinator Corby Osten, offensive coordinator Thomas Byrd and special teams/recruiting coordinator Wes Coomes tapped into familiar pipelines in the state of Texas, where a large chunk of the 2018 class calls home. They then made inroads in other regions such as Florida and near the Atlanta area.
Daberkow says that alumni coaching connections continue to be fruitful for the program. Said Daberkow, "We have a lot of alumni connections that contribute to our success out of state. We have a lot of Concordia alums in Texas who are telling us about guys like Se'lah Smith (Marshall) and Eddie Silas (Marshall). They came from (alum) Jake Griedl's school where he's coaching. There are countless others that are giving us names of guys. We really like this class and we feel good about the new pipelines we're developing."
2018 Concordia football recruiting class
*As of February 7, 2018
Pos. | Name | High School | City | State
OL Wendell Banks | Wagner HS | San Antonio, TX
WR Cayden Beran | Hutto HS | Hutto, TX
QB Jack Blumer | Marysville HS | Marysville, KS
DL Jayden Brosius | Saint Patrick HS | North Platte, NE
ATH Jarrett Brown | Columbia HS | West Columbia, TX
LB Shayne Campbell | O'Neill HS | O'Neill, NE
LB Easton Clark | Hershey Public School | North Platte, NE
DB Drew Cunningham | Downs HS | Glen Elder, KS
DB Robert Edmondson | American River College | Redding, CA
WR Isaiah Foster | Earl Warren HS | San Antonio, TX
LB Detrick Green | Minneapolis HS | Minneapolis, KS
DB Exavier Jackson | De Soto HS | De Soto, KS
DB Johnny Johnson | Mater Dei HS | Buena Park, CA
OL Brock Joyner | Clear Lake HS | Friendswood, TX
ATH Matthew Kamm | Bethlehem Christian Academy | Bethlehem, GA
ATH Logan Kreizel | Lincoln Lutheran HS | Lincoln, NE
DB Tyler Lechner | Nebraska City HS | Nebraska City, NE
FB Juan Leon | Columbus Senior HS | Columbus, NE
K Jorre Luther | York HS | York, NE
DB Lincoln Mckenzie | Taravella J P HS | Coral Springs, FL
OL Avery Millsaps | Bethlehem Christian Academy | Loganville, GA
DE Gerald Morris | Arlington HS | Arlington, TX
K David Paczkowski | Wamego HS | Wamego, KS
OL Jeremy Perencevic | Harlem Senior HS | Brainerd, MN
FB Dylan Rahder | York HS | York, NE
LB Bennett Reisler | Northeastern WI Lutheran HS | Bonduel, WI
OL Johnny Robinson | Eisenhower HS | Houston, TX
LB Kougar Rodriguez | Robert E Lee HS | Midland, TX
DL Juan Ruvalcaba | Franklin HS | El Paso, TX
OL Trenton Sanders | Lakewood HS | Lakewood, CO
DB Nic Santistevan | Saint Pius X HS | Albuquerque, NM
WR Cole Schaedel | Lincoln Lutheran HS | Lincoln, NE
LB Michael Schomer | Northwest HS | Grand Island, NE
WR Blake Sears | Crete HS | Crete, NE
DL Eddie Silas | Marshall Senior HS | Marshall, TX
WR Se'lah Smith | Marshall Senior HS | Marshall, TX
OLB Logan Srna | Tescott HS | Culver, KS
QB Kaiston Terry | Ropes HS | Lubbock, TX
DL Evan Thibodeaux | Cathedral Christian HS | Beaumont, TX
OL Donnovyn Waller | Alief Hasting Senior HS | Houston, TX
TE Daniel Wehling | Liberal HS | Liberal, KS
RB Jonah Weyand | Crete HS | Crete, NE
RB Gerard Williams | Williston HS | Bronson, FL
FB Maneil Zamoum | Helix HS | La Mesa, CA