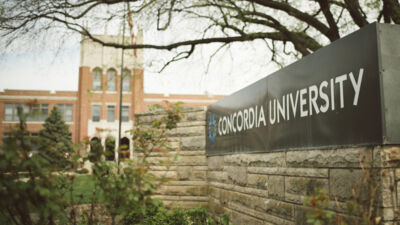 SEWARD, Neb. – Twelve representatives from the Concordia University football program have been named 2015 Daktronics-NAIA Scholar-Athletes, as announced by the NAIA on Friday. Among this year's honorees, seniors Garrett Folchert, Clint Gardels, Adam Meirose and Chase Murman are two-time scholar-athletes (complete list below). Head coach Vance Winter's squad increased its scholar-athlete total by four compared to the 2014 season.
In order to be nominated by an institution's head coach or sports information director, a student-athlete must maintain a minimum grade point average of 3.5 on a 4.0 scale and must have achieved a junior academic status. A total of 312 football student-athletes across the nation were named scholar-athletes by the NAIA.
Concordia University ranks as the NAIA's all-time leader in number of Daktronics-NAIA Scholar-Athletes with 1,253 and counting (39 for the fall of 2015). The 2014-15 season culminated with GPAC-leading totals of 94 Bulldog scholar-athletes and 17 NAIA Scholar-Teams. During the 2013-14 academic year, Concordia garnered 101 Scholar-Athlete honorees (most in the NAIA) and 17 NAIA Scholar-Teams (tied for fourth nationally).
Concordia University, Nebraska, founded in 1894, is a fully accredited, coeducational university located in Seward, Neb., that currently serves over 2,300 students. Concordia offers more than 50 professional and liberal arts programs in an excellent academic and Christ-centered community that equips men and women for lives of learning, service and leadership in the church and world.
2015 football Scholar-Athletes
Cameron Christiansen | Jr. | Palmer, Alaska
Garrett Folchert | Sr. | Ogallala, Neb.
Clint Gardels | Sr. | Wilcox, Neb.
Kinser Gergen | Jr. | Geneva, Neb.
Brian Gorman | Sr. | Colorado Springs, Colo.
Michael Grau | Sr. | Lawton, Iowa
Brett James | Jr. | Kearney, Neb.
Hallick Lehmann | Jr. | Albion, Neb.
Jerad Leifeld | Sr. | Humphrey, Neb.
Brandon Luetchens | Jr. | Murdock, Neb.
Adam Meirose | Sr. | Lincoln, Neb.
Chase Murman | Sr. | Glenvil, Neb.