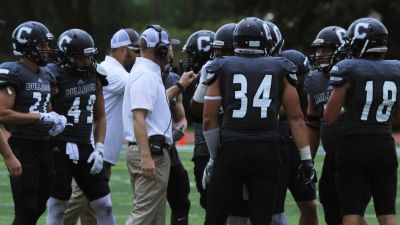 SEWARD, Neb. – For the ninth team under head coach Vance Winter, the Concordia University football team has garnered a top-25 national ranking. The Bulldogs checked in at No. 20 in the first regular-season NAIA coaches' poll, released on Monday. Concordia had landed just outside the top 25 in the preseason ranking announced in early August.
Behind GPAC defensive player of the week Michael Hedlund, the Bulldogs are rising on the strength of a 2-0 start. Concordia has knocked off a pair of teams from the Kansas Collegiate Athletic Conference, University of Saint Mary, 23-7, and Ottawa University, 34-23. This marks the third time in four years that the Bulldogs have opened up the season at 2-0. They are currently one of 22 NAIA football teams without a loss in 2016.
Concordia is ranked for the first time since Oct. 26 of last year. The Bulldogs earned top-25 placements in back-to-back weeks in late October 2015 before falling out of the poll. Winter's program enjoyed an extended stay in the top 25 in 2013 when it began the year at 6-0. That season Concordia garnered six-straight top-25 rankings and peaked at No. 14.
The Bulldogs spent nine-straight polls inside the top 25 in 2001 when they went on to share the GPAC title. The 2001 team, led by head coach Courtney Meyer, found itself ranked as high as sixth before achieving a postseason placement of No. 7. Concordia has made a total of 21 top-25 appearances during the GPAC era.
The Bulldogs (2-0) will open up conference play on Saturday when Northwestern (0-2) invades Bulldog Stadium for a 1 p.m. kickoff.