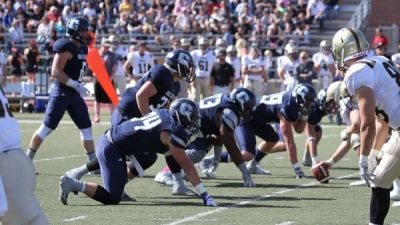 Football alum set to star on CMT reality TV show
By Jake Knabel, Sports Information Director
He wasn't given much information about the challenges that would be placed in front of him, 2012 Concordia graduate (fitness studies) and four-year football player Dan Margritz just knew he was in. On only a day's notice the resident of Memphis, Tenn., hopped on a plane and flew out to compete in a reality TV show hosted by "Stone Cold" Steve Austin himself.
A reality show meant to push contestants to their physical limits, the Country Music Television (CMT) spot has not been officially given a title but is set to begin airing in early July.
Says Margritz, "I saw a post about it in November of last year. I just got done with a competition and was looking for something."
Known at Concordia as a workout freak, Margritz has continued that passion into his post-grad life and serves as strength and conditioning coach and personal trainer in Memphis. He regularly begins lengthy workouts at 4 a.m. and enjoys testing his body in competitions like tough mudders.
This would be something entirely different.
"I flew in and the whole time I couldn't tell anyone why," Margritz said. "When we arrived we couldn't talk and we couldn't go anywhere unless a producer came with us. We actually sat in holding tanks."
On a Saturday in the middle of this past March, the first of two days of filming got underway. Margritz was shuttled to rugged film sites along with other select men of imposing stature, chosen based on a combination of physical machismo and personality traits most suitable for TV.
No doubt Margritz, who was a 6-foot, 210-pound fullback as a senior for the Bulldogs, fit the bill. The native of Lexington, Neb., is far from shy.
"When I saw the promos, I'm like, 'that is so up Dan's alley," said Concordia head football coach Vance Winter. "He's never afraid to challenge himself and he's always looking for the next thing."
Having been interviewed by more than 20 casting executives over several months of time, Margritz knew he had a shot to land a spot on the show. So he ramped up his already rigorous workout regimen.
"I did crazy workouts to train," Margritz said. "On the show we had to carry 90-pound logs a quarter mile and swing across ropes. One big one was trench warfare. We also had to throw 100-pound sandbags and there was the skull crusher, which was the final obstacle. You had competitors like me all the way up to WWE wrestlers and arena football league players."
Whether those 'crazy workouts' paid off remains to be seen. Bound by contract, Margritz is not able to talk about the results of the show, which were already known to those involved on that Saturday in March. Each round, $10,000 was at stake for the winner among eight contestants.
The group of competitors tussled brutally on the first day in plenty of one-on-one competitions. All the while Steve Austin yelled and screamed either approval or disapproval. Even away from the ring, Austin's presence was authoritative.
"He would come in and act all crazy and yell at you," Margritz said. "He's very intimidating. It's definitely a PG-13 show."
It's also a show that may not always be exactly what it seems. The experience provided Margritz an education on 'reality' TV. While the results of the competitions are authentic, there are some obvious dramatizations noted by Margritz.
"A lot of stuff I said was what they wanted me to say," Margritz said. "Sometimes I'd answer a question and then they'd go, 'how about if you say it like this?' A lot of it was half acting and half competing. I actually did my pre-show interview the day after we already knew the results."
Ready for the next challenge, Margritz says he's already applied to be on ABC's Wipeout. He also has dreams of creating a 'Gym Rescue' show similar to Spike TV's Bar Rescue.
At this time Margritz serves as the head trainer at a fitness studio in Memphis in addition to assistant football coach and strength and conditioning duties at Macon Road Baptist High School. His wife, who also graduated from Concordia, is attending optometry school in Memphis.
That life is likely to continue as normal, perhaps until the show's series premiere when Margritz says he will be featured. Just don't expect a watch party at Steve Austin's ranch.
"I tweeted at him the other day but he hasn't gotten back to me," Margritz quipped.