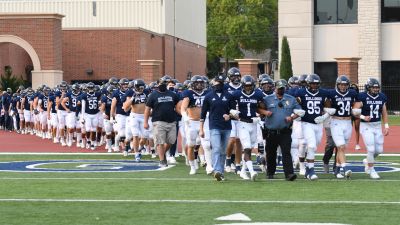 VIDEO: "Concordia Football: Follow Us"
In one of the more powerful pregame ceremonies to ever take place at Bulldog Stadium, the Concordia University Football program delivered a thoughtful and caring message. It came in the form of a video presentation that was played on the stadium videoboard and was then shared via social media. The theme of the message: "follow us."
The video portrays the diversity within the Concordia locker room and the unity and togetherness that is fostered within. As members of the Bulldogs told the audience gathered for the matchup with Hastings, "When one hurts, we all hurt. When one celebrates, we all celebrate."
Prior to kickoff, the Concordia Football team walked out of the tunnel, arm-in-arm. There was no music ringing from the speaker system and no band belting out the fight song – just silence. In the front row of the procession, Seward Interim Chief of Police Brian Peters locked arms with two Bulldogs in a show of unity that extends to the Seward community. As the video played, all players and coaches dropped to a knee. They then rose as one for the National Anthem.
Said Head Coach Patrick Daberkow after the game, "The locker room is a beautiful place. We talked about what we could do and that was an idea our guys came up with, and our administration supported us. I think it's a really cool thing how Concordia University has handled all of the stuff that is going on in our culture right now. To be able to have a video with a message from our players and to give them a voice is really important. What a cool moment."
The script was written by the players themselves. The video was then produced by Aaron Nix, Assistant Professor of Art at Concordia. Eleven Concordia Football student-athletes appeared in the video (in order): Jorge Ochoa, Devin Zeigler, Trevor Dey, Gerald Morris, Lane Castaneda, Jayzen Armstrong, Jonah Weyand, Arthur Anderson, Chase Hammons, Lane Napier and Johnny "Pot Roast" Robinson.
Judging by the social media commentary that followed, the message clearly struck a chord with current players, alums, student-athlete parents, Concordia community members, Bulldog fans and even those without any stake in Concordia.
Current Bulldogs wrote the following while quote tweeting the video message:
Arthur Anderson: Love this team and everything we stand for. No better group to call my brothers.
Jayzen Armstrong: Love my dawgs
Lane Castaneda: Love this team and everything we stand for. #brotherhood
Payton Kidder: Liberty and Justice FOR ALL
Gerald Morris: Love this team man, let's ride!
Jonah Weyand: Proud to be apart of this team! #brotherhood
A number of others outside the locker room chimed in to voice their approval of the general theme of "follow us." The father of Bulldog tight end Brady Fitzke, Roger Fitzke tweeted, "In my opinion, this video from Concordia Football is by far the best message out there that I have seen from anyone. Well done. Proud to be a Bulldog parent!!"
Former president Brian Friedrich wrote, "Awesome, powerful message! Keep leading and modeling all that God calls us to be!" Another person even admitted to crying (happy tears) while viewing the video on social media.
Weyand has served as an embodiment of the togetherness of the locker room. Named the NAIA National Offensive Player of the Week on Monday after rushing for five touchdowns in the win over Hastings, Weyand has mostly deflected credit. Said Weyand this past Saturday night, "I couldn't be more proud of this team."
Added defensive back Jourdhin Smith of the video presentation, "I thought it was a good idea. It didn't disrespect anybody – it was just straight."
With two words representing the center of their message, the Concordia Football team is bringing people together with actions that go beyond winning football games. To quote the Concordia Football student-athletes, "We seek to bring unity where disunity is assumed. We seek to do right by everyone in our community.
"Follow Us."