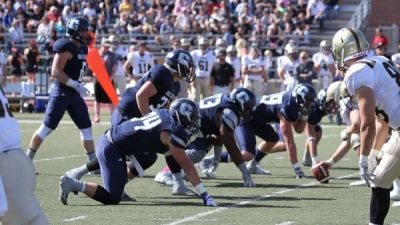 Fleming and Klein selected to play in Hansen Bowl
Concordia University seniors Jerrod Fleming (Houston, Texas) and Ben Klein (Dallas, Texas) have been selected to participate in this year's Hansen Bowl. The Hansen Bowl features the top senior players in the nation from the NAIA as well as NCAA Division II and III levels. The game will take place on January 16 with kickoff scheduled for 1:10 p.m. in Virginia Beach, Va. The game will be televised nationally on tape-delay on Fox Sports Network beginning on January 19.
"Ben and Jerrod being selected to play in this game speaks well to the progress of our football program," noted Patrick Daberkow, Concordia's defensive coordinator. "Ben and Jerrod have been instrumental in setting this program up to be successful. They set a great example for our underclassmen on how to get the most out of themselves on a daily basis."
The Hansen Bowl is the only NCAA-compliant and NAIA-approved post-season small college senior all-star football game that is recognized by the national sports media industry and College Football Hall of Fame. It is named after the late Don Hansen. The Executive Board includes the commissioners of the seven NAIA football conferences and representatives from all the NCAA Division II and NCAA Division III institutions.
Fleming and Klein enjoyed very impressive careers at Concordia. Fleming finished with career totals of 237 tackles, 29 tackles for loss, four sacks, three interceptions, two forced fumbles and three fumble recoveries. He was a 2-time second team All-GPAC performer. This past season, Fleming earned first team All-GPAC recognition. He was also selected to the Omaha World Herald's All-Nebraska Team.
"After a lot of hard work, I'm very proud to represent Concordia at this game," remarked Fleming. "God put us in a position to showcase our talent and see how we stack up with very talented players from different levels of football. Our senior class was filled with ambition to win. Ben and I have tried to instill a level of focus into our teammates. We are excited to give it our best and see what we can get out of this experience."
Klein made 246 total tackles in his Bulldog career. He added 10.5 tackles for loss, eight interceptions, three forced fumbles and three fumble recoveries. Klein was an honorable mention All-GPAC selection as a sophomore and earned second team All-GPAC recognition as a junior. This past year, Klein was a first team All-GPAC selection. He was also named to the Omaha World Herald's All-Nebraska Team.
"I'm honored to be selected and to represent our school, team and coaching staff," said Klein. "Our coaches did a great job of taking my skills and turning them into something more over the past four years, and I just want to perform to the best of my ability in this game. Concordia has meant a lot to us. We have been blessed to have great relationships with our teammates and coaches here. We've played in a very competitive conference, and this is a great opportunity for us to finish our college careers against more very talented competition."
"These two young men held each other and their teammates to such a high standard," added Vance Winter, head coach of the Bulldogs. "They consistently raised their level of play and in turn held everyone else to a higher standard. Whether it was a Tuesday off-season workout in the middle of winter or a conference rivalry game, they were always eager to compete and make this program better. They were incredible teammates and are great ambassadors for the Concordia University football program. Ben and Jerrod will be successful with whatever they pursue in life. We are a better football program for having them, and that entire senior class, with us over the last four years."
More information on the event can be found at the following link; http://www.hansenbowl.com/.