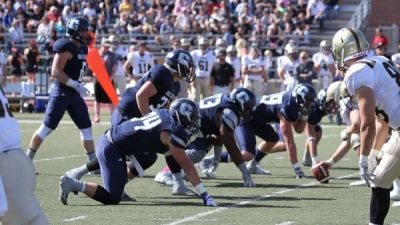 Fleming and Klein named to GPAC First Team Defense
The 2011 GPAC postseason football honors were released on Tuesday. Several Concordia players received conference honors for their efforts during the 2011 season.
Seniors Jerrod Fleming (Houston, Texas) and Ben Klein (Dallas, Texas) were selected to the GPAC Football First Team Defense. Both players concluded their Bulldog careers with impressive seasons in 2011.
Fleming easily led the team with 84 total tackles on the year in just 10 games played. The linebacker finished with eight tackles for loss, two interceptions, a forced fumble and a fumble recovery in his senior campaign. Klein tied for fifth on the team in total tackles with 52. He picked off two passes and also added a fumble recovery.
Derek Rodine (Polk, Neb.) and Dylan Heithoff (Elgin, Neb.) were each named to the GPAC Second Team Defense. Rodine was eighth on the team with 48 total tackles, and he was tied for third on the team with nine tackles for loss. Derek was second on the team with four sacks from his defensive tackle position. Heithoff finished with 42 total tackles in his sophomore season. The defensive end was tied for the team lead with 12 tackles for loss, and his three sacks tied for third on the Bulldog defense. Heithoff also added a forced fumble and a fumble recovery this year.
Senior offensive lineman Charles Washington (Houston, Texas) concluded his Bulldog career with a solid 2011 season. Due to injuries on the offensive line, Washington was forced to play multiple positions throughout the season. Washington was a reliable team leader and blocker for an Bulldog offense that ranked near the top of the GPAC in rushing.
Concordia also had seven athletes receive All-GPAC honorable mention recognition. Heath Broekemeier, Michael Voelker, Tom Malander, Darnell Woods and Langston Jones were selected from the Concordia defense, while Ryan Adams and Nate Sindt were selected from the Concordia offense.
Broekemeier (Prairie Grove, Ark.) totaled 36 tackles with seven tackles for loss and two interceptions this season. Voelker (Linn, Kan.) was third on the team with 60 total tackles, including nine tackles for loss and five sacks. Malander (Fullerton, Neb.) made 52 stops this year with 12 tackles for loss (tied for first on team), three sacks and two forced fumbles. Woods (Phoenix, Ariz.) made 44 tackles from his defensive back position, and he also led Concordia with three blocked kicks on the year. Jones (Loveland, Colo.) made 51 tackles (eight tackles for loss) with two sacks and three fumble recoveries during the 2011 season.
Adams (El Dorado Hills, Calif.) had an impressive freshman year before an injury ended his season early. He rushed for 387 yards in eight games of action and totaled a team-best six rushing scores on the year. Sindt (Scottsbluff, Neb.) hauled in 10 receptions with one touchdown this season. He also had seven carries for 70 yards.
Concordia was 4-7 (3-6 GPAC) during the 2011 season.