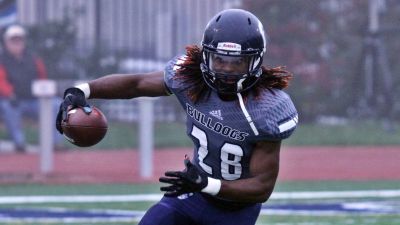 SEWARD, Neb. – A total 15 members of the Concordia University football team, including eight first or second team selections, collected 2017 All-GPAC accolades, as announced by the conference on Tuesday (Nov. 14). Head coach Patrick Daberkow's squad completed the 2017 season with an overall record of 6-4 and placed third in the GPAC standings.
Bulldogs landed four players on the conference's first team: senior defensive backs D'Mauria Martin and Tarence Roby, freshman linebacker Lane Napier and junior offensive lineman Matt Romero. Roby also received second team All-GPAC accolades as a kick returner. Additional second team honorees were sophomore running back Ryan Durdon, senior tight end Seth Fitzke, senior receiver Jared Garcia and senior defensive lineman Erik Small. The team's seven honorable mention choices are listed at bottom.
A first team All-GPAC performer for the second year in a row, Martin put together a final collegiate season worthy of All-America consideration. The native of Converse, Texas, pulled in the NAIA National Defensive Player of the Week award on Oct. 16 after snaring three interceptions in a win over Midland. On the year, Martin totaled 52 tackles (six for loss), eight pass breakups, five interceptions and a forced fumble. After starting at corner his first three seasons as a Bulldog, Martin moved to safety in 2017. In his four-year career, Martin racked up 136 tackles, 13 tackles for loss, 30 pass breakups and seven interceptions.
A native of nearby David City, Neb., Napier appears to be on track to be the next great Concordia linebacker. A tackling machine, Napier led all GPAC players with 97 stops in his rookie season that followed a prep career at Aquinas High School. His average of 9.7 tackles per game ranked 14th nationally. Napier pulled in the GPAC Defensive Player of the Week award on Oct. 30 after making 17 tackles and a sack in the win over Dakota Wesleyan. In addition to his 97 tackles, Napier added eight tackles for loss, a sack, two pass breakups and a forced fumble.
Roby starred as one of the most electrifying talents in the conference. The native of Rockford, Ill., has been named an all-conference choice in each of his four seasons in Seward. His highlight reel play of his senior season was a 100-yard interception for a touchdown in the win over Ottawa that landed him on ESPN's SportsCenter. On the year, Roby posted 31 tackles, seven pass breakups, four interceptions and a forced fumble. He also piled up 1,041 all-purpose yards (718 kick return, 166 punt return, 151 interception return) while serving as one of the nation's top return men. Roby compiled 141 tackles, 27 pass breakups and nine interceptions over his Bulldog career.
A cornerstone for one of the league's top offensive lines, Romero started all 10 games up front. The center from Centennial, Colo., leaped from honorable mention status last season to the first team in 2017. He helped pave the way for Durdon and a rushing attack that averaged 199.4 yards per game (24th in the NAIA). Romero and the offensive line were especially dominant during Concordia's late four-game win streak when the Bulldogs averaged 294.5 rushing yards per contest.
A converted receiver, Durdon came out of nowhere to have one of the top seasons ever by a Concordia running back. He put up single-game rushing totals of 266, 208, 201, 192 and 136 on his way to a 1,247 yards on the year – a total that ranks second on the program's all-time single-season rushing list. He was named the GPAC Offensive Player of the Week after his 266-yard (equaled a school record), four-touchdown performance in the win over Midland. Durdon ranked 10th nationally in rushing yards per game (124.7). He finished with eight rushing touchdowns while averaging 5.5 yards per carry on 227 attempts.
Fitzke, a Seward High School product, bounced back in 2017 after missing the 2016 campaign due to an ACL tear. Though not frequently featured in the passing game (four catches, 37 yards), Fitzke served as an extension of the offensive line as a dominant blocker. The Seward native is now a three-time All-GPAC award winner having also been named to the conference's first team in 2015 and to the second team in 2014. In his collegiate career, Fitzke caught 35 passes for 300 yards and four touchdowns.
Garcia, who hails from Pearland, Texas, is the most accomplished receiver in program history. Over his four seasons as a Bulldog, Garcia hauled in 161 receptions for 2,495 yards and 35 touchdowns. His yardage and touchdown totals represent all-time school records while his reception total placed him at No. 2 in the record book. As a senior, Garcia reeled in 21 passes for 307 yards and six touchdowns over five games. Garcia notched two first team All-GPAC awards and two second team All-GPAC honors throughout his career, which included eight games with 100 or more receiving yards. His 11 touchdown receptions as a freshman remain a program single-season record.
Small, who arrived in Seward via Fullerton Community College, made a successful transition from fullback to starting nose guard this fall. The Los Alamitos, Calif., native was a force on the interior of Concordia's 3-4 scheme. Small posted 41 tackles, including 6.5 for loss, three sacks and a fumble recovery. His most impressive single-game performance came against Dakota Wesleyan when he registered 10 tackles, three tackles for loss and a sack. Small picked up second team honors this season after garnering honorable mention in 2015 and 2016.
This year's honorable mention recipients includes three starters on the offensive line: junior Grady Koch and seniors Hallick Lehmann and Austin Reese. Other honorees were junior linebacker Kordell Glause (44 tackles, 4 tfl's) and senior linebacker Shane Scott (37 tackles, 7 tfl's) and defensive backs Sebastian Garces and Nate Gilmore, who were part of a secondary that ranked 21st nationally in pass defense efficiency (111.5).
2017 All-GPAC
First Team
D'Mauria Martin (DB)
Lane Napier (LB)
Tarence Roby (DB)
Matt Romero (OL)
Second Team
Ryan Durdon (RB)
Seth Fitzke (TE)
Jared Garcia (WR)
Tarence Roby (KR)
Erik Small (DL)
Honorable Mention
Sebastian Garces (DB)
Nate Gilmore (DB)
Kordell Glause (LB)
Grady Koch (OL)
Hallick Lehmann (OL)
Austin Reese (OL)
Shane Scott (LB)