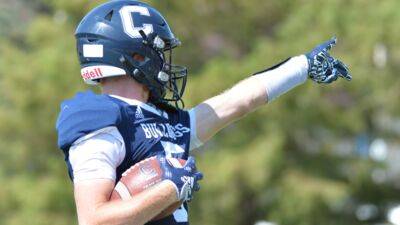 You get the feeling that Korrell Koehlmoos would play college football for the rest of his life, if only that was allowed. He would play every single snap on offense, defense and special teams, if only the coaches would let him. He's a football guy to the max, one that goes just as hard Monday through Friday as he does on Saturdays. Tough and hard-nosed, Koehlmoos is truly a Bulldog.
Back for a fifth season in the Navy and White, Koehlmoos' return to the Concordia locker room is more about his fervent passion for the game than it is about any statistics or records.
"He's a playmaker and he's made big plays in big games," says Head Coach Patrick Daberkow. "It comes back to his passion for the game. The game of football means a lot to Korrell. It's hard to understand the amount of work and sacrifice that goes into being good at your craft. Sometimes it's even just a mentality, because there are a lot of guys who put in the work. Korrell puts in the work and he's willing to do anything at any point."
While donning the No. 5, Koehlmoos is making his mark as one of the most productive pass catchers in the history of Concordia Football. That's not all that makes him compelling. The Pilger, Neb., native carries himself with a goofy smile, a swagger and an edge that borders on cockiness. It's what makes him so fearless, tough and energetic. He's the guy out there who always looks like he's having a blast – because he is.
The 6-foot-1, 190-pound receiver just has that knack for making plays on the ball, even as opponents are well aware of his presence. A massively productive first four games of 2022 have Koehlmoos knocking on the door of two program all-time receiving records. On the current school all-time lists, Koehlmoos ranks third in receptions (160), third in receiving yards (2,243) and third in receiving touchdowns (17). This is coming from a guy who just hoped he could play special teams when he entered the program as a scrawny freshman out of Lutheran High School Northeast in 2018.
Said Koehlmoos, "My dad told me coming in not to get my hopes too high. 'You're going to be a small fish in a big pond.' I knew once I got here I was going to work my butt off and hope for the best. My goal was to play special teams my freshman year. Did I expect to start my third game into the season? Definitely didn't."
Koehlmoos' play in practice couldn't help but demand the attention of the coaching staff. As Koehlmoos tells the story, in a scrimmage versus Nebraska Wesleyan his freshman year, he knocked two defensive linemen to the ground on one play. He was backing up what he once wrote in an online recruiting profile. It read, "I am different than a lot of your normal recruits … I don't ever give up on something I do. I always finish what I start."
Perhaps Koehlmoos felt he hadn't completely finished what he started at Concordia. This fifth year of college football was made possible by the 2020 COVID-19 waiver. Other student-athletes have had to ponder whether to use that extra eligibility. For Koehlmoos, there was no decision to make.
"I have been playing football since third grade," Koehlmoos explained. "I knew after my fourth year (at Concordia) that I wasn't ready to be done playing yet. Football has been my life forever. One more year of free eligibility – I'll take it. My greatest memories are from playing football. I thought I'd make a couple more, I guess."
Koehlmoos is still working on finishing his degree in Criminal Justice (with minors in Coaching and Geography). His schedule is jampacked with school, football and his job working at the Nebraska State Penitentiary. Yes, he has some stories from that whole experience. Not one to just sit still, that lifestyle seems to suit Koehlmoos.
Says Koehlmoos, "I don't have much free time. I work about 30-to-40 hours a week and I have a couple classes on Tuesdays and Thursdays. Basically, I have a seven-day school, work and football schedule. I don't have a day off. By now I'm used to it. I'm tired a lot, but I make sure I get my eight hours of sleep every night."
If he's tired, it never seems to show. He could give the Energizer Bunny a run for its money. Those who watched Koehlmoos on the high school gridiron saw his relentlessness in action. After three years at Wisner-Pilger High School, Koehlmoos played his final prep season at Lutheran High Northeast, where he was coached by Concordia alum Darrin Suckstorf. Koehlmoos actually played running back at Lutheran High Northeast and wasn't afraid to ram it up between the tackles.
As a high school athlete, Koehlmoos first talked to Coach Daberkow when he played in the Lutheran Invitational Tournament on the Concordia campus. Pretty quickly, Koehlmoos came to realize that Concordia was the right fit for him, from the Lutheran education to the way the football program operated. Suckstorf's Concordia roots also didn't hurt. As Koehlmoos put it, "I think on the inside he wanted me to come here because of the Concordia connection."
At Lutheran High Northeast, Koehlmoos played on both sides of the ball and served as the team's punter. Perhaps it was all those carries up the middle that toughened Koehlmoos up and readied him for the college game. Daberkow even joked that Koehlmoos must have "rubber bones" the way he jumps up after enduring big hits from opposing defenders.
Daberkow would take issue in tagging Koehlmoos with the term "gamer" in that it would seem to imply that the star receiver only looks forward to game days. It's the preparation and his unwavering love for football that have made Koehlmoos the player he is today. To be honest, he was pretty good right away. In his finest moment as a freshman, Koehlmoos caught six passes for 162 yards against Northwestern. By game three of his career, Koehlmoos had cracked the starting lineup.
Sharing in that joy with family is what he'll remember most. Says Koehlmoos, "I grew up on a farm. Hard work runs in my family. It paid off in the end. I called my dad (Kory) my freshman year and told him I was going to start that week. It was a special moment."
In year five, Koehlmoos has taken his game to a new level, all while opponents game plan against him. The Bulldogs have effectively moved him around the formation in an attempt to avoid double teams. Through four games, he's hauled in 34 receptions for 373 yards and five touchdowns. Koehlmoos snagged a career high 11 catches at Northwestern before topping that with 15 grabs in last week's win at Dakota Wesleyan. The versatile Koehlmoos leads all GPAC players in catches per game (8.5) and ranks second in the conference in punting average (42.6). He also fills the water coolers and cooks the postgame meal. Okay, the last part may not be true, but he can just about do it all.
Said Daberkow, "Any time you have a kid running down on kickoff coverage, returning punts, punting and putting up the offensive reps that he does, you know he has a passion for football. When the NAIA ruled that anyone playing in 2020 would get an extra year of eligibility, it wasn't even a debate for him. That was it. If he could play another year, he was going to do it. I appreciate that about a player. To have a guy who's passionate about the game like that is always fun. If he could play every rep of every game on both sides of the ball and on special teams, he would."
In turn, Koehlmoos can feel that trust from his coaches. He knows he couldn't be putting up these numbers by himself. Says Koehlmoos, "It comes back to the coaching staff and setting things up to get people open and our quarterback DJ (McGarvie) trusting me and getting me the ball. Instincts take over after that. There's a lot of trust from the coaching staff in me and that helps a lot." Added Koehlmoos, "I didn't expect to be in the conversation for a couple records."
Koehlmoos won't get a sixth year of college football, but it seems likely he'll find a way to be involved in the game. He says his dream job would be a front office position with an NFL organization, but coaching wouldn't be so bad either.
There's a calm that has come over the chip-on-the-shoulder, smalltown Nebraska kid with a playful personality. Said Koehlmoos, "The last four years I've been on the edge of my seat and more antsy. The last four weeks have been more laid back. I'm trying to take it all in and enjoy it."