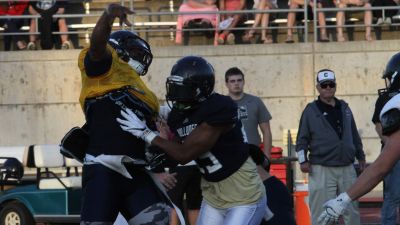 SEWARD, Neb. – One-hundred-and-thirty-three days out from the 2016 season opener, the Concordia University football team held its annual spring blue-white scrimmage Friday night under the lights inside Bulldog Stadium. The open-to-the-public sneak peek at head coach Vance Winter's 2016 squad featured a lightning quick defense and the emergence of playmaking receiver Kiyoshi Brey.
Of course, 310-pound defensive lineman Ron Jackson stole the show by successfully catching a pair of punts. On his final punt return of the evening, Jackson refused to stop running until flipping into the end zone after blazing 95 yards to the house.
Comedy aside, Winter approved of the spring season that included 15 practices since getting started on March 29.
"I was pleased with our guys' mindset and energy," Winter said. "I thought especially defensively. They set the tone early on with LeDontrae (Gooden) making a big play right away. That's been a story this spring. There's been a lot of back and forth, but it's been great competition all spring. It's been fun. We've got a lot of guys on both sides of the ball that love to play the game."
A ball-hawking safety who plucked five picks a year ago, Gooden intercepted the first pass attempt fired by quarterback TJ Austin, who took reps with the No. 1 unit. The majority of the ones got limited snaps. Star running back Bryce Collins again flashed his well-rounded ability in pounding between the tackles and making catches in space before spending the bulk of the night as a spectator.
While coordinator Patrick Daberkow expects to field another stout defensive unit, Concordia found some big plays in the passing game. On an all-out blitz early in the scrimmage, quarterback Andrew Perea zipped a short pass to tight end Derek Luzum, who raced 80 yards to the end zone for a score. Vying for time at receiver, Brey (Winchester, Calif.) impressed with touchdown grabs of 21 and 41 yards. The latter came on a beautifully executed deep ball from quarterback Riley Wiltfong.
"Yoshi's had a great spring. He keeps getting better and better," Winter said. "He's one of those guys you can rely on. He works really hard in the weight room. He's gotten faster. I think going against the type of cover corners he goes against every day has made him better as a route runner. He's a good football player and he's going to be in the mix this fall."
Gooden is just one of many playmakers on the Concordia defense that includes All-American defensive end Trey Barnes and an ultra-experienced secondary. Daberkow has not been afraid to unleash his full repertoire of coverages, blitzes and twists this spring. The multitude of looks has helped grow a budding offensive line. Winter likes what he's got up front on both sides.
Even among coaches, there's competition.
"Coach Daberkow has been a pain in my side all spring," Winter joked. "Him and Coach (Corby) Osten and the stuff they put together. They just have a really athletic group and they buy into the scheme. They get up in your face and give you nothing easy. We may give up a play or two here and there, but you're not going to be able to do anything consistently."
Winter is still in the process of settling the kicking game after losing seniors at kicker and punter. Ogallala native Jose Garcia made all seven of his field goal attempts from short distances on Friday. Meanwhile, Barnes has shown off a booming leg as a punter though it has not yet been decided if he'll handle those duties in addition to his role as a terrorizer of quarterbacks.
One thing is for certain: Jackson will not be returning punts this fall though he did show some nifty juke moves in the open field.
"He's 2-for-2 catching punts," Winter said. "Maybe he'll be a fair catch guy. That No. 2 jersey on him was crying for help. That jersey may never be worn again. We'll have to retire it."
Austin, Wiltfong and Andrew Perea were the only three quarterbacks in camp this spring. Winter believes all three are plenty capable of running the show when things get going for real in September. Perea played mostly junior varsity in 2015, but he's looked increasing comfortable. Austin is the most experienced of the three.
"We're really pleased with the quarterback position," Winter said. "They all have done great things throughout the whole spring. It's going to come down to consistency. Every guy that was in there today had a few plays or a few throws they'd like to have back but all three are good athletes. The running aspect is a big thing for them, too."
How the quarterback position shapes up is an obvious key to 2016 success, but there's plenty more to it. Entering his eighth season, Winter may have his most talented and experienced group yet. There's little concern about motivation moving into the summer.
"It's all process-based," Winter said. "To reach our goals we have to have a great summer of preparation. We have to continue to build this chemistry, this team and this brotherhood."
Concordia officially kicks off the 2016 season at home on Sept. 3 when University of Saint Mary (Kan.) visits Bulldog Stadium. Game time is set for 1 p.m. in Seward.