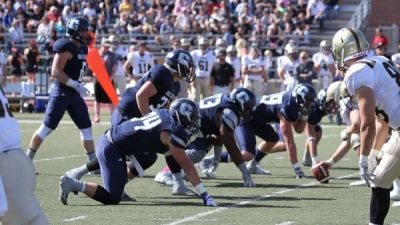 Fan Appreciation Day scheduled for Saturday
It will be a busy Saturday at Concordia University as the Bulldogs host three sporting events and honor the fans on Fan Appreciation Day at Bulldog Stadium. The Concordia soccer teams host Northwestern College in the afternoon to open conference play. The Bulldog football team hosts Midland Lutheran College on Saturday evening.
The Bulldog women's soccer team enters conference play with an overall record of 4-2. Concordia picked up an impressive 2-1 win on the road at Bellevue this past Sunday. Molly Humlicek and Carolyn Chrzan scored the goals for the Bulldogs. Chrzan scored the game-winner with less than three minutes remaining in the game. Northwestern is 2-5 overall and 0-1 in the GPAC entering Saturday. The Red Raiders picked up a 2-1 victory over Concordia in their only matchup last season.
The Concordia men's soccer team is 1-2-2 on the young season entering GPAC play. The Bulldogs picked up their first win of the season this past weekend with a 4-1 victory over Bethany College. Kolt O'Kelly, Tim Soenksen and Todd May scored goals for Concordia in the win. Northwestern enters Seward with a 2-4-1 overall record to go along with a 0-1 mark in conference play. Last year, the Raiders secured a 2-1 win over Concordia.
The Bulldog football team is looking to bounce back following a tough loss last week. The Bulldogs are 2-1 overall and 1-1 in GPAC play, but a 56-0 loss at Dakota Wesleyan last week was a huge disappointment following wins over Peru State and Nebraska Wesleyan to open the year. A win over Midland Lutheran would certainly help get things back on track.
The Warriors trounced Dakota State 38-7 to open the season and suffered a 37-7 loss to No. 1 Sioux Falls last week. The Warriors kept it close for a half, trailing just 14-7 heading into halftime. However, the top-ranked Cougars took advantage of three Midland interceptions and cruised to the 30-point win. Last season, Midland held on for a 12-10 win over Concordia in the opening game of the season.
Fans unable to make it to Bulldog Stadium can catch all the action from all three games on the Concordia Sports Network.
http://www.cune.edu/athletics/451/sportsinfo/CSN/

Saturday's Schedule at Bulldog Stadium
Noon – Concordia Women's Soccer vs. Northwestern College
2 pm – Concordia Men's Soccer vs. Northwestern College
7 pm – Concordia Football vs. Midland Lutheran College