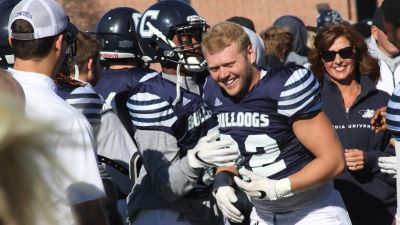 If you only attended the five Concordia home games in 2016, you never witnessed a Bulldog loss. An undefeated run through the home schedule provided one of the biggest highlights of a campaign that saw the Concordia football program conclude a season with a national ranking for the first time since 2001.
The last time we saw the Bulldogs in action, senior Trey Barnes led a furious comeback from 14 points down to lift Concordia past rival Hastings in the season finale. Barnes was everywhere. He made three tackles for loss, he returned a fumble for a touchdown and boomed punts all afternoon. He also bowled over the Bronco left tackle on a play that culminated with a Patrick Skwara sack. It was an ending that made sense for both Barnes and the program, which said goodbye to Vance Winter (check out our Q&A with Winter at below).
On Oct. 31, Winter announced that he was stepping aside from his role as head coach, a position he had held for eight years. With Winter at the helm, the program went from 1-9 the year prior to his promotion to 7-3 and ranked 18th nationally in 2016. Says Winter, the 2016 GPAC coach of the year, "The pride for our program is really high. There are a lot of guys that have put a lot of work into getting us to this point."
The 2016 Bulldogs possessed legitimate star power. Barnes led all NAIA players in tackles for loss per game (22 total tackles for loss) in another dominant display up front. Running back Bryce Collins pushed past 3,500 career rushing yards. Game-breaking receiver Jared Garcia rose to the top of the program's all-time touchdown receptions list (Garcia will enter his senior season with 29 career touchdown grabs). Additionally, linebacker Michael Hedlund recorded a second-straight 100-tackle season while leading the GPAC in stops.
Behind these standouts, Concordia made itself a home inside the national rankings this fall. Out of 11 polls released in 2016, the Bulldogs have appeared in eight of the them. They moved up to No. 16 after a 3-0 start that included nonconference victories over Kansas Collegiate Athletic Conference foes University of Saint Mary and Ottawa University as well as a 9-7 slugfest with Northwestern.
The bump in the road came in the middle of the season when the Bulldogs fell at the hands of No. 5 Doane, No. 6 Morningside and No. 16 Dakota Wesleyan during a grueling run of conference play. But it was how Concordia responded that defined the campaign. Concordia picked itself back up with a 20-14 win over No. 22 Midland in a performance that was more dominant than the final score indicated. Then came a come-from-behind road victory over improving Dordt and the triumph over rival Hastings.
Players like Barnes refused to allow the foundation to crack even when a potential playoff bid fell by the wayside.
"It's just a blessing, to be honest," Barnes said following the season's final game. "I have so many good people that I play next to that make success possible."
"Finishing the right way" was a phrase frequently uttered inside the program after Winter made his big announcement with two games left on the schedule. Players rallied around that mantra in closing out the program's most successful season since that GPAC championship 2001 season.
"It was very important," Collins said of the way the team finished 2016. "The coaches put in all the work and all the effort that we do during the offseason to make us better. Leaving Coach with a 7-3 record for his last season is a good feeling."
Added Winter, "We wanted to be a playoff team, but I was real proud of how we finished. One of our goals was to finish the year ranked. I think that's a great momentum boost for the guys that are coming back."
Bulldog football will move on in 2017 without Winter and without a senior class that included the likes of Barnes, Collins and Hedlund. Though uncertainty remains regarding who will lead the program going forward, Winter believes pieces are in place for continued upward trajectory. Both quarterbacks (TJ Austin and Riley Wiltfong) will be back, first team All-GPAC tight end Seth Fitzke is planning a return from his ACL tear and the secondary will be rock solid with all-conference corners D'Mauria Martin and Tarence Roby back in the fold.
The culture, the facilities and the support are there. The only question left to answer: who will be the 10th head coach in program history?
Q&A with Vance Winter
Q: What will you remember most about the 2016 season?
Winter: We had a great group of guys – coaching staff and players. I was just really proud of how we stuck together through adversity and injuries and finished strong. I think the league overall – from top to bottom – was as strong and as solid I've ever seen. There were no real gimme-type games. I think the character of our senior class was pretty evident in how we finished. Those guys had a big impact over four years. We had bigger goals. We wanted to be a playoff team, but I was real proud of how we finished. One of our goals was to finish the year ranked. I think that's a great momentum boost for the guys that are coming back.
Q: What was the condition of the program when you first took over as head coach in 2009?
Winter: We had a lot less guys. We had a really committed group. We weren't as far along from a talent perspective, but from a commitment standpoint they helped set a standard for what it was going to take and how hard we were going to work. We had a long way to go. We knew it. One of our first spring practices we had to shut it down because we ran out of players at certain positions. We didn't even have a spring game. That was a low point, but the effort and enthusiasm were there. We knew we had a lot of work to do to get to the upper tier of the conference.
Q: You were an assistant at Concordia for four years before becoming head coach. What about Concordia excited you about the opportunity to continue here and lead the program?
Winter: I love the faith-based aspect of Concordia. I love the type of guys that we were able to bring in. I love the type of guys that are attracted to a school like Concordia. Then you factor in the facility upgrades that were happening right at the start. You felt like there was a lot of promise and a lot of good things that could happen. It took a ton of work and a ton of time, but it felt like every year we were getting closer and closer. I was really young, but the opportunity to be a head coach was a no brainer. I was really excited and I learned a lot. I made so many mistakes. I still make mistakes, but I learned a lot from that first year.
Q: What's something you would tell the next head coach that maybe you would have liked to have known when you got started here as head coach? Or maybe there is some advice that you would give.
Winter: There are a lot of people on campus that are incredibly supportive of the football program and our guys. You want to tap into that. There are people so willing to help. Just keep continuing the progress to take the next step. There's good core group of guys. There's a group of young men that is really committed and has high expectations. They're willing to work and willing to be pushed. And staff-wise, this is an incredible staff of guys we've been able to keep together for a long time. It's a really committed and hard-working staff.
Q: How would you want your players to remember you?
Winter: I was pretty consistent in demeanor. I brought the most to work that I could every day. I didn't leave anything from an energy standpoint. I was committed to seeing them be successful, not just in football, but in all areas. I hope there was more for them being part of our program than just football. I wanted them to feel like they were cared about and to know that we had an open door policy if they were having issues. They could come talk. They could call my cell phone. They could text. There were all those things that you maybe don't get at a bigger program that you get at Concordia. There was a connection between our staff and our players that you don't get at a lot of places. That's what has made this situation so hard. We have great relationships with our players going back every year. The pride for our program is really high. There are a lot of guys who have put a lot of work into getting us to this point.
Q: Is there any more clarity for you as far as what your future holds and whether coaching may be part of that again someday?
Winter: I'm really wide open. I struggle with the amount of time being a head coach requires and having a young family. It's a tremendous commitment. I've been really all in. My wife (Tanya) and my kids have been unbelievably supportive of me. I've got a five-month-old, a nine-year-old and a seven-year-old that actually still think it's cool to be around their dad. I'm very narrow focused and I struggle separating work from home. I see myself coaching again, but maybe in a different role.