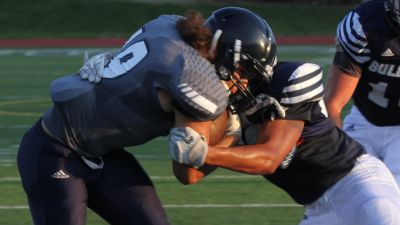 SALINA, Kan. – A rash of penalties and turnovers sunk the Concordia University football team in its efforts to claim victory while opening the 2017 season at 20th ranked Kansas Wesleyan University under the lights on Saturday night. Despite a breakout game by sophomore running back Ryan Durdon, the Bulldogs suffered a 28-13 loss to the host Coyotes in a contest played at Graves Family Sports Complex in Salina, Kan.
It marked the head coaching debut of Patrick Daberkow, who spent the previous seven seasons coordinating Concordia's defenses under Vance Winter. The Bulldogs' 12 penalties for 118 yards and three turnovers were not what Daberkow had in mind.
"We identified that going into the game and just didn't execute well enough," Daberkow said. "Their quarterback played well and they did a good job of grinding away. We shot ourselves in the foot tonight. Credit to them. They played a good clean game tonight. They made fewer mistakes. Sometimes it just comes down to who makes fewer mistakes."
While Kansas Wesleyan quarterback Kelly Cordova dazzled with his arm (235 passing yards, two touchdowns) and feet (64 rushing yards), Durdon ran with the spotlight from a Concordia perspective. He toted the rock 24 times for 208 yards and a touchdown. The native of Decatur, Texas, galloped 77 yards for a fourth quarter score, keeping hopes alive and cutting the deficit to 21-13. Said Daberkow, "Ryan Durdon had a great game."
For most of the night, the rebuilt Bulldog defense played well enough to win. That phase of the team was not responsible for a third quarter Coyote touchdown that occurred on a botched punt attempt. Brendan Cremin's fumble was recovered in the end zone by Anthony Munro on a back breaking play. It was an otherwise solid night for Cremin, who downed four punts inside the opposition's 20.
Defensively, Erik Small looked comfortable at his new spot at nose guard. He made five tackles and recorded his first career sack. Playmaking senior Tarence Roby thwarted a Kansas Wesleyan red zone drive with a first quarter interception. The Coyotes managed to pile up 447 total yards compared to 482 for Concordia.
"Our defense played outstanding," Daberkow said. "We just kind of ran out of gas at the end there. One of the touchdowns we gave up was when the defense wasn't even on the field. We had some young guys step up."
Daberkow made mention of freshman receiver Lane Castaneda, who ably filled in for the injured Jared Garcia. Castaneda caught eight passes for 89 yards and hauled in an 18-yard scoring toss from starting quarterback Riley Wiltfong. In the second half, Daberkow made a call to the bullpen and used strong-armed Andrew Perea. Both quarterbacks produced similar numbers. Wiltfong went 7-for-17 for 83 yards, one touchdown and one pick. Perea completed 9-of-17 passes for 81 yards.
Durdon is the program's first player to rush for 200 or more yards in a game since quarterback Cohl Tufford accomplished that feat on Oct. 1, 2011. Durdon did not carry the football during his freshman season when the Bulldogs featured star back Bryce Collins.
Kansas Wesleyan, coached by fourth-year head man Matt Drinkall, is now 1-1 this season. The Coyotes have not lost at the Graves Complex since it opened in 2015. Kansas Wesleyan bounced back from a 31-24 season opening loss at Olivet Nazarene University on Aug. 26. Drinkall's squad was led on the ground by the 91 yards and a touchdown from Nate Ocran. Trenton Poe-Evans snagged six passes for 97 yards and a score.
The Bulldogs will make their 2017 home debut next Saturday (Sept. 9) when they challenge another KCAC school. Kickoff at Bulldog Stadium between Concordia and Ottawa University (0-1) is set for 1 p.m. CT. The two sides also met in Ottawa, Kan., last fall with the result being a 34-23 victory for the Bulldogs. Concordia has won each of its last six home games.