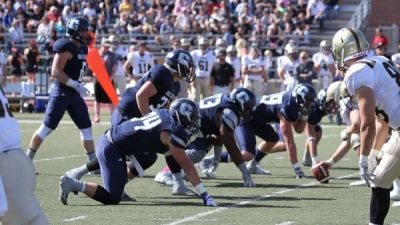 Doane overcomes 20-point deficit to extend series win streak over Bulldogs
CRETE, Neb. – Saturday's rivalry game between the Concordia University football team and Doane featured two completely different halves. After dominating the opening 30 minutes, the Bulldogs saw a 20-0 lead melt away as the Tigers finished the game with 23 unanswered points for a 23-20 victory at Al Papik Field in Crete.
Concordia, which had sought its first win over Doane since 2005, slipped to 3-5 overall and 2-4 in GPAC action. Sixth-year head coach Vance Winter's squad has suffered all five of its losses by margins of seven points or less.
"We played lights out in the first half," Winter said. "We probably played a little bit above our heads. Then in the second half we just didn't play well offensively at all."
Doane (4-3, 4-2 GPAC) took its first lead of the day with 12:44 left in the game when running back Clayton Moore carried over the goal line for his third rushing touchdown on the afternoon. That play finished off a four-play, 41-yard drive set up by a Bulldog turnover.
Moore, who ran for 105 yards, also scored on rushes of five and 18 yards to erase what had seemingly been a comfortable 20-point lead.
The Concordia offense punished Doane with first-half touchdown drives of 64, 80 and 76 yards. Senior quarterback Von Thomas broke yet another record courtesy of touchdown tosses to sophomore Seth Fitzke from one yard out and to freshman Jared Garcia from two yards out as part of the big opening half. Those two scores gave Thomas 18 touchdown passes, eclipsing the former school record of 17 by Rod Giesselman in 1970.
The lead bulged to 20-0 when running back Bryce Collins took off for a 67-yard touchdown run midway through the second quarter. The native of Boerne, Texas, came up just shy of a career high rushing total with his 149 yards on 16 carries.
Everything changed after halftime. Concordia mustered only 51 yards of offense over the final 30 minutes, during which it had to punt five times and also turned it over twice. That opened the door for the opportunistic Tigers, who put up 14 points off Bulldog turnovers.
"We're competing like crazy," Winter said. "It's just really frustrating and disappointing what we're going through. We have to finish games. We're working on it. Our guys care a great deal."
Thomas finished 14-for-26 passing for 126 yards to go along with two touchdown tosses and one interception. He was relieved early in the second half by backup quarterback Garrett Folchert, who completed 5 of 6 passes for 45 yards. Garcia, who leads the team with nine touchdown catches on the season, hauled in nine passes for 70 yards. Redshirt freshman TJ Austin also saw snaps at quarterback after Thomas left with an injury.
The Concordia defense put forth one of its better efforts of the season, holding Doane to 297 yards and just 3.9 yards per play. Both Tarence Roby and Michael Hedlund came up with first-half interceptions. Coordinator Patrick Daberkow's unit also got a boost from the return of safety Drew Baxter, who appeared in his first game this season and made four tackles and a sack.
Winter liked the play of his corners in Roby and freshman D'Mauria Martin, who were part of a secondary that held Doane to 82 yards passing on 23 attempts.
"Defensively we competed really well," Winter said. "I thought Tarence and D'Mauria were outstanding all game. They played well defensively, but those guys were on the field a little too long. We would have liked a couple more stops and to get off the field on third down, but they really competed."
Lost fumbles by Justin Haun (hit by a punt) and Austin put the Bulldog defense in tough positions. Doane cashed in on both turnovers that gave it starting spots in Concordia territory.
Trailing 23-20, the Bulldogs got the football at their own 6 with 2:54 remaining in the game. Concordia picked up one first down on an 11-yard connection from Folchert to Garcia. The drive then ended with Doane leading tackler Garret Borcher stuffing Folchert on a fourth and one at the 26.
In addition to Thomas missing most of the second half, Collins also played sparingly after halftime. Those losses played a role in the Bulldogs' offensive struggles in the second half.
"We have to make a play. We knew Doane would come back," Winter said. "When Von went out in the second half our offense just didn't respond."
The loss is another in a series of close calls. All but one of Concordia's eight games has been decided by seven points or less. The Bulldogs five defeats have come by five, one, three, six and three points.
The Bulldogs go back on the road next Saturday when they take on No. 1-ranked Morningside (6-0, 5-0 GPAC) in Sioux City, Iowa. The powerful Mustangs entered the weekend leading the NAIA in total offense (727.2) and scoring offense (67.5). In last year's meeting, Morningside defeated Concordia 48-31 in Seward.