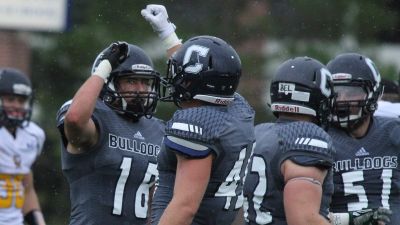 SEWARD, Neb. – An annoying drizzle and some first-game rustiness made for a less-than-pretty season opener for the Concordia University football team. But the pouring rain that fell at the conclusion of the game did little to dampen the high expectations that surround the 2016 Bulldogs, who took care of the University of Saint Mary (Kan.), 23-7, in a ho-hum Saturday afternoon affair in Seward.
Eighth-year head coach Vance Winter's program won its season opener for the fourth-consecutive year while outgaining the visiting Spires, 333-259, as part of another solid showing from the Concordia defense. Offensively, the dangerous combo of running back Bryce Collins and receiver Jared Garcia combined to score all three Bulldog touchdowns.
"Honestly, that's far from the best we can play. I give Saint Mary credit. I thought they came in with a really good game plan," Winter said. "They did some things and took some things away that maybe we didn't see on film last year. I thought it was an uneven performance. There wasn't much flow to the game for us. We also feel good about getting a win."
Concordia overcame three turnovers, including two interceptions thrown by starting quarterback Riley Wiltfong. Fortunately, senior linebacker Michael Hedlund ended a Spire threat with a pick of his own and All-American defensive end Trey Barnes again proved especially difficult to block.
Held in check early, Collins churned out 76 yards after halftime and 117 for the game, marking the 14th career 100-yard effort for the bruising back from Boerne, Texas. In the process, Collins moved his career rushing total to 2,783 and passed JaMaine Lewis for fourth on the program's all-time list. Collins also found the end zone for the 30th time as a Bulldog.
In the passing game, Garcia is as dangerous as ever. He hauled in both of his touchdown catches from TJ Austin – one from 23 yards out and another from 15 yards away. In another instance, he broke free from the secondary and would have had an easy touchdown if not for an underthrown ball.
Garcia believes the offense will be better as the season progresses.
"We changed a couple things up this year but I felt like this wasn't our best game," Garcia said. "I feel like the best is yet to come for our offense. We're coming together and eventually we'll get it."
While Saint Mary running back Easton Ridley (26 carries for 85 yards) at times found some running lanes, Concordia showed off a playmaking defense. Junior linebacker Shane Scott punctuated the win by blind-siding Spire quarterback Drew Cortez in the end zone late in the fourth quarter. Wearing No. 49 on this particular day, Hedlund came up to make nine tackles. In addition, Ron Jackson and Sebastian Garces both forced a fumble.
"I feel like today was a sloppy day overall," Hedlund said. "It was time to go against someone else to see where we're lacking and where we need to pick it up. We have the guys to do it this year."
The Bulldogs drew first blood with Garcia's first-quarter touchdown and never trailed. Saint Mary's biggest highlight came early in the third quarter when Isai Fernandez took advantage of a busted coverage, caught a pass from Cortez and raced 76 yards for a score. It was all the Spires could manage.
Not only did Barnes make plays at defensive end, he also had a sterling day as a punter. He booted the ball six times for an average of 44.7 yards, downing two punts inside the 20. The placekicking duties were handled by Jose Garcia (3-for-3 on extra points) while junior college transfer Brendan Cremin was called upon for kickoffs.
In his third career start at quarterback, Wiltfong ended up going 10-for-21 for 114 yards. Austin completed 4-of-8 passes for 46 yards and two scores. Trae Owens hauled in five tosses covering 42 yards. A prolific passer in 2015, Cortez went 9-for-17 for 128 yards and a touchdown and was sacked three times.
Concordia was led by the 10 tackles from linebacker Kordell Glause. Parker Johnson chipped in eight stops.
The Bulldogs hit the road for the first time in 2016 next Saturday (Sept. 10) when they travel to Ottawa, Kan., to take on Ottawa University, another member of the Kansas Collegiate Athletic Conference. Kickoff is set for 6 p.m. CT. Concordia will hold an alumni tailgate prior to the contest. For more information on the tailgate, click HERE.