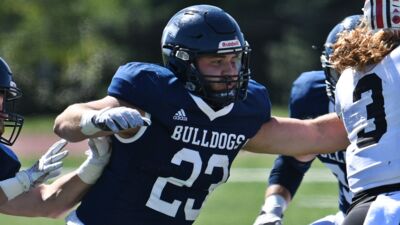 YANKTON, S.D. – On its homecoming on Saturday (Oct. 16), Mount Marty pulled within three points late in the second quarter before the Concordia University Football team exerted control. The Bulldogs rattled off the next 28 points on the way to a dominant 38-7 victory over a Lancer program in its first season of varsity competition. Concordia enjoyed a plus-three turnover margin and got a defensive touchdown via Caydren Cox's pick-six.
Head Coach Patrick Daberkow's program has won three consecutive games for the first time since starting last season at 4-0. Just like last week at Jamestown, the Bulldogs (4-3) spoiled another opponents' homecoming.
"I was really proud of the second half performance by the whole team," Daberkow said. "I've been telling people all week that on paper Mount Marty may not look impressive, but on film it's a completely different story. They play really hard and they have some good players at key positions. Today was really about trying to do the simple things right. I thought the offense performed well, especially in the second half. It was good to see us moving the football."
Mount Marty actually outgained Concordia (145-141) in the first half, but the turnovers were a killer. The Bulldogs essentially put the game away early in the third quarter. Facing pressure, Lancer quarterback Davian Guajardo lost control of the football (hit by Payton Stevens), which ended up in the arms of Cox, who was credited with an eight-yard interception return for a touchdown at the 12:42 mark of the third quarter. Less than five-and-a-half minutes later, DJ McGarvie's 17-yard scoring toss to tight end Garrett Schardt gave the Bulldogs a commanding 31-7 lead.
For the third straight outing, the blossoming McGarvie fired three touchdown passes. He connected twice for scores with Cayden Beran – once for five yards in the first quarter and once for 24 yards in the fourth quarter. Martin Solano also found the end zone on a six-yard rush just before halftime. With Jonah Weyand out of the lineup, Solano (13 attempts for 63 yards) and Devin Zeigler (11 rushes for 63 yards) split the majority of the carries. The offensive line did a solid job in paving the way for the team to average 4.7 yards per rush (166 rushing yards).
The final score may not have indicated it, but the Lancers (0-7 GPAC) made the Concordia defense labor. The Bulldog D was on the field for 80 plays and 36:00 in time of possession. On its only scoring drive, Mount Marty marched 82 yards on 21 plays while converting on a series of fourth downs. That sequence ended with Ka'ua Nishigaya scoring from a yard out. Nishigaya ran for 126 hard-earned yards on 35 carries.
It was tough sledding for most of the day for the Lancer offense. All-American linebacker Lane Napier enjoyed another fine day, compiling 20 tackles, one stop for loss and a forced fumble. The first Concordia touchdown came after safety Peyton Mitchell scooped up a fumble and took it 24 yards, setting the Bulldogs up at the Mount Marty eight-yard-line. The Concordia defense registered three sacks on the day. The reigning GPAC Defensive Player of the Week, Cox also made a tackle in the backfield.
Beran caught five passes for 67 yards and two touchdowns as McGarvie's top target. Schardt hauled in three passes for 64 yards and a score and Korrell Koehlmoos made three grabs for 19 yards. Koehlmoos had a touchdown reception called back on a penalty. McGarvie completed 12-of-19 passes for 151 yards and three touchdowns.
Napier has moved his career tackle total to 495 with three games left in the regular season. No other player in the history of the GPAC had reached 400 tackles entering this season. Said Daberkow, "Lane's such a good teammate. The guys give him a lot of grief for how much attention he gets, but you get 20 tackles and people pay attention to that. That's pretty insane. We're going to miss him whenever he hangs it up."
The Bulldogs will return home next Saturday (Oct. 23) to host Midland (4-3, 4-2 GPAC). Kickoff is set for 1 p.m. CT from Bulldog Stadium. The two sides had last season's meeting canceled as a 'COVID-19 no contest.' Concordia will attempt to defeat Midland for the first time since 2017. The Warriors had a bye this week.
Said Daberkow, "We're going to focus on us and doing us right. I would like to see a cleaner game as far as penalties go. If we can get us right, the other things will take care of themselves."