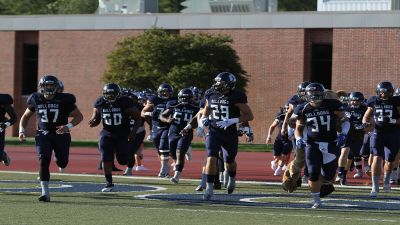 Defense dominates in home-opening win over Hastings
SEWARD, Neb. – Behind a second-straight dominant defensive effort, the Concordia University football team rolled to a 28-3 victory over visiting Hastings in the 2015 home-opening game inside Bulldog Stadium on Saturday night. Concordia held the Broncos to just 146 total yards and forced three turnovers in the process of improving to 2-0 for the second time in three years.
The victory was the 30th for head coach Vance Winter since taking over in 2009. Winter's defense made the biggest difference in the latest win.
"Those guys have an edge to them," Winter said. "I've said it all fall camp. I said it all the way through. These guys defensively, I love how they run around. I love how they hit. I love how physical they are. We have tremendous cover corners. It was impressive."
The Concordia defense got big performances from all over the field. Defensive end Trey Barnes (two sacks, three TFLs) lived in the backfield, cornerback Tarence Roby blanketed Hastings 6-foot-4 standout receiver Noah Housh and LeDonatrae Gooden's interception and 46-yard return set up the only touchdown of the first half.
A unit that struggled at times last season has now surrendered a combined total of 224 yards through two games.
"It's a whole different defense from last year," said Barnes, a Seward High School product. "I feel like we're a lot faster, really athletic. It puts a lot of pressure on that quarterback and the receivers get frustrated when we've got good corners locking them down."
Just like a week earlier, Concordia got stronger as the game went along. Sophomore TJ Austin, who again shared snaps with senior Garrett Folchert at quarterback, fired three second-half touchdown passes to sink the visitors. Austin connected with both of his tight ends – Josh Slechta and Seth Fitzke – and to fullback Erik Small on tosses that all came from five yards and in.
After being held to 117 first-half yards, Concordia got rolling in the second half. The Bulldogs took advantage of short field and found the end zone via drives of 45 and 47 yards in the third quarter. Then in the fourth, Austin and running back Demarques Saulberry carried the mail on a 13-play, 72-yard touchdown drive that ate 6:47 off the clock in the fourth quarter.
Austin finished with 64 rushing yards, routinely gashing the Bronco defense with the proper decision in the zone read out of the pistol spread. On the final scoring drive that put the game to rest, Austin ran four times for 27 yards and also hurled a 35-yard strike to Carey Harrison for a first down.
"TJ played well today," Winter said. "It's nice to see him play the way he's capable of. That was a great performance, especially in the second half.
"Those quarterbacks like the back-and-forth kind of thing. You worry about that at times, but they like it. They feed off of it. Each of them brings something different."
Despite forcing three turnovers in the opening quarter, Concordia had to settle for a 7-3 halftime lead. The Bulldogs got on the board just 49 seconds into the game when Bryce Collins carried the ball for a two-yard touchdown, marking his 20th career score. The short touchdown run capitalized on Gooden's pick of quarterback Jason Gaines' second pass attempt of the evening. Gaines was also intercepted by linebacker Tait Sibbel on the next Bronco possession.
Gaines was flustered into a 6-for-23 passing performance. He threw for only 53 yards a week after racking up 363 passing yards in Hastings' 33-29 season-opening victory over Bethel College. In last year's 48-43 win over Concordia, Hastings amassed 549 total yards.
The Concordia secondary of Roby, D'Mauria Martin, Gooden and Matt Keener had the Broncos on lockdown this time around.
"We owe it to our D-line and we've got some good DBs," Gooden said. "Our defense overall, we just have good players and everybody comes to play."
The quarterback duo of Austin and Folchert combined to go 16-for-27 for 173 yards. On the ground, Collins managed 82 yards on 16 totes while up against a loaded box designed to stuff the run. Collins found the sledding rough until busting a 42-yard run immediately prior to Small's four-yard touchdown grab with 3:42 left in the third quarter.
Barnes filled the stat sheet with seven tackles, a pass breakup and a quarterback hurry to go along with his two sacks. Michael Hedlund came up with a team high nine tackles while adding a sack of his own.
The Broncos got the most production out of running back Darvonte Knight (13 rushes, 61 yards), but he was guilty of coughing up a fumble after he had picked up a first down deep in Concordia territory on a fourth down rush. Housh caught just one pass for 12 yards a week after recording 93 receiving yards and the game-winning touchdown.
Concordia finished with 403 total yards – 230 via the run. The Bulldogs had 20 first downs to the Broncos' 10. Hastings reached the red zone just once when its drive ended with a 21-yard field goal by Nick Giaffoglione.
The Bulldogs will next be tasked with a trip to play No. 12 Northwestern (2-0, 1-0 GPAC) in Orange City, Iowa, at 1 p.m. next Saturday. The Red Raiders own wins over No. 22 Tabor College (Kan.) and Dordt thus far in 2015. Concordia's last three meetings with Northwestern have been decided by a combined total of nine points. The Red Raiders won two of those three matchups.