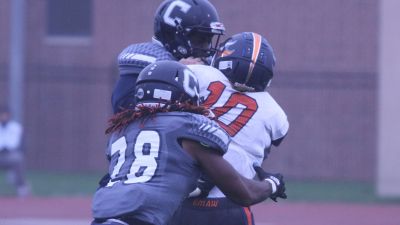 SIOUX CENTER, Iowa – The Concordia offense held the football for more than 37 minutes of game time while the defense limited host Dordt to its lowest point total of the season. It added up to a 24-17 road victory for the Bulldog football team, which won away from home for the first time in 2017. The Defenders had been coming off back-to-back wins over top 25 opponents.
For the first time this season, first-year head coach Patrick Daberkow's squad has moved above .500 at 4-3 overall and 3-2 in conference play. The Bulldogs have risen to third place in the GPAC standings.
"It was just a good, fun road win," Daberkow said. "We finally get to have an enjoyable bus ride home. We got the ball with about seven minutes to go and we didn't give it back. It's always fun to end a game with your offense on the field taking a knee in a close game on the road. It's a great way to finish it off."
Concordia did its best to play keep away from a Dordt rushing attack that entered the weekend ranked fourth nationally. The Bulldogs ran 87 plays to the Defenders' 68 while chewing the clock with the help of workhorse running back Ryan Durdon. The reigning GPAC offensive player of the week gobbled up 41 carries and rushed for 136 of the team's 177 yards on the ground.
After the defense forced a three-and-out midway through the fourth quarter, Concordia's smash-mouth approached salted away the final 7:01 of game time with the visitors holding onto a touchdown lead. Even when the Defenders expected the run, Durdon still managed a couple of eight-yard bursts on the 14-play drive that melted the clock.
Quarterback Riley Wiltfong engineered Bulldog touchdown drives that covered 56, 53 and 75 yards. The final score of the game came on the first play of the fourth quarter when Wiltfong dropped a perfect 17-yard strike into a bucket. Senior Kiyoshi Brey was on the receiving end of the touchdown toss that proved to be the game winner. Concordia outgained Dordt, 334-300. Wiltfong went 17-for-29 for 157 yards and two touchdowns.
Seniors TJ Austin (three-yard run) and Jared Garcia (four-yard catch) also found the end zone for the victors. Garcia's 31st career touchdown catch erased what had been a 6-0 deficit in the opening quarter. Garcia led the team with seven receptions for 51 yards. It was also a big day for Brey, who pulled down five passes for 79 yards and a score.
On the other side of the football, D'Mauria Martin and the secondary did a number on Defender quarterback Brock Lamle, who finished 9-for-21 for 73 yards and a touchdown pass. Dordt (4-3, 2-3) had its most success on the ground between the combination of Levi Schoonhoven (88 yards on 15 carries) and Keithen Drury (76 yards on 18 attempts).
Fresh off earning NAIA national defensive player of the week accolades, Martin made six tackles, including one for loss, and broke up a pass. Fellow backfield mate Nate Gilmore collected seven tackles and forced and recovered a fumble. It was that shining effort defensively that paved the way for Concordia's first road win.
"We talked about eliminating all the distractions," Daberkow said. "Dordt has become a tough place to play. They have a very active sideline. They can get to people. We worked on that all week. It's good to see it pay off."
Durdon has pushed his season rushing total to 855. With three games to go, the Decatur, Texas, native is well on his way to becoming the sixth player in program history to reach 1,000 yards in a single season. Said Daberkow, "We gave him the ball a lot. We wanted to pound the rock. They have a really dangerous offense so we wanted to keep the ball as much as we could. They had a pretty good game plan for us. They really attacked the box. We had some guys step up and make some good plays in the passing game."
Dordt had been knocking on the door of a national ranking, checking in just outside the top 25 in this week's poll. The Defenders had beaten No. 12 Doane and No. 19 Hastings in their previous two outings.
The Bulldogs will return to action next Saturday when they host Dakota Wesleyan (5-4, 3-3 GPAC) inside Bulldog Stadium. Kickoff from Seward is set for 1 p.m. CT. It will be Military Appreciation Day at Bulldog Stadium. Military personnel will be admitted free of charge upon display of valid military ID. Concordia hopes to make amends for last season's 52-30 loss at Dakota Wesleyan.