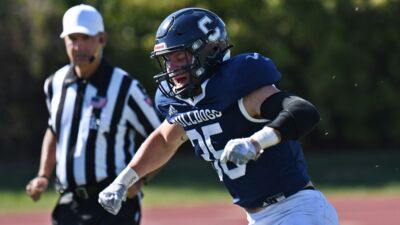 JAMESTOWN, N.D. – It's never been a thing of beauty in three trips to Jamestown, N.D., since 2018. But the Concordia University Football team got it done on Saturday (Oct. 9) behind another hard-nosed outing from the defense. The Bulldogs held off the Jimmies, 24-17, behind a pair of touchdowns from Korrell Koehlmoos on a dreary, rainy day inside Hansen Stadium. Lane Napier collected 13 tackles and the Concordia defense sacked the quarterback five times.
Head Coach Patrick Daberkow's squad has now won back-to-back games for the first time this season and moved to 3-3 on the year.
"First off, hats off to Jamestown. They're a really tough team to beat," Daberkow said. "Preparing for what they do is not like preparing for every team with the way they come out and just throw the ball every down. It presents a different challenge. I think Coach (Corby) Osten and staff did a great job of mixing things up and keeping their quarterback on his toes. It was good to see our pass rush start to work late in the game."
When the two sides met in Jamestown two years ago, they played on a pit of mud in a four-overtime slog that ended with the Jimmies edging out the Bulldogs, 13-10. This matchup was played on turf, but still became somewhat of a slugfest. Jamestown attempted to complete a comeback from a 24-10 deficit. Down seven in the final minute, the Jimmies' last gasp was thwarted by a third down sack by Logan Kreizel. While forgetting the down, Jamestown then spiked the ball on fourth down to seal the win for Concordia.
Earlier in the quarter, the Bulldogs got the insurance touchdown they needed when they took advantage of a short field set up by Carson Core's 33-yard punt return. DJ McGarvie completions of 13 yards to Garrett Schardt and 20 yards to Koehlmoos put Concordia in the end zone and on top by two touchdowns with 12:52 left to play.
Both teams did the bulk of their offensive damage through the air. On the second play of the day from scrimmage, Koehlmoos raced 78 yards for a touchdown on a pitch forward by McGarvie. Schardt also caught a touchdown pass of 12 yards from McGarvie. It marked the second game in a row that McGarvie has thrown for three scores. McGarvie went 19-for-31 passing for 231 yards. Koehlmoos finished with six catches for 122 yards. Meanwhile, Schardt caught six balls for 64 yards and Cayden Beran snagged five receptions for 50 yards. Devin Zeigler led the team in rushing with 42 yards on nine carries.
The Bulldog defense has been rock solid now for the past five weeks. Jamestown was limited to 306 total yards and was just 6-for-21 on third downs. Concordia also forced and recovered a fumble at the Jimmie 34, setting up Schardt's touchdown six plays later. Bulldogs to get in on the sack parade were Caydren Cox (2.0), Payton Stevens (1.5), Kreizel (1.0) and Jordan Kavulak (0.5).
Jamestown quarterback Cade Torgerson never gives in. He completed 26-of-52 passes for 253 yards and a touchdown. Once again, the run game was mostly nonexistent for the Jimmies (53 rushing yards on 32 attempts). Torgerson produced 33 of those yards on a single rush. The sledding is tough against Napier (two pass breakups) and the Concordia D. Kavulak and Jorge Ochoa were credited with eight tackles apiece.
Said Daberkow, "We came up here with a business mentality. That was not pretty, but we found a way to win. It's good to come out of here with a happy bus."
The Bulldogs moved to 3-1 all-time against Jamestown (2-4, 2-3 GPAC). Concordia also beat the Jimmies, 23-3, last season in Seward. Daberkow's squad never trailed on Saturday. In addition to the two touchdowns by Koehlmoos and the one for Schardt, Daniel Cantu drilled a 41-yard field goal in the second quarter. As the punter, Koehlmoos averaged 41.4 yards per attempt on seven punts (two downed inside the 20).
The Bulldogs will venture north again next Saturday (Oct. 16) for their first-ever matchup on the gridiron with Mount Marty (0-6, 0-6 GPAC), a program that is in its first year of competition. Kickoff is set for 1 p.m. CT from Crane Youngworth Field in Yankton, S.D. A former assistant at Kansas Wesleyan University, John Michaletti serves as head coach at Mount Marty.