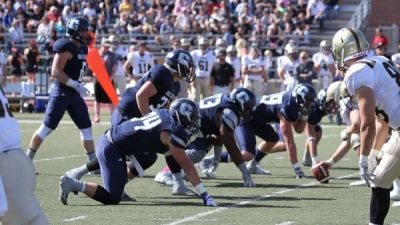 Dakota Wesleyan tramples Concordia, 56-0
Dakota Wesleyan cruised to an easy 56-0 GPAC football win over Concordia University on Saturday afternoon in Mitchell. The Tigers improved to 2-0 on the season with the win. Concordia dropped to 2-1 overall and 1-1 in the GPAC with the loss.
DWU scored early and often to blow the game wide open in the first half. Following a 54-yard punt return, the Tigers took a 7-0 lead on a 1-yard touchdown run by Josh Endres with 10:07 remaining in the first quarter.
The Tigers then marched 80 yards in 12 plays to score again with 43 seconds remaining in the opening quarter. Endres scored again, this time from two yards out, to put the Tigers on top by the score of 14-0.
A failed fourth down conversion attempt by Concordia set DWU up for its next drive. A screen pass put the Tigers deep into Bulldog territory, and an 8-yard touchdown run by Raymond Blossom built the Tiger lead to 21-0.
Jamarcus Walker fumbled the ball away on Concordia's next drive to set Dakota Wesleyan up with solid field position. On the first play of the drive, DWU quarterback Jon Bane connected with Russell McGuire on a 39-yard touchdown reception to increase the lead to 28-0.
Blossom scored his second rushing touchdown of the day with just over five minutes remaining in the first half. Blossom's 12-yard run pushed the lead to 35-0. Endres added his third rushing score of the first half to increase the lead to 42-0. With just 12 seconds remaining in the half, Bane hooked up with Anthony Muilenburg on a 13-yard pitch and catch to give DWU a 49-0 lead heading into halftime.
The Tigers totaled 393 yards of total offense in the opening half, while Concordia was limited to just 51 yards.
Dakota Wesleyan continued to pour it on in the second half. Following a quick three and out by the Concordia offense to open the half, Russell McGuire hauled in a 19-yard touchdown to give the Tigers a 56-0 lead. It was McGuire's second touchdown grab of the day and the final points scored in the game.
Concordia returns home to host Midland Lutheran next Saturday. Kickoff is scheduled for 7 pm on Fan Appreciation Night at Bulldog Stadium.