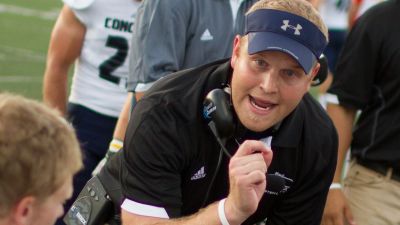 SEWARD, Neb. – Leader of one of the nation's top defensive teams, Patrick Daberkow has been promoted to the position of head football coach at Concordia University, as announced by the athletic department on Friday (Dec. 9). Members of the team were notified on Friday afternoon of Daberkow's elevated role. He replaces Vance Winter, who resigned after eight years as Bulldog head coach. A 2007 Concordia grad, Daberkow becomes the 10th head coach in the history of a program that dates back to 1925.
Daberkow served Winter as defensive coordinator for the past seven seasons. He has been part of the Concordia football staff since 2007.
"It means the world to me," Daberkow said. "Beyond excited would probably be an understatement. I have so many people that have been praying for me and reaching out and texting me throughout this process. I want to thank them for their support and I want to thank our administration for believing in me. It's humbling and obviously very exciting.
"We're not where we want to be, but we're getting closer. You can see the progress every year that Coach Winter was here. We want to take that and continue on and take the next step. I think we're really close. I think the guys know that. It's all built on effort. That's what I'll preach."
More than 80 applicants filled the pool of candidates for the position. Daberkow has been preparing for an opportunity to be a head coach. In both 2013 and 2015, the native of Madison, Neb., led defenses that ranked in the top five of the NAIA. He has the traits Director of Athletics Devin Smith sought during the search process.
"Patrick is well-prepared to be our head football coach," Smith said. "For the past seven years as defensive coordinator, Coach Daberkow has steadily improved the defensive side of the ball and has been successful at developing positive relationships with fellow co-workers, student-athletes and high school coaches in the state and around the country. He has so much passion for Concordia University and for each and every student-athlete. He believes strongly in the mission and vision of our university. This is a new chapter. That starts today with Coach Daberkow. There are great things to come."
Daberkow, also the program's recruiting coordinator under Winter, has coached All-Americans on the defensive side of the ball in defensive end Trey Barnes and safety Darnell Woods. The 2013 squad led the nation in pass defense. This past fall, the Bulldogs went 7-3 overall while the defense ranked 16th nationally in fewest yards per game allowed (328.4) and 28th in the NAIA in scoring (24.1). Concordia checked in at No. 18 in the final regular-season NAIA coaches' poll. The Bulldogs will finish a season with a national ranking for the first time since 2001.
The former Bulldog safety possesses both a bachelor's of science (secondary education) and a master's degree (education administration) from Concordia. A member of the 2003 through 2006 Bulldog football teams, Daberkow played for head coach Courtney Meyer. Daberkow has received ringing endorsements from each of the previous two head coaches, Winter and Meyer.
In addition to leading a top-notch defense, Daberkow has been a model representative of Concordia athletics. He has overseen the "Bulldog Buddies" program that sends members of the football team to local elementary schools to read and encourage learning. He has also facilitated "Prayer Night" and Bible study for student-athletes on the football team.
The full-time staff under Winter consisted of Daberkow, offensive coordinator Curran White and special teams/defensive line coach Corby Osten.
Patrick lives in Seward with his wife Emly and their daughters, Kinley and Brynn, and son, Roman.
Statement from President and Chief Executive Officer Rev. Dr. Brian Friedrich
I am thrilled and delighted that Patrick Daberkow has accepted the University's offer to serve as the head football coach of the Bulldogs. He epitomizes the commitments and values of Bulldog athletics: faith, academics and excellence. Patrick's performance as the Bulldogs' defensive coordinator has been stellar. His leadership of the program and the young men in the program has been one of the key ingredients of the program's success during Coach Winter's tenure. I am confident Patrick has the discipline, passion, commitment and character to move the Bulldogs from good to great in all aspects. He has the respect of students, faculty, parents and community members. Patrick, Emly and their children are a wonderful blessing to the Concordia community. He is the kind of coach I would like my grandson to play for! The University is committed to his success and the ongoing growth and development of the Bulldog Football Program and we wish him God's richest blessings as he transitions to this new and important role.
Statement from Courtney Meyer, head football coach from 1990-2008
First of all, Patrick understands what Concordia football is all about. He embodied that as a player and as a coach now. I admire his passion, his discipline and his commitment to the players. He has been a member of the program for many years and I appreciate the continuity that is going to take place. It's a critical time to move forward. Prayers have been answered. God has a plan and He has spoken. I'm excited for Patrick and for the future players that will learn from his guidance.