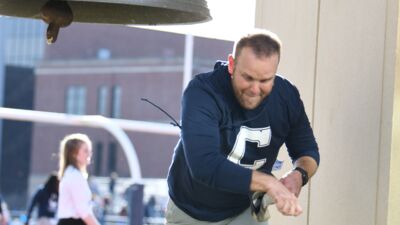 YouTube: Daberkow Interview with Midwest Sports Net
SEWARD, Neb. – On Monday (June 13) morning, Concordia Head Football Coach Patrick Daberkow chatted with Joey McWilliams of Midwest Sports Net to preview the upcoming 2022 season. Below is a transcript of that discussion. A video link to the interview is included above.
Joey McWilliams: It was a front-loaded (2021) schedule. You start off 1-3, but you win your last six games after that. Coach, there aren't a lot of teams coming into the summer and the fall of 2022 on a six-game winning streak … Tell us really quickly about '21.
Patrick Daberkow: We finished a lot stronger than we started, like you said. It was good to see some success late in the season. It was good to see the guys finish the season out strong and send some of those seniors out on a victorious note. We took a step towards a higher level of performance that we've been scratching at. I think it's a good steppingstone for bigger things for this football program. We're working really hard to make sure it's a step in the right direction.
JM: Coach, you bring back your quarterback from last season, DJ McGarvie, who threw for more than 140 yards per game and 19 touchdowns to just seven interceptions. He was a young player last year in his first season in the program. In the spring and in the fall – lots of quarterbacks on that roster so there may be some competition.
PD: DJ is a great kid, fiery competitor and did a great job last year stepping into a starting role. We prepare our freshmen to come in and prove that their good teammates and prove that they're coachable. That's kind of the goal freshman year. Stepping in and starting at quarterback is not usually in the plan, but DJ handled that really well. I'm excited to see his progress. I was very impressed with how he handled himself in that moment.
JM: For him and for whoever else might have that opportunity for this year (at quarterback), obviously the cupboard is not bare for receivers to throw to. You have Korrell Koehlmoos who's rising on the leadership board at Concordia for all-time receiving yards. You also have an Honorable Mention All-American tight end in Garrett Schardt coming back, among others.
PD: We feel like we have some really good options. Just between those two players, that's a lot of dynamic talent. Korrell's a fighter. You never worry about Korrell with injuries. He'll have awkward landings when he comes down with the football and he's just got rubber bones – or at least he plays like it. And then Garrett Schardt – both of those guys are eight-man Nebraska high school football players and small-town kids who have had a lot of success here. It's fun to see. Garrett's a load to tackle and he has the speed of a wideout. It makes it really difficult when he has the ball in his hands. We'll try to get both of them the ball and try to distribute it to other guys as well. We have some exciting up-and-comers who had great springs and are high-effort guys who are going to, I think, take the next step this season.
JM: You bring back four of the five starters on that offensive line. That includes center Johnny Robinson who has started for you for four years. There are so many young offensive linemen on the roster as well.
PD: We're really excited about that. We pride ourselves as a player development program. We have guys come in and earn their keep and prove that they're good teammates and that they're coachable, and we try to make opportunities for those guys. Don't be surprised if we have a 10-offensive lineman personnel package this year on first down. We'll find a way to work them in (smiles).
JM: Reggie Corbin who's been the offensive coordinator for the last four seasons with the program is moving on and you're taking on that role and taking over the offensive play calling this year.
PD: We appreciate Coach Corbin. I was teammates with Coach Corbin and have nothing but great things to say about him. He's a great guy. Stepping into a play-calling role as a head coach is something I had the opportunity to do in 2017 for part of the season. I'm excited about what we're doing offensively. Grady Koch is our offensive line coach and he's really the guy on our coaching staff who makes things tick from an offensive standpoint. Anything that we're doing, he's got a heavy role in it. I'm excited to see the progress of the offense and the direction we're headed and I'm really looking forward to the fall.
JM: We need to talk about defense, at least for a moment. For years we've been talking about Lane Napier, and rightfully so because he's just been a force on defense. He had his third season – five with the program – in which he had three digits in the tackles column. He led the NAIA in solo tackles last season as well. I know he's moving on but tell us a little bit about what we'll see on defense.
PD: Lane had 400 tackles in his career by the end of his fourth year, which was a GPAC record. However many hundreds of tackles he had last year was icing on the cake. He had broken quite a few records by the time his four years were up and that fifth year was really a bonus. He's a tough player – tough as nails. He played through so many things that other guys would have sat out with. I just really admire the toughness he brought. He was a violent tackler and he was fun to coach and fun to have on the team. Now that he's done, we have guys who are going to step up and fill that role. I'm really excited about our linebackers and the development they've had over the spring and over the offseason. We have a great group of hard-working leaders in that room and we fully expect there not to be any drop off in that linebacker core at all.
JM: It looked like you had a fantastic Signing Day … (proceeds to read part of a release that stated, "overall, Daberkow and his staff enjoyed many in-state recruiting victories while placing an emphasis on student-athletes who fit the culture of Christian character and work ethic in regard to strength and conditioning). Talk about that line because that's a fantastic summation of signing day and your program overall.
PD: I believe that in order to have a good football program, you have to win locally. We have the talent in the state of Nebraska and within a three-and-a-half, four-hour radius of our campus to win a lot of games. We have really deep connections in states like Texas where we have a huge alumni base – and in Kansas and with the Lutheran high schools across the country (like St. Louis and Colorado). There are a ton of relationships we've developed over decades. It's fun to reach out to those people and have referrals. We lean on the brotherhood of this football program and the guys who have gone through here. It's not just the football program but also the university as a whole. It does a really good job of sending kids back here. When people leave here they go out and meet other people and they brag us up and send kids on visits. We're just trying to steward this blessing well. We feel like we're doing everything we can. We're certainly trying really hard and I think that's half the battle. I'm really excited about the future here and excited to be part of it.
JM: You have an interesting opening to your schedule this year. You don't have your first home game until week three. That includes a bye week in there too. You open on the road at Doane on Sept. 3. Bye week in week two and then back at home for week three as you host Hastings. Talk about the opening to your schedule this year.
PD: Anytime you can open with some instate rivals, I think that's kind of fun. I think it adds a little bit of a spark. Our guys don't need motivation to play anybody on our schedule. It's just fun to have those games. Crete is 30 miles from here so there's a lot of familiarity with the rosters. We're excited to go play down there to start the season and excited to host Hastings for our home opener. We're very much ready to get the ball rolling. The bye week early in the season will be interesting. We'll see how that goes. It'll be good to have two weeks to prepare for both the away game and our home opener. We'll report back next summer. I'll let you know how that goes.
JM: Well I hope to see you sometime in-season too and get a chance to visit there as well. Concordia Bulldogs – 7-3 last year and come into 2022 on a six-game winning streak. Momentum, a great spring and it looks like things are on the right track in Seward.