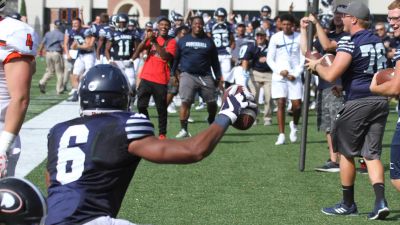 SEWARD, Neb. – A first quarter to forget turned into a homecoming to remember. Despite a flood of first quarter turnovers, the Concordia University football team finally figured out how to beat Doane. The return of senior Jared Garcia aided the Bulldogs in a come-from-behind 29-18 upset of the seventh-ranked Tigers in front of a packed Bulldog Stadium crowd.
Head coach Patrick Daberkow defeated Doane three times during his playing career. He's now 1-0 as a head coach against a rival that had topped Concordia (2-2, 1-1 GPAC) in each of the previous 11 meetings. One streak ended while the home win streak moved to eight.
"We're starting to put a game together," Daberkow said. "I think we were about four or five plays away from being in that thing last week (at Northwestern). This team is full of fighters. It's not hard to get them to go out and fight. We're starting to put the execution with it and I think that's why, in the second half, we were able to take care of things."
A week after putting up 68 points in a wild win over Dakota Weselayn, the Tigers (3-1, 1-1 GPAC) were stifled by a bruising Bulldog defense led by the likes of linebacker Kordell Glause. Doane managed only 85 total yards in the second half, turned the ball over four times and punted eight times. Of the Tigers' two touchdowns, one was scored on a pick six and another was set up by an interception.
In other words, it was an utterly dominant performance by Concordia's defense. It was fitting that senior D'Mauria Martin sealed the win with one of his two interceptions on the day. Martin and the rest of the senior class shared a burning desire to take down Doane.
"It feels great right now (to beat Doane)," Martin said. "We've been so close since I've been here. We've been up and we never finish out the deal. It's great for all of us to come together and get this victory."
Offensively, Concordia got a boost with the return of Garcia at receiver and TJ Austin at running back. Garcia caught five passes for 62 yards and a touchdown. His five-yard scoring snag from quarterback Andrew Perea gave the Bulldogs a 29-16 advantage. With that touchdown, Garcia became the fifth player in program history to reach 30 career touchdowns. Garcia already owned the school record for career receiving touchdowns.
The return to the starting lineup couldn't have gone much better for Garcia, who also had a 32-yard reception that set up Austin's one-yard plunge. It all added up to a memorable homecoming win.
"This is my fourth year and I don't think the team has ever been this excited or felt this pumped about a win," Garcia said. "I'm excited to see where it takes us."
Concordia somehow overcame three interceptions by Doane cornerback Cole Wiseman, who also blocked a field goal, and a blocked punt that occurred in the fourth quarter. Less than nine minutes into action, a pair of interceptions were the main culprit in regards to the 13-0 Bulldog deficit. But the defense stuck with it and gave the offense time to get on track.
Martin had a crucial interception in the first quarter that helped prevent the disadvantage from growing any larger. Concordia found traction with a 14-play, 75-yard drive that chewed up 6:32 of game time and resulted in Austin's touchdown. After Doane's touchdown at the 6:27 mark of the first quarter, the contest was decidedly one sided in favor of the Bulldogs.
"We felt very confident this week because of the week of practice that we had," Daberkow said. "The seniors banded together. We had to face some adversity this week. They really kept this team unified. It's a testament to these players and the work they put in."
Glause made a huge impact from his spot at linebacker. His interception in the second quarter set Concordia up with a first and goal at the eight. On the very next play, Perea connected with Jackson Hall for an eight-yard scoring strike. The Bulldogs led 14-13 and the momentum had shifted. Later on, Glause added a sack of Jack Shadley, forcing a Doane punt in the third quarter.
It was a miserable day for Shadley, fresh off being named GPAC offensive player of the week. The Tiger signal caller went 14-for-39 for 153 yards and three interceptions. Doane mustered only 234 total yards. Meanwhile, Concordia gained 256 yards in a slugfest. Perea went 16-for-29 for 152 yards, two touchdowns and three picks. Durdon topped the Bulldogs with 62 rushing yards on 15 carries. Austin carried the ball 20 times for 49 yards while recording his seventh and eighth career rushing touchdowns.
Prior to Saturday, Concordia had not defeated Doane since a 23-10 victory in Crete on Oct. 29, 2005. The end of the drought was sweet relief for the Bulldogs, who sang the Doxology in the postgame locker room as part of the celebration.
The Bulldogs will hit the road next week for a GPAC clash with Hastings (3-0, 0-0 GPAC). Kickoff from Lloyd Wilson Field is set for 1 p.m. CT. Concordia has won the last two meetings with the Broncos, including last season's 31-28 victory. That win completed an undefeated home season for the Bulldogs in 2016.