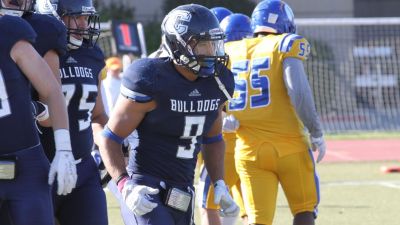 Updated Records:
Individual Single Season | Team Single Season
SEWARD, Neb. – Based on program record books, the current era of Concordia football has brought about an offensive revolution. The 2014 Bulldogs broke the 2004 squad's standard for total offense by averaging 401.6 yards over 11 contests. Also in 2014, then freshman receiver Jared Garcia eclipsed a single-season school standard with 11 touchdown catches. Then in 2015, the likes of Garcia and Bryce Collins continued to produce statistics that dot the program's single-season top 10 lists. Here's a summary of updates to the record book:
Bryce Collins (Boerne, Texas) ran for 946 yards on 193 carries in 2015. That rushing total places him eighth on the program's all-time single-season rushing list. Collins also ranks No. 4 on that same chart with the 1,016 rushing yards he piled up as a sophomore in 2014. In addition, he has ranked in the top 10 for single-season rush attempts (Nos. 6, 9 and 10) and in rushing touchdowns (Nos. 2 and 9). As far as career rushing, Collins ranks fifth among all Bulldog ball carriers with 2,666 yards. He will enter 2016 needing 993 yards to surpass Cleve Wester's school-record mark (3,658 rushing yards).
Jared Garcia (Pearland, Texas) followed up an impressive freshman season by catching 41 passes for 713 yards and eight touchdowns as a sophomore in 2015. Only five receivers in program history have ever totaled more receiving yards in a single season. Garcia's eight touchdown receptions put him three behind his own single-year standard. The first team all-conference selection stands only five touchdown catches off the career record held by 2015 Concordia Athletic Hall of Fame inductee Ross Wurdeman. Garcia is close to cracking the program's top-five for all-time receiving yards (see below).
Garrett Folchert (Ogallala, Neb.) saw his first significant action in 2015 and threw for 1,087 yards and 12 touchdowns while completing 87-of-162 passes (.537). His completion percentage of 53.7 is the sixth highest in a single season for Bulldog quarterbacks in program history. His 12 touchdown tosses rank in a tie for 12th most in a single year. Folchert was the passing leader for a squad that broke the school record for passing yardage (203.7) in a campaign. The previous high was 197.8 by the 2014 team.
Adam Meirose (Lincoln, Neb.) now takes up the top three placements for most successful extra point attempts in a single season – 40 in 2014, 37 in 2015 and 31 in 2013. Meirose finished his collegiate career 108-for-113 on PATs and 22-for-34 on field goal tries. The two-time all-conference selection owns the program record for most career successful extra points.
Trey Barnes (Seward, Neb.) put together a second team All-America season in 2015 for a defense that ranked No. 4 in the NAIA for fewest total yards allowed per game (279.6). Barnes, also a first team all-conference choice, racked up 10 sacks, tying for the fourth most in a single season in school history. That sack total was the most by any Bulldog since 1987.
All-time career lists
Rushing yards
(2,000+ yard rushers)
1. Cleve Wester – 3,658 (1982-85)
2. Gary Seevers – 3,128 (1953-56)
3. Alex Alvarez – 2,959 (1999-2003)
4. JaMaine Lewis – 2,731 (2004-07)
5. Bryce Collins – 2,666 (2013-- )
6. Philip Elder – 2,027 (2002-05)
Passing yards
1. Jarrod Pimentel – 6,435 (1998-2001)
2. Von Thomas – 5,662 (2011-14)
3. Rod Giesselman – 5,519 (1967-70)
4. Kurt Earl – 4,158 (2001-04)
5. Phil Seevers – 3,109 (1985-88)
Passing touchdowns
1. Von Thomas – 49 (2011-14)
1. Jarrod Pimentel – 49 (1998-2001)
3. Rod Giesselman – 47 (1967-70)
4. Kurt Earl – 37 (2001-04)
Receiving yards
1. Ross Wurdeman – 2,458 (1998-2001)
2. Eric Pralle – 1,974 (1987-91)
3. Travis Soukup – 1,880 (1991-94)
4. Jim Young – 1,692 (1964-67)
5. Clarence Woods – 1,439 (1985-88)
6. Jared Garcia – 1,382 (2014-- )