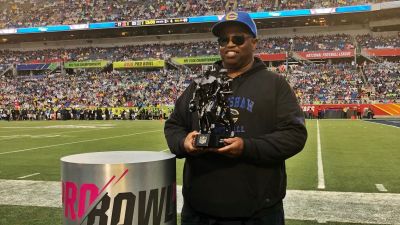 Los Angeles Chargers press release
SEWARD, Neb. – A three-year starter at offensive guard for the Bulldogs, 1981 CUNE graduate Robert Garrett has gone on to become one of the nation's most successful and influential high school football coaches. During the 2018 Pro Bowl on Jan. 28, the National Football League named Garrett, current head football coach at Crenshaw High School in Los Angeles, the 2017 Don Shula NFL High School Coach of the Year. Garrett had been nominated for the award by the Los Angeles Chargers NFL franchise.
When asked by ESPN what he enjoys most about coaching, Garrett said, "Helping youngsters to become better men, become better fathers, become better students and to allow them to give back to their communities. Coaching football at Crenshaw is a great honor because it's so challenging. I accept that challenge wholeheartedly."
Garrett lettered as a Concordia football player during the 1978, 1979 and 1980 seasons while playing for then head football coach Larry Oetting. Listed at 5-9, 210 pounds as a senior and product of Thomas Jefferson High School, Garrett earned honorable mention Nebraska Intercollegiate Athletic Conference accolades in 1980. The three-year letter winner was a member of the 1979 squad that went 7-3 overall, helping turn around a program that had gone 1-9 in both 1976 and 1977.
Said Bulldog football coach Patrick Daberkow, "On behalf of the Concordia football program, we would like to congratulate Coach Garrett on this prestigious award. It's great to see the impact that one of our alums has had on the next generation of men. Coach Garrett embodies the type of man we as coaches hope to mold and cultivate within our program. We're proud of Coach Garrett and our many alumni football coaches who exemplify our program's Christian ideals and who build young men of character."
Garrett coached two current members of the Los Angeles Chargers, Brandon Megane and Hayes Pullard, at Crenshaw. Garrett has been the head football coach at Crenshaw since 1988. He has breathed life into a former struggling program and made it a consistent winner. This past season, Garrett led the Cougards to a 12-3 record and a 2017 CIF Division 4-AA state championship. As the Don Shula Award Winner, Garrett will receive $25,000 from the NFL Foundation, $15,000 of which will go to his high school's football program.
Said Chargers head coach Anthony Lynn, "I had the opportunity to meet Coach Garrett last month after the Chargers nominated him for this award. Yes, he's turned Crenshaw High into a powerhouse over the 30 or so years he's been there, but more than the wins and losses, it's the number of lives he's touched and the young men he's mentored that matters most. That's why he's so deserving of this honor."
Garrett was referenced in the book, Cultivating Men of Faith and Character: The History of Concordia Nebraska Football, written by Director of Athletic Communications Jake Knabel. The passage read …
One school (former offensive coordinator) Bill McAllister developed a connection with was Crenshaw High School, located in South Los Angeles. Steered by head coach Robert Garrett, a 1981 Concordia graduate, the Cougar football program transformed from doormat to California powerhouse. Recruiting the school didn't come without challenges for McAllister, a white man venturing into an area home to the street gang known as the Crips. McAllister received an escort to and from his car when he visited Garrett at Crenshaw. The relationship proved fruitful. According to Preuss, Concordia had five Crenshaw alums on its roster at one point. One of those players was receiver Erwin Hayes, a second team all-NIAC selection in 1999. Said Preuss, "It was kind of a culture shock (living in Seward), but all of them became really successful." Garrett, Crenshaw's coach since 1988, has been featured in the Los Angeles Times for his impressive stewardship of the program and for "his gruff style" that "rubs some the wrong way." That style has helped produce many NCAA Division I recruits and even some NFL players such as the Gbaja-Biamila brothers. All the while, Garrett has rubbed elbows with the likes of rapper Snoop Dogg, who founded the Snoop Youth Football League (started in 2005). In a 2012 LA Times piece, Garrett was quoted as saying, "Where I come from, you judge a man by his character. I might be loud and some people might say obnoxious. My mission is to do the right thing."
Coach Garrett was selected by a panel of distinguished individuals. This year, the Don Shula NFL High School Coach of the Year Award selection panel consists of two-time Super Bowl champion (XLI, 50) and five-time NFL MVP PEYTON MANNING, Super Bowl XLII champion and Good Morning America contributor MICHAEL STRAHAN and Pro Football Hall of Fame President DAVID BAKER.
The selection panel also included:
Coach DON SHULA – the winningest coach in NFL history
Former Dallas Cowboys Personnel Director and NFL.com contributor GIL BRANDT
2016 Don Shula NFL Coach of the Year Award Winner RANDY ALLEN
Former Indianapolis Colts Coach and current NBC analyst TONY DUNGY
Executive Director of USA Football SCOTT HALLENBECK
Three-time Super Bowl Champion WILLIE MCGINEST
Former Secretary of State, Senior Fellow on Public Policy at the Hoover Institution and faculty member at the Stanford Graduate School of Business CONDOLEEZZA RICE
Aplington-Parkersburg High School Principal and son of the school's late football coach, Ed Thomas, AARON THOMAS