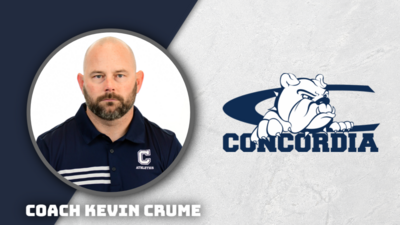 SEWARD, Neb. – A familiar face on the GPAC scene, Kevin Crume has been hired as Assistant Football Coach on the Concordia University Football staff. Crume has joined the Bulldogs after spending more than two decades as an assistant at his alma mater, Nebraska Wesleyan University. Crume served as the Prairie Wolves' Defensive Coordinator for the past 12 seasons. The Bellevue, Neb., native will play an especially important role in recruiting at Concordia.
Said Crume, "I'm grateful to be back in the GPAC and am so thankful to Coach Daberkow for the opportunity to be part of the Concordia Football staff. I can't wait to form relationships with the staff and student-athletes and to look for future Bulldogs who can continue to build upon what's already in place."
Daberkow sees it as a major win to add someone with Crume's experience and familiarity with the area. Said Daberkow, "I'm very excited to add Coach Crume to our staff. He brings a wealth of knowledge and experience, as well as a great understanding of what it takes win in the GPAC from his time as a coordinator in this conference."
A linebacker at Nebraska Wesleyan from 1999-2001, Crume quickly transitioned to a coaching role at his alma mater. Prior to taking on the Defensive Coordinator role, Crume coached the Prairie Wolves special teams and linebackers. Throughout his time in Lincoln, Crume tutored three All-American defensive players, two All-American specialists and 32 all-conference linebackers.
The defenses he coordinated were especially stout in 2012 and 2013. The '13 squad posted NAIA national rankings of fourth in scoring defense and 15th in total defense. Crume's 2012 unit led the NAIA in rush defense, allowing a school record low average of 66.0 yards per game. The 2012 defense turned in national rankings of eighth in total defense and 12th in scoring defense.
Also a Bellevue East High School alum, Crume earned three letters as a student-athlete at Nebraska Wesleyan. The former linebacker helped the 2000 squad win the GPAC regular season title. He graduated from Wesleyan with a degree in Health & Physical Education and went on to earn his Master of Arts in Management from Doane College in 2008.
Kevin and his wife Amanda have a son Brett and daughter Ava.