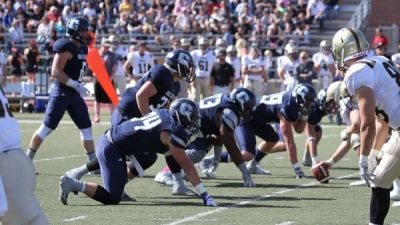 Concordia's fifth-ever 1,000-yard back motivated by team goals
By Jake Knabel, Director of Athletic Communications
Budding running back Bryce Collins noticed the great success achieved by other Concordia athletic teams during the 2014-15 academic year. He wants a piece of it. Of course he knows he's capable of rewriting Bulldog rushing records, but the junior-to-be has other things on his mind.
Over his first two collegiate seasons, the Boerne, Texas, native has been all too happy to let star quarterback Von Thomas grab headlines and media attention.
"I keep myself humble," Collins said. "You can tell me I'm good and all that, but I just ignore it. There's always room for improvement. I know that I'm not the best. I'll never claim myself as the best because that's not who I am. I'd rather see someone else have success rather than me. I'll be right behind them. I never put myself first. I never want to be in the spotlight. I do my work behind the curtains."
It will be tough for Collins to keep the curtains closed much longer. He sported impressive spring weight room numbers having benched 360 pounds and squatted 530. Those figures are enough to make many collegiate linemen jealous – and he says he's already bumped those numbers up.
No wonder Collins was referred to as the Bulldogs' hardest worker by teammates Garrett Folchert and Adam Meirose and was labeled the 'most intense' by linebacker Clay Mauro. Collins' work ethic also helps explain his productivity through two seasons. In 2014 Collins became the fifth Bulldog ever to eclipse 1,000 yards rushing in a single season.
The Boerne High School product impressed head coach Vance Winter immediately when he arrived in Seward.
"Bryce is a great young man," Winter said. "He comes from a great background. He works incredibly hard. His work ethic has been top notch from the day he stepped foot on campus. He's continued to improve game after game. His work ethic is one of the best I've been around. He just gets after it. We have to hold him back."
Collins says his drive comes from his burning desire to lift up the entire team. Just like last summer, Collins has remained in Seward to continue to hone his game. After working his summer job at Monsanto, the rock solid Collins joins teammates for conditioning. He lifts on Mondays, Wednesdays and Fridays and runs on Tuesdays, Thursdays and Saturdays.
Clearly the formula works. Collins has added roughly 20 pounds of muscle to his 5-foot-10 frame since beginning his collegiate career. He's done so without sacrificing speed. He showed an extra gear when he raced for a 67-yard touchdown for his longest career rush in a game at Doane last fall.
The Texas native, who began playing contact football in fifth grade, grew up wanting to be like Texas Christian University star LaDainian Tomlinson.
"I've always loved running back," Collins said. "When I was little I always looked up to LaDainian Tomlinson. He was my first running back idol. Then it was Adrian Peterson and Arian Foster. I was a Cowboys fan so then it was DeMarco Murray."
Concordia is happy to have its version of LT. In turn, Collins has enjoyed reaching the end zone 19 times while wearing the Bulldog blue. About this time two years ago Collins considered other offers, but Concordia just seemed like the right fit, especially considering best friend and high school teammate Patrick Skwara would be headed to Seward. There was also a strong pull with Bulldog alum Jake Griedl having coached at Boerne High School at the time.
A biology major on a pre-med track, Collins knows he made the right choice.
"All the new people I've met have really impacted me and influenced my life in a good way," Collins said. "I know my faith has definitely gotten stronger just being around the people here. As a team, we've built a brotherhood."
The brotherhood includes plenty of Texas flavor with quarterback TJ Austin (Angleton), fellow running back Demarques Saulberry (Beaumont) and top receiver Jared Garcia (Pearland) all serving as key parts of the offensive attack. Collins stood out from the bunch with his first team all-conference 2014 campaign. There's potential for even greater things in 2015.
Collins says he is focused primarily on school and football. He wants to improve his already solid grades for the possibility of PA school following his time at Concordia.
But no one's wishing that time away for the dynamic back with a legitimate chance of putting JaMaine Lewis' program single-season rushing record of 1,265 yards in jeopardy. In his typical fashion, Collins thanks his offensive line for last year's healthy rushing total. He added, "God willing, I'll break (the record). If I can't I know we'll still be successful as a team."
Says Winter glowingly of Collins, "If he stays healthy he's as good as anybody in our conference and I think he's one of the best backs in the nation. The thing I love the most is he's not just a great runner. He's one of the best pass-pro backs I've ever been around. That speaks to his abilities as a football player. He will stick his face in, block blitzing linebackers and absolutely stone them. That sets a tone for the entire team. It shows he's very unselfish and willing to do whatever it takes for the team."
Over the 2014-15 season, five different Concordia teams captured a GPAC title. Collins is working to ensure that Bulldog football kicks off the fall of 2015 with a season that wipes away the agony of last year's close losses.
"Everybody else had been making noise for Concordia," Collins said. "Football just seems like the last thing people were thinking about. That's a big motivator for me. I talked to a couple other guys and they thought the exact same thing. We need to contribute to the success of Concordia as a whole. That's a big motivator."