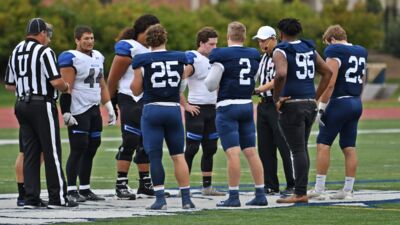 SEWARD, Neb. – This week is about building real, tangible momentum within the program after the Concordia University Football team thoroughly dominated Dakota Wesleyan last week. While there were some mistakes on special teams, the Bulldogs put together their most complete combined offensive/defensive performance so far this season in the 34-0 blanking. Concordia is 2-1 at home this season and now seeks its first road win while looking ahead to Saturday's game at Jamestown.
Head Coach Patrick Daberkow's squad has shown clear signs of improvement since struggling in week one at powerhouse Morningside. Over the past four games, the Bulldogs have limited opponents to an average of 19.8 points per game. That figure drops to 14.5 points per game allowed when removing points scored directly by the opposition's defense/special teams. Concordia thoroughly dominated Dakota Wesleyan, outgaining the Tigers, 442-138. Budding quarterback DJ McGarvie had a hand in all five touchdowns.
Meanwhile, Jamestown (2-3 overall) has already surpassed its season win total from last season by claiming victories over Mount Marty and Hastings. Head Coach Brian Mistro (third season) and his staff are in the process of building up a program that last enjoyed a winning season in 2008. The Jimmies weren't far from Seward this past week when they dropped a 44-20 contest at Doane. The Tigers outgained Jamestown, 460-231. Offensively, the Jimmies have had to rely almost exclusively upon their passing game as the run game has sputtered.
GAME INFO
Concordia (2-3, 2-3 GPAC) at Jamestown (2-3, 2-2 GPAC)
Saturday, Oct. 9 | 1 p.m.
Hansen Stadium/Greeno Field | Jamestown, N.D.
Webcast: Stretch Live
Live Stats: Presto Stats
Radio: 104.9 Max Country
Commentators: Parker Cyza and Ross Wurdeman
Tickets: Jamestown HomeTown Ticketing
STATISTICAL BREAKDOWN
Team Statistics
*2021 national rankings out of 98 NAIA football programs
Concordia
Offensive PPG: 23.2 (T-59th)
Defensive PPG: 28.4 (52nd)
Total Offense: 319.6 (58th)
Pass Offense: 196.8 (49th)
Rush Offense: 122.8 (57th)
Total Defense: 348.2 (43rd)
Pass Defense: 221.2 (52nd)
Rush Defense: 127.0 (34th)
Turnover +/-: -2
Jamestown
Offensive PPG: 23.2 (T-59th)
Defensive PPG: 27.0 (T-49th)
Total Offense: 312.0 (63rd)
Pass Offense: 285.0 (19th)
Rush Offense: 27.0 (96th)
Total Defense: 368.2 (53rd)
Pass Defense: 183.2 (27th)
Rush Defense: 185.0 (75th)
Turnover +/-: 0
2021 INDIVIDUAL LEADERS
Concordia
Head Coach: Patrick Daberkow (18-25, 5th season)
Passing: DJ McGarvie – 49/96 (.510), 602 yards, 10 td, 4 int, 129.8 effic.
Rushing: Jonah Weyand – 49 rushes, 236 yards, 4.8 avg, 0 td
Receiving: Korrell Koehlmoos – 19 catches, 224 yards, 11.8 avg, 2 td
Defense: Lane Napier – 61 tackles, 1 sack, 1 tfl, 1 pbu, 1 fr

Jamestown
Head Coach: Brian Mistro (5-19, 3rd season)
Passing: Cade Torgerson – 102/210 (.486), 1,383 yards, 12 td, 4 int, 118.9 effic.
Rushing: Frankie Ingraldi – 33 rushes, 58 yards, 1.8 avg, 0 td
Receiving: Micah Madyun – 25 catches, 461 yards, 18.4 avg, 4 td
Defense: Ethan Helton – 22 tackles, 3.5 tfl's, 1 sack
SCHEDULE/RESULTS
Concordia (2-3, 2-3 GPAC)
9/4 at (3) Morningside, L, 7-63
9/11 vs. Briar Cliff, W, 61-21
9/18 at (19) Dordt, L, 7-27
9/25 vs. (2) Northwestern, L, 7-31
10/2 vs. Dakota Wesleyan, W, 34-0
10/9 at Jamestown, 1 p.m.
10/16 at Mount Marty, 1 p.m.
10/23 vs. Midland, 1 p.m.
11/6 vs. Doane, 1 p.m.
11/13 at Hastings, 1 p.m.

Jamestown (2-3, 2-2 GPAC)
8/26 at Valley City State, L, 7-24
9/11 vs. Mount Marty, W, 35-6
9/18 at Hastings, W, 32-28
9/25 vs. Midland, L, 22-33
10/2 at Doane, L, 20-44
10/9 vs. Concordia, 1 p.m. (Homecoming)
10/16 vs. (2) Northwestern, 1 p.m.
10/23 vs. Briar Cliff, 1 p.m.
10/30 at (3) Morningside, 1 p.m.
11/6 at Dakota Wesleyan, 1 p.m.
11/13 vs. (21) Dordt, 1 p.m.

In the rankings
Both teams are off the national radar in terms of rankings. Jamestown was pegged ninth in the GPAC preseason coaches' poll. The Jimmies have gone more than a decade since earning a national ranking. They appeared at No. 24 in the preseason of 2009 and have not cracked the top 25 since then. The Bulldogs' most recent top 25 appearance came in November 2017 when landed at No. 25. Current Massey Ratings list Concordia at No. 45 and Jamestown at No. 65.

Concordia
GPAC preseason: 5th
Current Massey Ratings: 45th
Jamestown
GPAC preseason: 9th
Current Massey Ratings: 65th

Last time out
Concordia defeated Dakota Wesleyan, 34-0, last week – and it could have been worse. The Bulldogs lost a fumble in the red zone and put up only 13 points in the first half despite racking up more than 250 total yards. Quarterback DJ McGarvie enjoyed an ultra-productive day as one of four Concordia players to find the end zone. The others were Art Anderson, Luke Lang and Garrett Schardt. On the other side of the ball, the Bulldogs allowed only seven first downs and never let the Tigers reach the red zone. The 34-point margin was easily the most lopsided defeat this season for Dakota Wesleyan (2-3, 2-2 GPAC), which entered last week allowing an average of only 13.0 points per game.

McGarvie named GPAC Offensive Player of the Week
For his performance in the win over Dakota Wesleyan, DJ McGarvie was named the GPAC Offensive Player of the Week. A true freshman from Valparaiso, Neb., McGarvie has been given the keys to the Concordia offense. In last week's 34-0 homecoming victory, McGarvie totaled five touchdowns (three passing / two rushing) and 309 yards of offense (210 passing / 99 rushing) while completing 14-of-19 passes. The Lincoln North Star product threw touchdown passes of 33 yards to Garrett Schardt, 13 yards to Luke Lang and 22 yards to Art Anderson. He also ran for scores from 28 and three yards out. McGarvie became the first Bulldog quarterback to total five or more touchdowns in a single game since Von Thomas in 2014. On the season, McGarvie has completed 49-of-96 (.510) passes for 602 yards and 10 touchdown passes to go against four interceptions. He's now produced 701 total yards and 12 total touchdowns this fall.

Another homecoming contest
After hosting its own homecoming last week, Concordia will be the opponent for Jamestown's homecoming on Saturday. With the rout of Dakota Wesleyan, the Bulldogs are now 10-1 over the past 11 years when playing at their own homecoming. Concordia also manhandled the Jimmies, 23-3, in its 2020 homecoming contest. During the 2020 campaign, the Bulldogs also spoiled Briar Cliff's homecoming, winning in Sioux City, 24-9.

List 11 Concordia homecoming games
10/2/21 – Dakota Wesleyan | W, 34-0
10/3/20 – Jamestown | W, 23-3
9/28/19 – Briar Cliff | W, 16-14
9/22/18 – Midland | L, 7-35
9/23/17 – (7) Doane | W, 29-18
10/8/16 – Briar Cliff | W, 56-0
10/10/15 – Nebraska Wesleyan | W, 47-14
10/4/14 – Dordt | W, 38-14
10/12/13 – (22) Nebraska Wesleyan | W, 19-3
10/13/12 – (11) Northwestern | W, 17-16
10/8/11 – Briar Cliff | W, 47-12

Napier among national tackle leaders
Four-time First Team All-GPAC selection Lane Napier continues to add to his résumé in his fifth season of college football. The David City, Neb., native collected eight tackles last week while running his tackle totals to 61 for the season (second most in the NAIA) and 462 for his career (all-time GPAC record). Napier's career high of 23 tackles in a single game occurred at Jamestown on Oct. 5, 2019. Napier's career has also included 35 tackles for loss, 11.5 sacks, eight pass breakups and an interception. Napier has posted at least 10 tackles 23 times and has reached at least 15 tackles 10 times in his career.

Napier, highest single-game tackle totals in career
23 – Jamestown, Oct. 5, 2019
22 – Morningside, Oct. 27, 2018
22 – Briar Cliff, Oct. 13, 2018
21 – Jamestown, Sept. 15, 2018
18 – Northwestern, Sept. 25, 2021
18 – Dordt, Sept. 18, 2021
18 – Hastings, Oct. 20, 2018

Cox living in opponent backfields
While Lane Napier has collected more accolades than anyone else inside the program over the past four years, fellow linebacker Caydren Cox is also making waves. The fifth-year senior from Beloit, Kan., contributed 2.5 tackles for loss and 1.5 sacks as part of last week's smothering defensive effort. Cox continues to lead the team in tackles for loss (6.5) and sacks (4.5). He ranks second on the team in tackles with 34. Cox has amassed career totals of 92 tackles, 16 tackles for loss, 6.5 sacks and two interceptions. He could be in line for his first career all-conference award.

Weyand nears 1,000 career rushing yards
Running back Jonah Weyand is knocking on the door of eclipsing 1,000 career rushing yards. In 20 career games as a Bulldog, the Crete High School product has run for 980 yards and 10 touchdowns on 253 carries. Weyand was named First Team All-GPAC last season when he piled up 625 yards and nine touchdowns in seven games. Weyand and company believe the first big breakout performance of 2021 in the run game is just around the corner. He has yet to reach the end zone this season. However, he's run for a combined 178 yards over the past two weeks. For reference, below are the top five career rushers in program history.

Concordia's top five all-time rushers
1. Cleve Wester (1982-85) – 3,731
2. Bryce Collins (2013-16) – 3,547
3. Gary Seevers (1953-56) – 3,257
4. Alex Alvarez (1999-03) – 2,959
5. JaMaine Lewis (2004-07) – 2,731

Defense molding into strong unit
The Bulldog defense seems to be growing nastier by the minute. Over the past four games, the Concordia defense has allowed yardage totals of 154 to Briar Cliff, 403 to Dordt, 393 to Northwestern and 138 to Dakota Wesleyan for a four-game average of 272.0 per game. Those results have vaulted the Bulldogs up to No. 43 in the NAIA in total defense (348.2) and No. 52 in scoring defense (28.4). Opponents are averaging only 127.0 rushing yards per game. In last week's contest, Concordia's defense was on the field for 13 possessions and forced nine punts and four turnovers on downs. The Tigers failed to reach the red zone even once. The shutout marked the first for the program since the 44-0 win at Hastings in 2019.

Past five Concordia shutouts
10/2/21 vs. Dakota Wesleyan | W, 34-0
9/21/19 at Hastings | W, 44-0
10/8/16 vs. Briar Cliff | W, 56-0
11/14/15 vs. Briar Cliff | W, 48-0
10/5/13 at Dordt | W, 32-0

Schardt takes over team lead for receiving yards
A First Team All-GPAC selection last season, Garrett Schardt continues to shine as one of the top tight ends both at the conference and national levels. In hauling in four receptions for 89 yards and a touchdown last week, Schardt took over the team lead for receiving yards with 245 on the season. Schardt has caught 12 passes, including two that have gone for touchdowns. A well-rounded tight end, the native of Davenport, Neb., finished last season with 25 catches for 430 yards and three touchdowns. The Bruning-Davenport-Shickley High School product has six career touchdowns to his credit.

On paper, schedule flips for stretch run
At least on paper, Concordia has already gotten the three most challenging regular season games out of the way having played the GPAC's three NAIA playoff qualifiers from last season: Dordt, Morningside and Northwestern. The first five opponents the Bulldogs have met up with are a combined 16-8 overall. Their final five opponents are a combined 8-18. The only remaining foe currently at .500 or better is Midland (3-3). Concordia has its sights set on finishing above .500 for the first time since it went 6-4 in 2017. The Bulldogs went 7-3 in 2016 and finished that season with an NAIA national ranking of No. 19.

Series vs. Jamestown
The two programs had never met until Jamestown became a member of the GPAC. The first two meetings (2018 and 2019) took place in North Dakota and were both decided by three-point margins with the two sides splitting those games. In last season's matchup, Concordia won, 23-3, behind three touchdown passes from Blake Culbert and a defensive effort that limited the Jimmies to 265 total yards. The 2019 meeting at Jamestown was a memorable one in that field conditions deteriorated to the point that the grass field was reduced to a mud pit. The Jimmies outlasted the Bulldogs in the '19 matchup, 13-10, in a four-overtime slog. Neither team reached 200 yards of offense. Muddy conditions will not be a concern now that Jamestown plays on an artificial turf surface.

Scouting Jamestown
The Jimmies are 7-23 in conference games since their first season as a GPAC member in 2018. So far in 2021, Head Coach Brian Mistro's squad has earned wins over Mount Marty, 35-6, and over Hastings, 32-28. Statistically, Jamestown's one-dimensional offensive production jumps off the page. In four of their five games this season, the Jimmies have netted 30 or fewer rushing yards. That has put the onus on junior quarterback Cade Torgerson, who has thrown for 1,383 yards and 12 touchdowns. Considering the growth of the Concordia run defense, Torgerson will likely need to make a lot of plays to lead his team to victory on Saturday. On the other side of the ball, Jamestown's defense has been solid, limiting opposing teams to 183.2 passing yards and 185.0 rushing yards per game. Considering its lack of offensive success on the Jimmies' former grass field, the Bulldogs are glad to be playing on turf on Saturday. Jamestown is 1-1 at home this season.