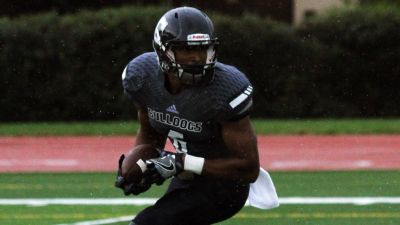 OTTAWA, Kan. – Explosive plays helped the Concordia University football team emerge from a tough road environment still unscathed on the 2016 season. Up against a perennial Kansas Collegiate Athletic Conference power, the Bulldogs erased a three-point halftime deficit and seized a 34-23 wire-to-wire road victory over Ottawa University under the lights on Saturday night.
Eighth-year head coach Vance Winter's program has now started a season 2-0 for the third time in four years. The Bulldogs did not put away their latest victory until late in the fourth quarter against a Brave squad that had hoped to bounce back from a blowout loss at Morningside in week one.
"They had a huge crowd. It was a fun atmosphere for college football," Winter said. "There were a lot of adjustments that happened throughout the game both offensively and defensively. I think the big difference for us was in the kicking game and the effectiveness of the return game. Field position was a big advantage for us.
"It was a happy locker room. Everyone was thinking the same thing – get a win."
Saturday's game was about the big play for Concordia. The fireworks started right from the opening kickoff when junior Tarence Roby galloped 91 yards for a touchdown. There was also a 36-yard scoring strike from Riley Wiltfong to Kiyoshi Brey (first career touchdown) and a 61-yard sprint to the end zone by quarterback TJ Austin.
On the other side of the ball, Ottawa quarterback Dayton Walker threw the ball 55 times. His second touchdown pass of the first quarter staked the Braves to a 14-7 lead. Ottawa then took a 17-14 advantage to the halftime break via a 36-yard field goal just before the close of the second quarter.
Austin's 61-yard scamper with 10:32 left in the third period gave Concordia the lead for good. About eight-and-a-half minutes later, Wiltfong connected with Jared Garcia for a 15-yard scoring play to open up a 28-17 lead. It marked the 22nd career touchdown grab for Garcia, who needs two more to equal Ross Wurdeman for the program's all-time record.
When the Bulldogs needed a big play defensively, senior linebacker Michael Hedlund provided it. He offered up a monster stat line that included 19 tackles (1.5 for loss), two forced fumbles and an interception. Hedlund's second pick of the season came in the fourth quarter with the Bulldogs clinging to a 28-23 lead.
"He was all over the place," Winter said of Hedlund. "He made an unbelievable interception. It was a huge play in the game. We didn't know exactly what they were going to do offensively. They come out with some weird stuff, empty and five wides. It was a game of adjustments."
In crunch time, the two teams traded turnovers on downs. A keeper from Austin was stuffed on a fourth down play at the Ottawa 29 with 3:13 left in the fourth quarter. The Braves couldn't even manage a single yard on their ensuing possession and Jose Garcia iced the game with a 28-yard field goal that made it a two-possession contest.
Concordia won despite being outgained, 360-293. However, the Bulldogs made up for some of that with Roby's electrifying returns. The native of Rockford, Ill., returned for kicks for a total of 179 yards. The Bulldogs also did not commit a turnover and were plus-two for the night in takeaways. In addition, Le'Dontrae Gooden was credited with 14 tackles and Trey Barnes registered 2.5 tackles for loss.
The win is a significant step for Winter's program which was knocking on the door of the NAIA top 25 in the preseason poll.
"It shows us what can happen when we stay together and compete for 60 minutes," Winter said. "There were a lot of tough moments in that football game. There was a lot of frustration. I was proud of the guys for staying together and staying positive. There were some harsh words said at halftime. We weren't playing up to our capabilities."
Bryce Collins grinded out 62 yards on 22 carries to lead Concordia rushers. Garcia caught five passes for 88 yards. Wiltfong finished 8-for-16 for 132 yards and two scores through the air. Austin was 4-of-10 passing for 29 yards. He ran for 57 yards.
A rugged start to the GPAC schedule begins next Saturday when Northwestern (0-2) visits Seward for a 1 p.m. CT kickoff. The Bulldogs are 13-25 all-time against the Red Raiders. The most recent Concordia win in the series came by a 17-16 score in 2012. The last four meetings have been decided by a combined total of 12 points.
Concordia will also be holding a football reunion celebration next weekend in conjunction with the Northwestern game. More than 300 registered guests will add to the game day atmosphere. A schedule for the weekend reunion can be found HERE.