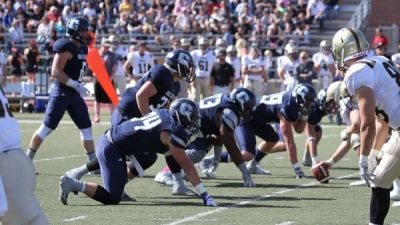 Concordia opens 2011 football season on August 27
Concordia University posted a 4-7 overall record in 2010. The Bulldogs were 3-7 in the Great Plains Athletic Conference. The Bulldogs return several starters and letter winners on both sides of the ball. Concordia was picked to finish seventh in the GPAC Preseason Coaches' Poll. Head coach Vance Winter, now entering his third year, hopes for continued progress in 2011.

"Our greatest strength is the character of our team," said Winter. "We are blessed to have a very unselfish group that works very hard."

The Bulldogs struggled offensively last year and averaged just 9.9 points per game. Concordia was last in the conference in passing yards per game and eighth in the conference in rushing yards per game. Concordia's 209 yards of total offense per game was 10th in the GPAC. Turnovers also caused problems last year, as Concordia totaled 31 in their 11 games. The Bulldogs also struggled in the red zone and converted just 9-of-17 opportunities into points.

"Our offensive unit was decimated by injuries last fall," noted Winter. "We never really had any continuity in terms of bodies at most positions. The great thing is that many of the young guys, who were thrown into the fire last fall, are back and have an understanding of what it takes to be a college football player. We were pleased with their continued development in the spring. We like our group and feel like we are putting the pieces together to run our offense effectively."

Quarterback Cohl Tufford looks to be the frontrunner for the starting quarterback job. Last year as a freshman, Tufford took over the offense midway through the year. His 415 rushing yards led the team, and his two rushing touchdowns tied for tops on the team last year. Tufford also threw for 636 yards and a touchdown in 2010, but there was little consistency in the passing game last season. Concordia finished with just two touchdown passes compared to 14 interceptions during the 2010 season.

"We must continue to improve in all areas of our football team, but one area we have targeted is our -11 turnover differential last fall," remarked Winter. "The top teams in our league year after year are +15 to +20. For us to be a great team, we need to create more turnovers and take better care of the ball."

Jamarcus Walker and Derek Blessing return in the Bulldog backfield in 2011. Walker totaled 281 rushing yards last year and was also a threat in the passing game. Walker tied for the team lead with 21 receptions, and his 182 receiving yards was good for second on the 2010 squad. Blessing totaled 148 rushing yards with a touchdown in just eight games during his freshman campaign in 2010.

Concordia also returns three of their top four receivers from a year ago. Wide receivers Kyle Hoffman and Zack Warner and tight end Nate Sindt all return in 2011. Hoffman led the team in receiving yards (288) and touchdowns (2) during the 2010 season. Warner totaled 14 catches, while Sindt hauled in 18 receptions last year for the Bulldogs.

While the Bulldog offense struggled in 2010, the Concordia defense was strong for much of the year. Concordia ranked fifth in the GPAC in total defense and second in passing defense last season. The Bulldogs must find a way to replace All-Conference corner Preston Harris, but a solid and athletic group of returning starters should again make Concordia one of the top defensive teams in the GPAC this year.

Leading the way for the Bulldog defense in 2011 will be Jerrod Fleming and Ben Klein. Both were second team All-GPAC selections last year. Fleming, a senior linebacker, battled injuries last season but still finished third on the team in total tackles. Fleming also led the team in tackles for loss. Klein, a senior safety, totaled 63.5 tackles to lead the Concordia defense in 2010. Klein also picked off two passes, forced a fumble and blocked a kick last year for the Bulldogs.
Heath Broekemeier and Tom Malander will also play key roles in the Bulldog secondary in 2011. Broekemeier was second on the team in tackles a year ago, and his four interceptions led the team. Malander finished fourth on the team in tackles, and his eight passes broken up was second to only Preston Harris' nine.

Concordia also returns several experienced players on the defensive line. Derek Rodine returns for his senior season, while Dylan Heithoff and Mike Voelker each gained valuable experience last season at the defensive end position. Heithoff and Voelker finished with over 20 tackles and were among the team leaders in tackles for loss in 2010.

"I am excited about the progress we made defensively last fall," noted Winter. "Defense was a major strength for us. We had three shutouts, and that shows what this group is capable of. I expect even more consistency this fall."

Even with the departure of Sioux Falls, the GPAC will again be loaded with talent. Coach Winter knows it won't be easy. However, there is optimism that the Bulldogs are heading in the right direction.

"We are trying to become a football team that consistently out-executes our opponents," said Winter. "Our players need to do their assignments correctly with maximum effort. We aren't the biggest team in the conference, but that has no bearing on whether we can get after people and have success. We must focus on doing the little things right, being physical and playing with technique on every play. If we can do this, we are talented enough to have success."

Concordia opens its season at Benedictine College on August 27. The Bulldogs begin conference play at Dakota Wesleyan on September 10. Concordia hosts Hastings College, Dakota State, Briar Cliff University, Nebraska Wesleyan University, Morningside College and Doane College during the 2011 season. Besides Benedictine College and Dakota Wesleyan to open the year, the Bulldogs will also travel to Dordt College, Northwestern College and Midland University.

"I expect this to be the most balanced the conference has been since I have been in the league," added Winter. "Every program has improved and continues to get better. Every week and every game presents its own unique challenges, and that is what makes the GPAC such a fun conference to compete in. Our schedule is as tough as ever, and we are excited about our non-conference games with Benedictine and Dakota State. Benedictine is preseason No. 17 in the country, and they will provide a great opening test for our team. In terms of the GPAC, there will be several strong teams to deal with. It should be a fun year."