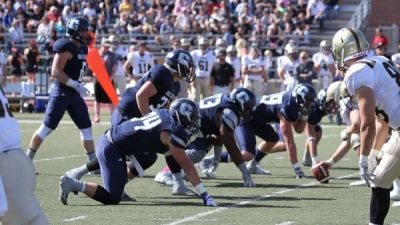 Concordia hangs on for 13-7 win over No. 22 Peru State College
Concordia University picked up an impressive 13-7 football win over No. 22 Peru State College on Saturday afternoon. It was the opening game of the year for both teams. The Bulldogs took advantage of Peru State miscues and used solid defense down the stretch to secure the win.
Concordia grabbed a 7-0 lead early in the first quarter following a Peru State turnover. The Bulldogs marched 32 yards in six plays to take the early advantage. Quarterback TJ Shirey culminated the drive with a 9-yard touchdown run, and Kenny Zoeller tacked on the extra point for Concordia.
The score remained the same until late in the second quarter. Peru State quarterback Curtis Thompson connected with Quentin Edelman on a 28-yard touchdown reception to tie the game at 7-7.
Following the Peru State touchdown, Concordia got the ball with just 25 seconds remaining in the first half. A halfback pass from Jamarcus Walker to Zack Warner put the ball on the Peru State 10 yard line with just two seconds left in the half. Zoeller connected on a 27-yard field goal to give Concordia a 10-7 lead entering halftime.
Concordia increased its lead to 13-7 with just over five minutes remaining in the third quarter. The Bulldogs went 46 yards in 10 plays, and a 42-yard field goal by Zoeller gave Concordia the six point advantage.
Neither team could manage any scoring in the fourth quarter. Peru State had several opportunities, but the Bulldog defense stayed strong and managed to keep the Bobcats out of the end zone.
Peru State held a 228-199 advantage in total offense for the game. The Bobcats totaled 163 yards through the air and 65 yards on the ground. Concordia finished with 101 yards through the air and 98 yards on the ground. Concordia possessed the ball for 28 minutes and took advantage of two Peru State turnovers in the game.
Shirey carried the ball 27 times for 56 yards and completed 12-of-22 passes on the day for 63 yards. Five receivers caught passes for Concordia on the day. Jerrod Fleming totaled 12 tackles and had a sack to lead the way for the Bulldog defense. Grant Rolfsmeier and Austin Fruedenburg added six stops apiece for Concordia.
Concordia opens conference play next week with a home game against Nebraska Wesleyan University. Kickoff is scheduled for 1 p.m. at Bulldog Stadium.