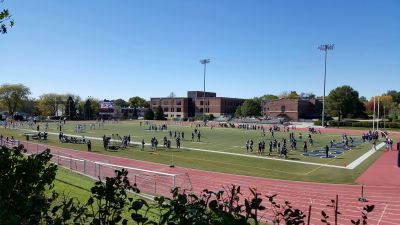 Key Dates
First spring practice: Tuesday, March 29
Open spring scrimmage: Friday, April 22, 7 p.m. CT
Spring synopsis
The Concordia football program will prepare for the eighth season under head coach Vance Winter when the 2016 spring practice season gets underway inside Bulldog Stadium on Tuesday, March 29. Winter's squad is coming off a 6-4 season in 2015. It marked the program's second winning campaign in three years. Concordia continues to seek an elusive playoff berth. The Bulldogs believe they have the horses to make the postseason a reality. A combined 17 starters return (10 on offense, seven on defense). Roughly 85 athletes will participate in practice this spring. The 2016 season opens with a visit from the University of Saint Mary (Kan.) on Sept. 3.
2016 schedule
9/3 vs. Saint Mary, 1 p.m.
9/10 at Ottawa, 6 p.m.
9/17 vs. Northwestern, 1 p.m. (Football alumni reunion)
9/24 at Doane, 1 p.m.
10/1 at Morningside, 1:30 p.m.
10/8 vs. Briar Cliff, 1 p.m. (Homecoming)
10/15 at Dakota Wesleyan, 1 p.m.
10/22 vs. Midland, 1 p.m. (Parent's Day)
11/5 at Dordt, 1 p.m.
11/12 vs. Hastings, 1 p.m. (Senior Day)
POSITIONAL OUTLOOK
Quarterbacks
Two of the three quarterbacks to start at least one game in 2015 will jockey for positioning this spring: juniors-to-be TJ Austin and Riley Wiltfong. Also in the mix is Pico River, Calif., native Andrew Perea, who saw action in the 2015 season finale and ran for a touchdown. Of the three quarterbacks who will be featured this spring, Austin (Angleton, Texas) possesses the most experience. He owns a career touchdown-to-interception ratio of 12-3 and has totaled 1,587 yards (1,062 passing, 525 rushing) over the past two seasons. The only key figure that departs is senior Garrett Folchert, who led the team with 12 touchdown passes and 1,087 yards through the air in 2015. Wiltfong threw for 261 yards and a pair of touchdowns in the near upset of sixth-ranked Doane.
Running backs
Two-time first team all-conference back Bryce Collins will enter his senior season at No. 5 on the program's all-time rushing list. With 2,666 career rushing yards, the native of Boerne, Texas, needs 993 yards to break the school record owned by Concordia Athletic Hall of Famer Cleve Wester (3,658). Collins is the undisputed No. 1 and a proven workhorse who has gone over 100 yards rushing 13 times over his first three seasons as a Bulldog. The coaching staff will be looking for others to emerge behind Collins this spring. Some of the leading candidates are Qyalan Clay, Demarques Saulberry and Jordan Slough. In his collegiate career, Saulberry has carried the ball 114 times for 450 yards. At fullback, Erik Small is back in the fold. He caught six passes, one for a touchdown, in 2015.
Receivers
After two seasons at Concordia, split end Jared Garcia already stands out as one of the most prolific pass catchers in program history. With 19 career touchdown grabs, Garcia is five off the school record held by former All-American tight end Ross Wurdeman. Over the last two years, Garcia has hauled in 85 passes for 1,363 yards. The 6-foot-3 Garcia is well known around the league for his ability to go up and get the ball in traffic. The Bulldogs will welcome back several other complimentary weapons in Trae Owens (358 receiving yards in 2015), Vincent Beasley and Brandon Luetchens. In his first season as a Bulldog, Owens emerged as a deep ball threat. Offensive coordinator Curran White found creative ways to use Owens in space as he rushed four times for 35 yards and caught six passes for scores.
Tight Ends
Concordia will miss Josh Slechta, who when healthy, was both a steady blocker and receiver. Thankfully, Seward native and first team all-conference choice Seth Fitzke has one more year of eligibility remaining. The numbers (16 catches, 136 yards, two touchdowns) don't necessarily reflect Fitzke's value to a program that uses its tight ends liberally as blockers in the run game. Alaska native Cameron Christiansen also has experience at the tight end spot.
Offensive Line
This spot has fewer question marks than this time a year ago. The lone departing starter is right tackle Ben Balduc, a first team all-GPAC honoree in 2015. After a season of growth and development, this unit figures to be stronger in 2016. The returning starters are left tackle Hallick Lehmann, left guard Trey Anderson, center Austin Taylor and right guard Keddrick Fuselier. With more experience up front, Concordia hopes to improve upon its average of 167.2 rushing yards per game last season.
Defensive Line
After beginning his career on the offensive side of the ball, Seward High School product Trey Barnes came into his own last season at defensive end. A terror off the edge, Barnes finished second among GPAC players with 10 sacks while adding 20 tackles for loss and 75 total tackles (third most on the team). At nose guard, 310-pound space eater Ron Jackson (36 tackles) provides an anchor for coordinator Patrick Daberkow's stout unit. Dylan Pierquinn supplies a pass rushing option from the interior. Opposite of Barnes, fellow seniors-to-be Kerry Grigsby (3.0 sacks) and Nolan Schroeder (two forced fumbles) will be given opportunities for increased roles. There's enough talent here to make up for the losses of Clint Gardels and Michael Gill.
Linebackers
This group receives the biggest blow with stalwart Tait Sibbel and additional starters Clay Mauro and Brandon Namuth set to graduate in May. A four-year starter (three years at safety), Sibbel racked up 234 career tackles and nine interceptions. On the positive side, 2015 leading tackler Michael Hedlund (105 stops) returns to his inside backer spot. Hedlund, an O'Neill native like Sibbel, has made huge advancements since arriving as a quarterback. Hedlund will be the leader this spring for a group that could also feature up-and-comers such as Parker Johnson. Though he won't be here this spring, a name to watch is incoming freshman Jace Alcazar of Buhach Colony High School in California.
Secondary
This unit ranked in the top-five nationally in fewest passing yards allowed per game (144.0) and pass efficiency defense (96.7). The scary thing: all four starters are back in place. The corners are juniors-to-be Tarence Roby (first team all-conference) and D'Mauria Martin and the safeties figure to again be LeDontrae Gooden and Matt Keener. Roby is a lockdown corner on one side of the field while Gooden (five INTs) has a penchant for big plays in the middle. Not only are all four starters back, the entire two-deep from the season finale was made up of underclassmen. There's not much to nitpick in regards to this group.
Specialists
Concordia will spend the spring and perhaps much of the fall camp season answering questions at kicker and punter after saying goodbye to Adam Meirose and Sandy Fisher. The kicking game could yet be fortified in the recruiting process. In the return game, Roby provides game-breaking potential on kickoffs. Sophomore-to-be Aivery Scheffer produced admirably on punt return in 2015, averaging 12.3 yards on 15 attempts. Solid special teams have been a hallmark of recent Bulldog teams.