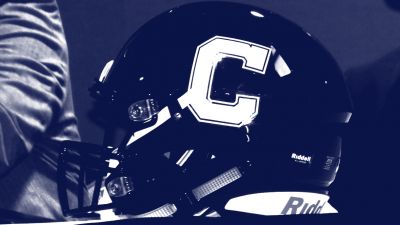 This time of year typically provides football fans an appetizer to hold them over until the fall. Normally, head coach Patrick Daberkow and his staff would be knee deep in spring practices and the popping of pads would be audible inside Bulldog Stadium once again. Daberkow had been looking forward to getting an early look at positional battles and positional changes.
Instead, Daberkow and coaches across the nation are left to check in on their athletes through phone calls, texts and virtual avenues. As a program, Concordia is determined not to let an offseason of progress be compromised by the current health pandemic.
"Last season's results – it is what is," Daberkow said. "I'm done with that. I'm just focused on the future. The narrative of our program is to focus on the future. We've been super young the last two years. Last year we lost a bunch of close games. We learned a lot from it. We have to move forward. I don't know who our quarterback is going to be. I don't know who our left guard is going to be. It would be fun to figure that stuff out, but you just have to stay positive and that's what we're doing."
What Daberkow expected to see this spring on the practice fields was a more veteran, more mature and physically stronger team across the board. Senior classes had been low in quantity in each of the past two years – 18 seniors on the 2019 roster and 10 on the 2018 roster. There's no time like the present to turn around the fortunes of a program that went through below .500 seasons over the last two years.
This time period may show just how determined members of the team are to make the 2020 season a successful one on the field. The biggest household name on the roster is All-American linebacker Lane Napier, who will enter his senior season with 347 career tackles to his credit. Plenty others will have opportunities to make their mark, but they must find creative means to make gains this spring and summer.
"The Team Builder app that Coach (Todd) Berner implemented is really helpful," Daberkow said. "The hard part is the gym access. We have some guys who are having to get pretty creative. Some are building their own weight equipment and some are going and buying equipment and setting it up in their garages. Logan Kreizel isn't going to miss a workout. He went out and bought a squat rack. Kayle Carlson made his own squat rack. We have guys who are really working."
While the players are continuing their semester with online classes and by working out away from campus, the coaching staff is placing a significant amount of its attention on recruiting. Priority is being given to evaluation of prospects at this current time. The program still has hopes of holding its typical high level prospect camp on June 19 along with other summer camps. Daberkow says his staff is ahead of schedule on the recruiting front.
One thing Daberkow really misses right now, beyond the on-field coaching, is the day-to-day interactions with players. There is no substitute for that one-on-one, face-to-face time.
"Every day you're in the office you get to see the guys and have conversations about family, how they're doing, they're classes or whatever," Daberkow said. "Since I don't get to have those natural, organic conversations, I find myself shooting them texts or calling them. There's a lot more interaction than most people would imagine. You have to make a point to connect."
At this point, Daberkow can't foresee any drastic changes in the way the summer will be constructed. Fall camp is already clustered with two-a-days, meetings and film study. In other words, the Bulldogs will not be making up the practice time they are losing right now. Focus and attention to detail in fall camp will be critical to 2020 success.
"Fall camp is fall camp," Daberkow said. "I'm not sure how you would squeeze another practice into that. Those days are packed. I'm sure we'll have to get creative with how we use our time. Turning two-a-days into three-a-days is probably not the best option. We'll figure something out as we improvise and adapt."
Before students were sent home for the semester, the Bulldogs showed noticeable physical strength gains. Daberkow says his team averaged a 50-pound increase per man in back squats. Now every coach in America is concerned about how this time away might stunt such progress. Daberkow is putting trust in his guys to put in the work and prodding those who need it.
Now we'll have to wait until the fall to see how much offseason training has transformed a program that may be coming of age, in terms of its roster makeup. Until then, Daberkow and the staff will continue to monitor progress from afar.
"We were going to have some guys dabble in other positions," Daberkow said. "The biggest thing I was looking forward to seeing was how our strength increase would translate during spring ball because we squatted heavy all offseason. We got way stronger. We maxed out every month. We went old school bench-squat-hang clean and we got after it. I was looking forward to seeing how that translated to the field, especially with our offensive and defensive lines."
The 2020 Concordia football schedule can be viewed HERE. The season is slated to kick off Sept. 5 at Mayville State University (N.D.).
Quick hitter position-by-position rundown
Quarterback: The program is still looking for some stability at this position. Three different players started at quarterback in both 2018 and 2019. Sophomore-to-be Wyatt Ehlers, who led Centennial High School to a state championship, has intriguing potential. This battle will play out in fall camp.
Running Back: Three-year starter Ryan Durdon (sixth on the program's all-time rushing list) will depart. Crete native Jonah Weyand (118 rushing yards in 2019) has the most experience among the group of returners. Concordia averaged only 65.8 rushing yards per game in 2019.
Receiver: This position is well-stocked with the top four pass catchers all coming back in Art Anderson, Cayden Beran, Lane Castaneda and Korrell Koehlmoos. At least on paper, this is the best position group on offense. Beran burst onto the scene last season with 701 receiving yards.
Tight End: Brady Fitzke and Garrett Schardt are athletically gifted and have the ability to make this group a strength.
Offensive Line: The offseason growth of this unit will be essential after the ground attack sputtered last fall. Guard Cole Baumgartner and center Johnny Robinson are the veterans of a bunch that will be as experienced as the program has had since 2017.
Defensive Line: Graduation will result in significant losses here (namely sack leader Aaron Rudloff), but Gerald Morris is back in the middle and ends Chase Hammons and Payton Stevens and nose guard Gary Nieuwkoop have played plenty of snaps.
Linebackers: An all-time great for the program, Lane Napier has one more year to terrorize opposing offenses. The inside backer from David City will be surrounded by three new starters as Riley Bilstein, Derek Tachovsky and Zac Walter graduate.
Secondary: Daberkow identified this position as one needing improvement at the end of last season. It made strides in 2019 while ranking 33rd nationally in pass efficiency defense. Payton Mitchell earned second team All-GPAC honors after plucking a team high five interceptions. Fellow safety AJ Jenkins started last season as a freshman.
Special Teams: The kicker-punter duo of Jordan Spilinek and Lane Castaneda is back. Return duties could again be filled by the likes of Carson Core, Korrell Koehlmoos and Jonah Weyand.